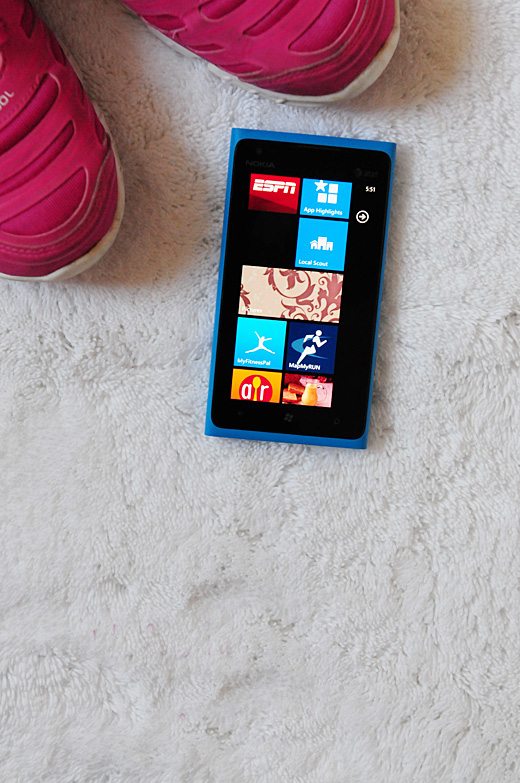 This giveaway is now closed. The winner, chosen by Random.org, is Tammy Northrup. Congrats, Tammy, and thanks to all who entered!
Over the past few weeks you've read about my experiences with the Nokia Lumia 900 Windows Phone. Now, you get the opportunity to enter to win one as well!
You may be wondering what some of the top things I liked most about this phone now that I've been able to use it regularly for the past few weeks. Well, let me tell you!
You can pin the most important apps or functions to you to the start screen. This makes it simple so that when you turn on your phone, what you need most is right there, easy to access and use. In addition, if you have something like the facebook app pinned to your start, updates from your friends will prominently show and change as more updates come in. These dynamic tiles make it easy to keep up with the most important friends and family in your life.
I love that the Nokia Lumia 900 Windows Phone comes in a variety of fun colors! Blue, white, black and the newest color to join the family…pink.
I love to listen to music, but I am horrible when it comes to knowing the names and artists. This Windows phone has Bing search built into it, which has a nifty music identification tool. If you are listening to a song on the radio and want to know who sings it or what it's called, you can simply go to Bing and allow this smart phone to amaze you with it's brains. Hold the phone up to the speakers and after a few chords, the phone will come back with details on the song. Very cool, right?
The Nokia Lumia 900 Windows Phone is slim, yet still manages to have a nice sized surface area for the screen. The screen is big, the colors are vibrant, and the touch screen keyboard is large enough that even a typo Queen's like me on similar screens doesn't make constant errors. It's very easy to type on.
Apps, apps and more apps. I have discovered some really great apps thanks to this phone. My 2 current favorite that I keep pinned to my start screen right now are Map My Run and My Fitness Pal. With these two apps I am easily able to access info I want to keep track of for my progress with my Red Faced Runner 5K goals as well as monitor my calorie intake and exercise output. I love these two apps for keeping me on track!
You can head over to the Windows Phone Facebook page for a quick, personalized demo that will show you all the great features of this phone. Are you ready to win one for yourself?
Giveaway Details for a Pink Nokia Lumia 900 Windows Phone
I have a Pink Nokia Lumia 900 Windows Phone (pictured above) to give away to one lucky Dine & Dish reader! To enter the giveaway, simply visit the Windows Phone Facebook Page and take the short demo for yourself. Then, come back here and tell me in the comments section of this post "Which live tile from the demo is your favorite?"
For additional entries:
Share the link to this post or details of this giveaway on your favorite social media outlets, such as Twitter, Facebook, Instagram or Pinterest. Return to this post and leave a separate comment for each individual time you shared.
This phone must be used with service from AT&T (not included). All entries must be received by midnight, CST on Friday, August 24th, 2012. Winner will be chosen via Random.org and will be notified via valid email address. Thanks and good luck!
Disclosure: Microsoft gave me the the new Nokia Lumia 900 Windows Phone to test drive as well as are providing a phone for the giveaway. I am being compensated for this review, however all opinions are my own!