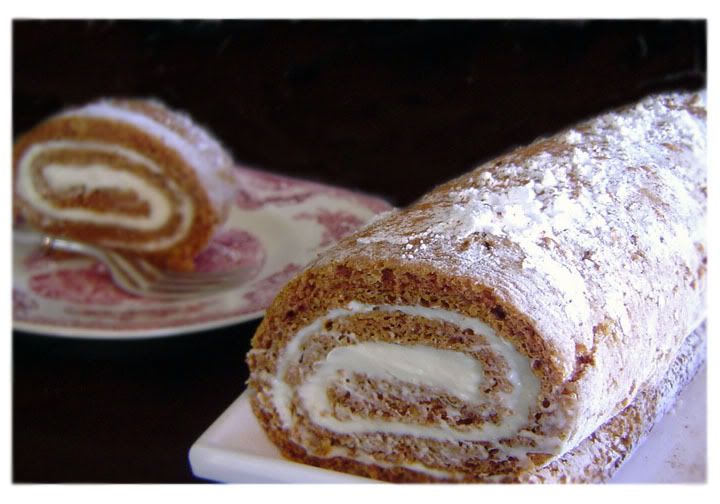 It's amazing how having a successful attempt at something you have wanted to do for so long can give you that extra boost of confidence you need. This past weekend I made the Lighter Than Air Chocolate Cake Roll and it was a huge, delicious success. For so many years I've been watching people make cake rolls and I've been so envious, certain that doing something like that and having it result in one piece without cracks was beyond my culinary baking capabilities. To that fear I say, farewell! I now know that I can make a cake roll and I know that I can do it well. A task that was intimidating me for so long ended up being really not that difficult. I could kick myself for not tackling this sooner.
To make up for lost time, I'm now on a cake roll kick. The one cake roll that my husband always comments on is the Pumpkin cake roll. Every holiday season we'll go somewhere and there will be a pumpkin cake roll and he gets so excited… it is one of his favorite desserts. Well, today is his birthday so as his cake I made him a pumpkin cake roll. It was surprisingly simple and incredibly delicious!
For those of you who commented after my Chocolate Cake Roll post that you too have been intimidated by cake rolls, kiss that fear good bye. Follow the recipe instructions carefully and you too can be a master of all cakes rolled.