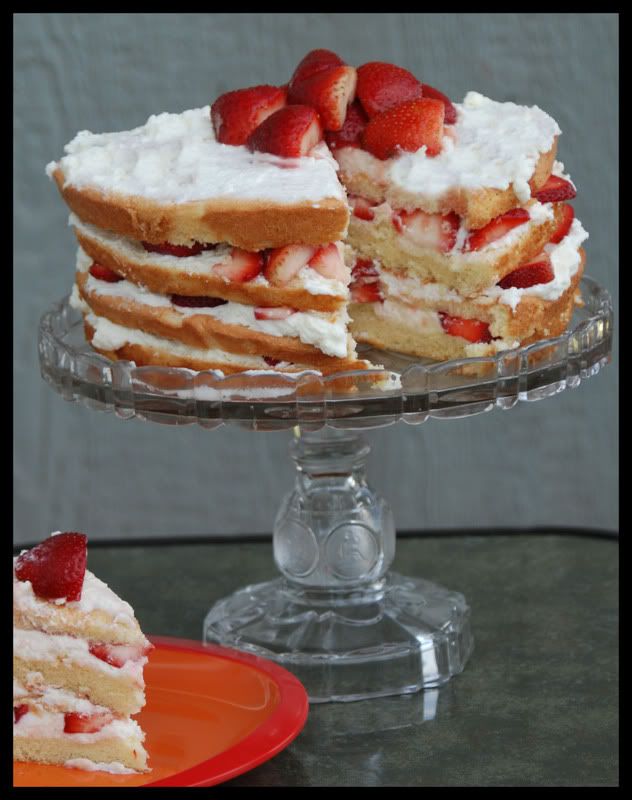 Written for Just Baking on the Well Fed Network
I know you all have been there. You are standing in the checkout lane of a grocery store and a magazine photo catches your eye. Maybe it is one with the current celebrity gossip. Maybe you are more of the House and Garden type and spot a cover with a gorgeous room makeover. If you are like me, it is the food magazines that are the most tempting. I will see a cover photo of something delectable and fight with myself not to pick up the magazine to purchase it.
A few weeks ago my friend Kathy called with a request. She had purchased a copy of Family Circle magazine while she was at the grocery store simply because on the front cover was a photo of a cake that was entirely to tempting to go without. Her request, since she claims to not be a baker, was for me to make this dessert. Several days later she stopped by with the recipe including the photo and I could tell right away why her taste buds were interested in having a bite of this treat. Before me was a four layer white cake stacked with cream and strawberries in the middle. Since I love strawberries in almost any form, I told her I was up to the task.
This cake makes a beautiful presentation. The layer after layer of summer goodness is just too good to pass up. I was surprised at how mild the flavor was though. I am a sweet and sugary sweets girl, and this cake was not nearly as sweet as I would have liked. Kathy, my family and some other neighbors loved the cake, so I would call it a hit.
Berries 'n' Cream Cake
Delicious cake perfect for spring or any parties.
Ingredients
Ingredients
1-1/2

cups

all-purpose flour

1

cup

granulated sugar

2

teaspoons

baking powder

3/4

teaspoon

salt

1/3

cup

vegetable oil

4

large eggs

separated

1-1/2

teaspoons

vanilla extract

1-1/2

teaspoons

lemon juice

1/4

teaspoon

cream of tartar

2

quarts

strawberries

rinsed

1/4

cup

strawberry jelly

melted

Filling:

2

teaspoons

unflavored gelatin

1

package

8 ounces cream cheese, softened

3

tablespoons

sugar

2

cups

heavy cream
Instructions
Directions
Heat oven to 325° F. Coat the bottoms of two 9-inch round cake pans with nonstick cooking spray. Line with waxed paper; coat paper. In a large bowl, whisk flour, sugar, baking powder and salt. In second bowl, whisk oil, egg yolks, 1/2 cup cold water, vanilla and lemon juice. Let sit 3 minutes to thicken, then stir slightly thickened oil mixture into flour mixture until blended. Set aside.

In large, clean bowl, beat egg whites and cream of tartar on medium speed, until foamy. Increase speed to high; beat until stiff peaks form, about 3 minutes. Fold one-third of the whites into flour mixture; then fold in remaining whites.

Divide batter between prepared pans, gently smoothing tops.

Bake cakes at 325° F for 30 minutes or until cakes spring back when lightly pressed. Run a thin knife around edge of pans to release cakes. Invert cakes onto racks; tap to release from pans. Remove waxed paper; return to right-side up. Let cakes cool completely.

Slice one of the cake layers in half. Repeat with second layer, for a total of 4 layers.

Slice 6 cups of the berries and toss in a small bowl with 2 tablespoons of the melted jelly. Place one cake layer on pedestal. Top with 1-1/4 cups Filling (recipe follows). Layer with 3/4 cup of the sliced berries. Repeat twice more, then top with final cake layer. Cut remaining berries in half. Toss with remaining 2 Tablespoons jelly. Spread remaining Filling on top of cake. Top with strawberries and serve.

7.Berries 'N' Cream Filling: Once cakes have cooled, combine gelatin and 2 tablespoons cool water in a bowl. Let stand 3 minutes. Microwave on HIGH for 15 seconds or until melted. Stir until smooth and then cool slightly.

Combine cream cheese and sugar in a large bowl. Beat with electric mixer on medium speed until smooth. Add cream; continue to beat until very foamy. While beating, add gelatin in a thin stream. Continue beating until stiff peaks form. Use immediately to fill layers of cake; do not prepare ahead of time.