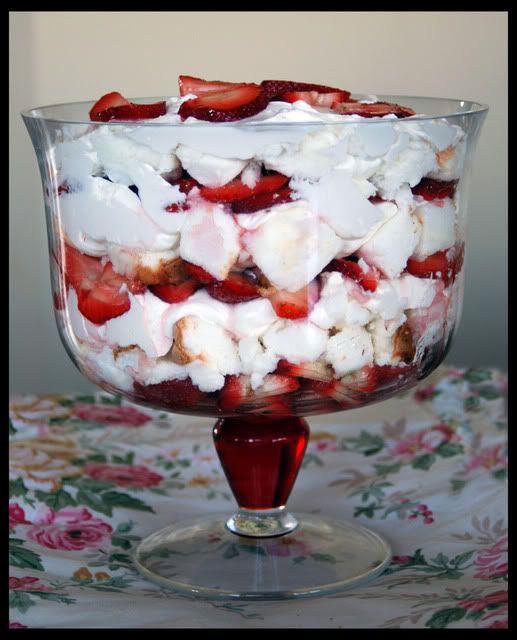 I love Trifles. They are one of my favorite desserts to make because they are always delicious and they always make a beautiful presentation. The problem with trifles is that they are almost too pretty. When it comes time to serve them, the very thought of scooping into the big trifle bowl to tear apart the creation is enough to send shivers down my spine. Isn't it good enough to just sit and look at the pretty dessert without destroying it? Apparently not…for some odd reason people actually want to eat the trifle. Admiring the beauty just will not do.
Last evening, my good friend Sara had my family and another friends family over for Easter dinner. My assignment….bread and dessert. We enjoyed a wonderful meal, with a Martha Stewart worthy table setting and friendly conversation. Once it came time for dessert, Sara pulled the trifle out of the fridge and handed it to me. "You serve it," she said. "No…this is your house, you are the host… you serve it." "I can't bring myself to cut into it…it is just too pretty," she said. Reluctantly, only because I knew the guys would not understand not getting dessert because it was too pretty to cut in to, I picked up the spoon and scooped out the first serving.  Trifles are not nearly as beautiful plopped down on a plate, are they? At this point though, appearance doesn't matter. One you have the first spoonful of this trifle in your mouth, you will not care at all what it looks like or the beauty you destroyed. Trust me when I say this…cutting in to any trifle is well worth mutilating it in the process. Very well worth it.
To create a trifle for your own mutilating pleasure, follow this recipe. Light versions of all of the ingredients can be used without sacrificing flavor.
Strawberry Cheesecake Trifle
This is the perfect spring time dessert for you and your family!
Ingredients
16

oz

packages cream cheese, softened

2

cups

powdered sugar

8

oz

container sour cream

1/2

teaspoon

vanilla

1/4

teaspoon

almond extract

1

cup

Cool Whip

thawed

4

tablespoons

sugar

1

angel food cake

torn into bite-size pieces

2

quarts

fresh strawberries

thinly sliced
Instructions
In a large bowl, beat cream cheese and powdered sugar until fluffy; add sour cream, 1/2 tsp.

vanilla and the almond extract; set aside.

Fold the cool whip into the cream cheese mixture.

Gently stir in cake pieces; set aside.

Combine strawberries and sugar, stirring until sugar is dissolved.

Layer in a large glass bowl, starting with 1/4 of the strawberries, then adding 1/3 of the cake mixture.

Continue layering; finish with strawberries.

Cover with plastic wrap; and chill several hours.