A relaxed Weight Watchers recipe of Zucchini and Shrimp with Cherry Tomatoes goes perfectly with our laid back summer routine!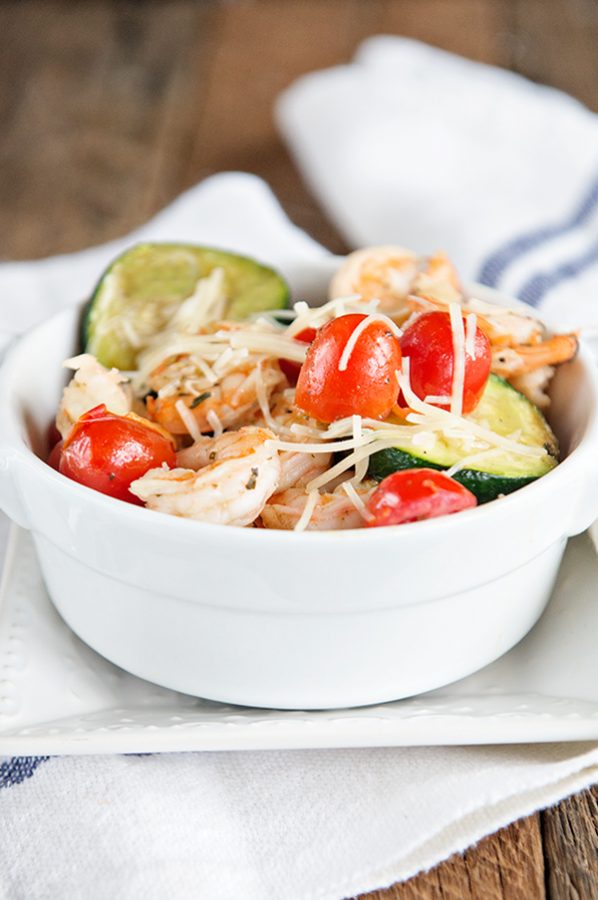 We are almost three weeks into our summer and we have probably had our best one yet. I was worried about not doing our Summer Bucket Lists this year because I know how much fun we have had the past three years checking things off, one by one. There is, however, a certain kind of freedom to not having a "list" hanging over my head to get done. Instead, our summer so far has been full of fun and spontaneity. It's been full of me saying "yes" a whole heck of a lot and us deciding that day what we're going to do. It's been amazing and I'm loving it! (Hopefully you are following Dine & Dish on Instagram and seeing all of our fun shenanigans.)
I'm taking the same attitude with Dine & Dish this summer… not that I've ever had a real strict schedule or expectations for myself, but things around here are going to be more relaxed than normal. For the most part I've decided to take the work part of summer off. I, of course, have my favorite long term clients I'll continue working with, but I've said no to taking on anything new and will just be posting what moves me, when it moves me. I am so excited to have this summer be one where I get back to my roots here on Dine & Dish and fall in love with doing this blog thing just for the pure joy of it… not because I have work obligations to fulfill.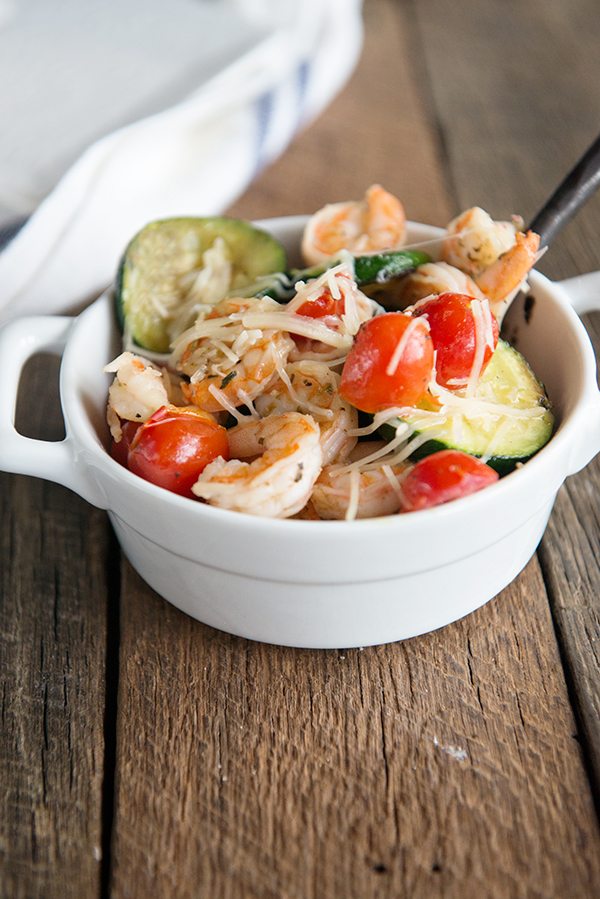 Sometimes being more relaxed leads to pretty amazing things. Take this Weight Watchers Zucchini and Shrimp Sauté recipe, for example. This past week I didn't menu plan at all, and instead went to the store (without a list – gasp!) and just bought whatever ingredients inspired me. That chilled out shopping trip lead to an abundant amount of fresh summer vegetables, which in turn lead to me making this recipe on the fly one evening. It's a simple, no fuss, Weight Watchers recipe that delivers a mouth full of summer flavors. I simply googled Zucchini and Shrimp, and a version of this recipe popped up on the Weight Watchers site – and you know how much I love Weight Watchers recipes!
I hope you enjoy what Dine & Dish has to offer you this summer…one thing I will not be chill on is my gratitude for each and every one of you (and my clients). I'm so thankful for everyone who clicks through to read what I have to say each time I post and hope that I can deliver some happiness inspiring content to you over the next few months!
Now – on to the recipe! Enjoy!
Weight Watchers Zucchini and Shrimp Sauté
Servings
4
1 1/4 cup servings
Ingredients
1

Tbsp

olive oil

extra-virgin, divided

1

medium uncooked zucchini

cut into 1/4-inch slices

1

pound

s uncooked shrimp, large-size, peeled and deveined

1

cup

s cherry tomatoes, cut in half

1

teaspoon

Italian Seasoning

1/2

tsp

Kosher salt

1/4

tsp

black pepper

freshly ground, or to taste

2

Tablespoons

shredded parmesan cheese
Instructions
Heat 2 teaspoons oil in a large nonstick skillet over medium-high heat. Add zucchini in a single layer; increase heat to high and cook until bottoms are golden, about 2 minutes. Flip zucchini and cook until golden on other side, about 2 minutes more. Remove zucchini to a plate with a slotted spoon.

Heat remaining teaspoon oil in same skillet. Add shrimp; sauté 1 to 2 minutes. Add tomatoes, Italian seasoning, salt and pepper; sauté until shrimp are almost just cooked through, about 1 minute.

Return Zucchini to the pan and sprinkle with salt and pepper.

Add shredded parmesan cheese and toss until well incorporated.

Serve and enjoy!
Notes
5 points plus value per serving