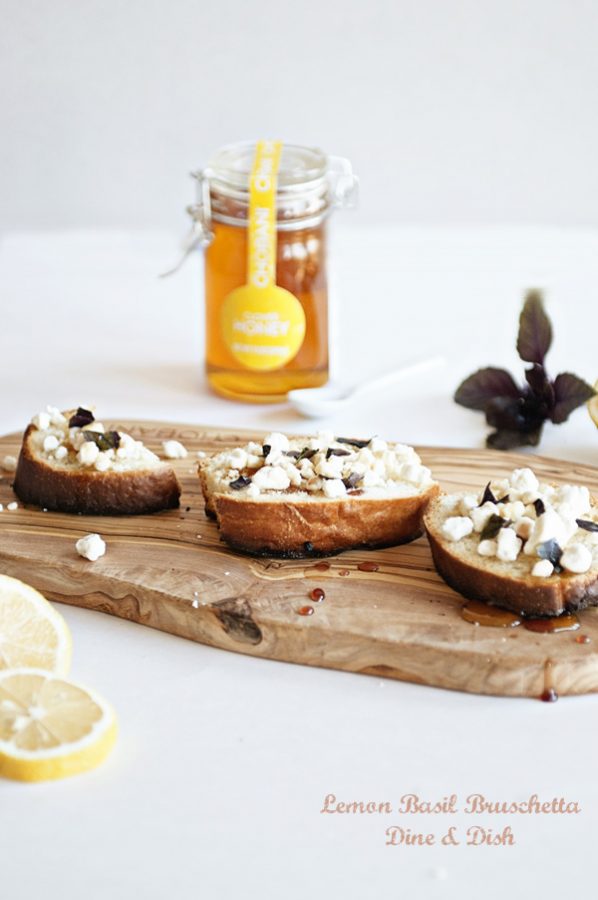 There was a time when I would sign up to bring anything to a party BUT an appetizer. I've never been very good at appetizers, until I discovered the ease and versatility of Bruschetta.
This Lemon Basil Bruschetta was the perfect idea to take to my friend, Liz's, Virtual Baby Shower! I'm sure you know Liz from The Lemon Bowl, right? She's having another baby boy very soon and a few of her friends and I decided to throw her a virtual baby shower to celebrate!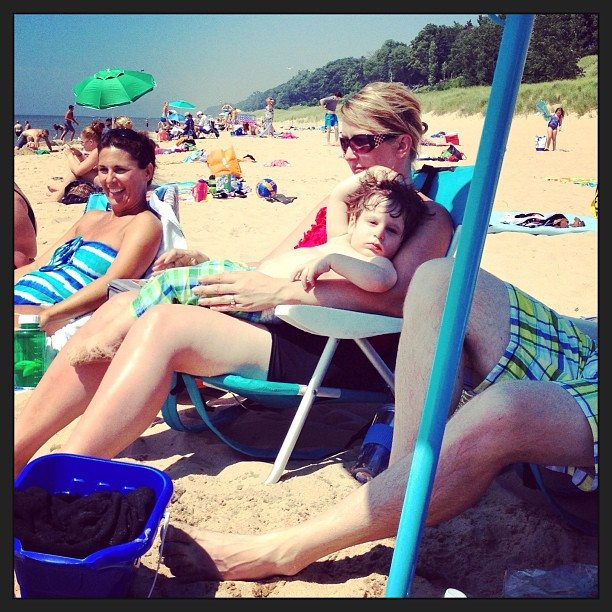 I'm all for baby showers and people having babies and all, but I really must confess that I'm a little annoyed with Liz for having another boy… she's kind of got the market on cuteness with her first son, Asher. I'm not sure what she's trying to pull bringing more cute into the world. Sounds like some kind of crazy blog stunt to me! (That's Asher, hanging out with me in Michigan this summer… little did I know at that point that he's kind of a ladies man and I'm pretty sure has long forgotten about me by now. I still love him though!)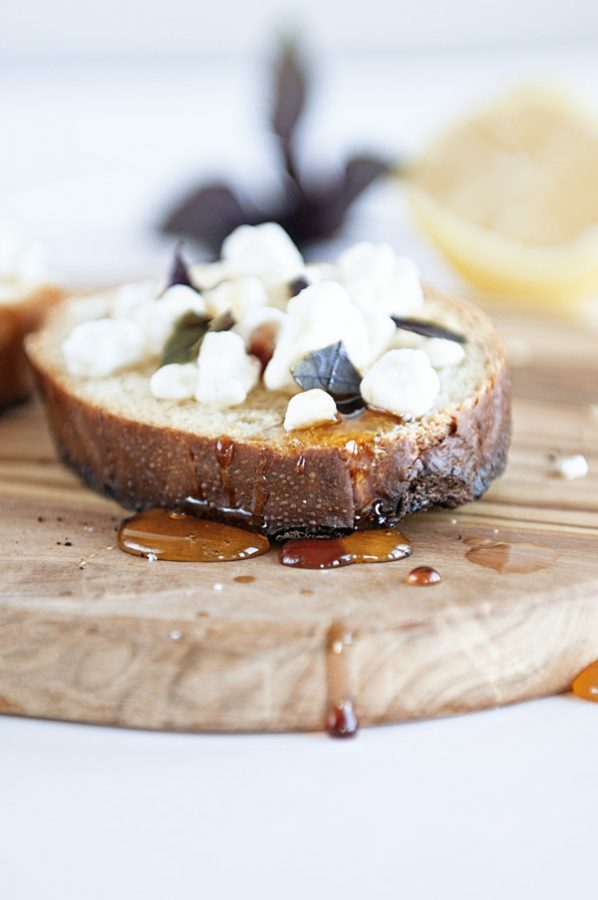 So Liz, my friend, I love you to pieces and hope you have the most wonderful surprise baby shower day, ever! I can't wait to meet your newest addition…he's pretty darn lucky to have a mama like you!
For the Lemon Basil Bruschetta recipe, head down to the bottom of the post, but before that, please take a moment to click around and check out all the friends who brought some tasty treats to Liz's Surprise Baby Shower! And make sure you stop by The Lemon Bowl and give Liz a big congratulations. I know she would love to hear from you!
Appetizers
Beverages
Salads
Main Dish
Desserts
Lemon Basil Bruschetta
Try this simple Lemon Basil Bruschetta for a fresh tasting, delicious appetizer.
Ingredients
1

Bakery Fresh French Loaf

sliced into 1/2 inch pieces

1/4

cup

olive oil

2

cloves

garlic

smashed

1

cup

goat cheese

crumbled

1

bunch purple or green basil

torn into small pieces

1

lemon

1/4

cup

pure honey
Instructions
Brush each slice of bread with olive oil and then rub with smashed garlic cloves.

Place under the preheated broiler in your oven for 3 minutes, or until toasted.

Toss goat cheese and basil in a small bowl. Top each piece of toasted bread with cheese/basil mixture.

Cut the lemon in half and squeeze fresh lemon juice moderately over each piece of bruschetta.

Drizzle each slice with honey. Serve.