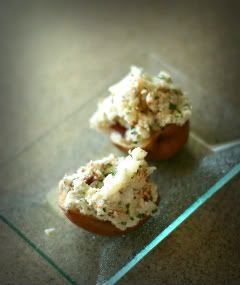 I am a very visual person. I love to have recipes with photographs… it makes the recipe that much more tempting and desirable. Often times, I will be flipping through a magazine and will fall in love with a photo of a recipe, only to take a look at the recipe and realize that I really don't care for some of the ingredients in the dish. This does not happen very often, as I am not a very picky eater, but when it does sometimes I am still lured in just enough by the photo to throw out my picky qualms about an ingredient and to try the recipe anyway.
This happened recently when I was flipping through June/July 2008 issue of Everyday with Rachael Ray. A photograph for an appetizer called "Sky Blue Potatoes" caught my eye and I immediately was intrigued. Then, I took a look at the ingredients and noticed that the "Blue" in the recipe title actually came from the fact that Blue Cheese is one of the prominent ingredients. I have never been a fan of Blue Cheese. I have always wanted to be, but each and every time I try it it just does nothing for my tastebuds. I was still being tempted by the photo, so I decided to make this appetizer anyway.
This appetizer was not a huge amount of work, but to do all of that work only to discover that you still do not like blue cheese is a little disappointing.  I don't know what I was expecting my tastebuds to do…did I really think they were going to make a big whopping change, just like that? Actually, yes… yes I did. I just thought that I'd make the recipe, take my first bite, and suddenly be in love with blue cheese! It didn't happen, folks. In case you are wondering, I still am not a blue cheese fan.
This appetizer got a thumbs up from the Blue Cheese lovers who tried it. If you are of the Blue Cheese loving group, you'll love this appetizer. If you are not, I've done the work for you and can tell you… blue cheese still tastes like blue cheese no matter how tempting the photograph!
Sky Blue Potatoes, from Everyday with Rachael Ray, June/July 2008
Quick and easy appetizer for any occasion.
Ingredients
24

red potatoes

halved lengthwise

2

teaspoons

extra-virgin olive oil

1 1/2

cups

sour cream

1

cup

crumbled blue cheese

1/2

cup

crumbled cooked bacon

1/4

cup

chopped flat leaf parsley

for garnish

1/4

cup

green onions

finely chopped
Instructions
Preheat the oven to 400 degrees.

In a medium bowl, toss the potatoes with the olive oil.

Place cut side down on a baking sheet and bake until the skins are crisp, 20 to 25 minutes. Let them cool.

Scoop out the center of each potato half and place in a medium bowl. Stir in the sour cream, blue cheese, bacon, and green onion.

Fill each potato skin with the sour cream mixture and garnish with parsley.