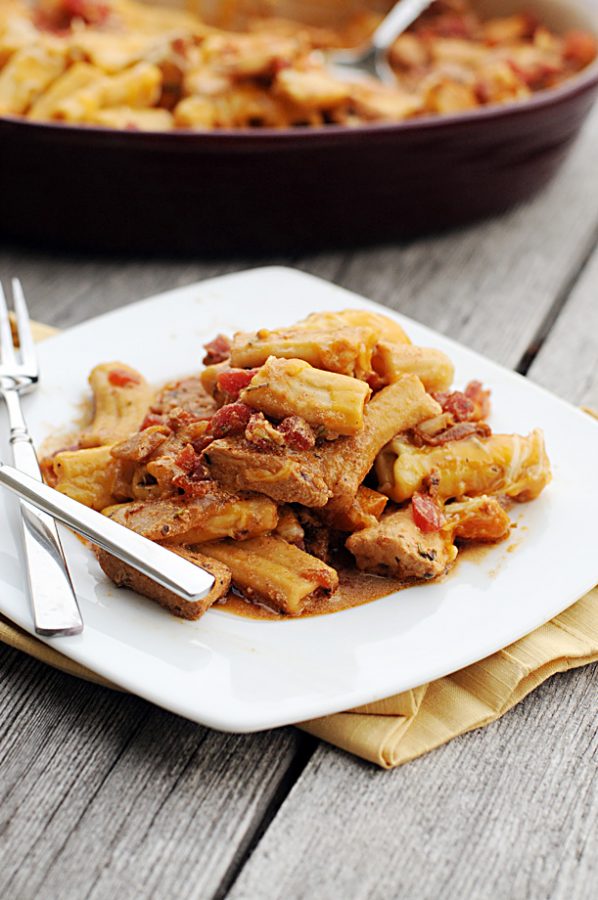 I know… I know… stop talking about the darn homemade pasta, right? I'm sorry! I just can't help it. When I made homemade pasta for the first time last week, it was kind of a moment for me. I looked back at my Hamburger Helper days many moons ago and marveled at how far I had come. I mean, really… I was making homemade pasta. How cool is that?
So anyway, as much as I enjoyed just sitting around admiring the cute little fresh pasta shapes, I knew my family wouldn't be thrilled with the pasta just being kitchen home decor. I needed to implement it into something that would feed their hungry bellies. Enter the booklet that came with the KitchenAid Pasta Attachment. I've always had a love for appliance booklet recipes. They tend to be some of the best of the best, in my opinion. This Rustic Baked Rigatoni is no exception… it is a simple recipe with a blend of flavors that don't compete with each other. Instead, they compliment each other in the best way and give the fresh, homemade pasta its moment to shine!
I eliminated the Italian Sausage and made some other changes simply based on what I had on hand. I doubled the chicken to make up for the missing sausage.
Rustic Baked Rigatoni
Rustic Baked Rigatoni
Ingredients
1

tbs

olive oil

2

boneless skinless chicken breasts

sliced into 1/4" pieces

2

Italian sausage links

sliced diagonally into 1/4" pieces

1

small onion

sliced

1

small green pepper

seeded and sliced (I used a yellow bell pepper)

2

large cloves of garlic

minced

1

tsp

chopped fresh rosemary

1/8

tsp

cayenne pepper

1 14.5

ounce

can petite diced tomatoes with juice

3/4

cup

half & half

1/2

recipe basic egg noodle pasta

extruded into short cut rigatoni, cooked and drained

1/2

cup

shredded Mozzarella cheese

we used cheddar

1/4

cup

grated Romano cheese

we used Parmesan
Instructions
Heat oil in a large skillet over medium heat. Add chicken and sausage links and cook, stirring occasionally, for 5-6 minutes. Add onion, green pepper, and garlic. Continue cooking and stirring until meat is completely cooked through and vegetables are tender, about 6-7 minutes. Add rosemary, cayenne pepper, and tomatoes. Stir well to combine and bring mixture to a simmer. Stir in half and haf and remove mixture from heat. Add cooked pasta and stir well to combine. Transfer mixture to a greased 2 1/2 quart baking dish. Sprinkle with mozzarella and Romano cheeses. Bake at 350 degrees for 15-20 minutes or until heated through. Serve immediately.
Disclosure: This blog post contains affiliate links. As an Amazon Associate, I earn from qualifying purchases.