QUICK UPDATE 4/14 1:30CST – Adopt-a-Blogger is officially closed to new bloggers. If any additional experienced bloggers come forward willing to mentor someone, I will update my Twitter status to announce that additional space is available.  Matches will be posted next week!

I clearly remember the first time I made this bread for a couple of friends of mine. We had a meeting at my house and I decided to make some homemade bread. I was fairly new to the whole bread making thing, so choosing to make homemade bread was a stretch for me. When they came over, I brought out my fresh loaf of Honey I'm Home Bread along with some whipped honey butter. They oohed and ahhhh'd and later insisted that I teach them how to make bread. A couple of weeks later, they came over again and I showed them how simple bread baking was.
They both have since become really, really great bread bakers (and unlike me, have stayed skinny, which kind of ticks me off!). That experience was the first time I remember really teaching someone how to do something that I once had thought was difficult to do. I couldn't believe that I was the one teaching someone else how to make homemade bread!
Having a mentor to turn to when you want to learn something new, improve upon what you are currently doing, or just share an experience with someone is so important. That is why I created Adopt a Blogger in the first place a few years ago. It seemed like so many of us had talent and skills we could share with others, but there wasn't any formal way for us to do that.
I'm excited to kick off yet another round of Adopt a Blogger. Thank you so much to all of you who have made this blog event a success! I appreciate your participation and commitment to making our food blogging community a friendly and helpful one.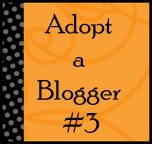 Now for the details on how you can participate!
If you were adopted in one of the previous adopt a blogger events, consider adopting someone this time around. If you adopted before, you can adopt again. I am limiting the number of potential adoptees to 20 for this round. So, I am looking for 20 newbies and 20 experienced food bloggers. First come, first serve basis. If you miss it this time around, we'll get you next time! (Note – I will increase the number of slots *if* I get enough interest from the experienced bloggers to adopt the newbies!)
Newbies – Newbies are food bloggers who have a blog that has been up for a year or less. If you are just starting out, you must have had at least 1 month worth of consistent posting on your blog.
Experienced Bloggers – Anyone who has maintained an active food blog for over 1 year. If you have a blog that is younger than a year old, but feel like you have the whole food blogging thing down and could provide some expertise to someone just starting out, then please feel free to sign up as a veteran.
Newbies will commit to writing one post about their Veteran. Veterans will commit to doing the same. Trying a recipe out and posting this on your blog would count as well, as long as you are introducing each other and the blogs.
You will each add each other to your respective blogrolls.
At the end of the 3 month mentoring time, where the Veteran will help the newbie find their way, I ask that the Veteran write one post linking back to this Adopt-A-Blogger post with a piece of advice for new bloggers. I also ask that the newbies write one post about what they have learned about blogging during the 3 month mentorship. Please note that by three months, I don't mean that you have to be in constant contact with each other. Just keep in touch with each other for the three months and be available to ask/answer any questions that might pop up.
If you are interested in participating, please leave a comment on this post indicating if you are a newbie or a veteran. Please make sure you enter your website information in the form as well as an email address. If that information isn't included, I can't get a hold of you which means you won't be able to participate!
Once we have reached have reached 20 newbies and 20 experienced bloggers, I will carefully match you all up and the adoption will be official!
Now for the recipe: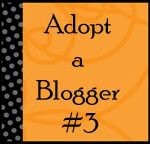 Honey I'm Home Bread
Honey I'm Home Bread (from Recipezaar)
Ingredients
1

cup

milk

4

tablespoons

honey

1

large egg

3 1/4

cups

bread flour

4

tablespoons

butter or margarine

1 1/2

teaspoons

salt

1 1/2

teaspoons

instant yeast
Instructions
Put these ingredients in your bread machine as your model of machine calls for, and let the machine do the work to mix.

Put in greased loaf pan to rise again.

When raised as much as you want, put in 325 degree oven for 30 to 35 minutes.

Let Cool.