I think I am one of the few people in the universe who has not read the Harry Potter series. Although I love to read, I have commitment issues when it comes to reading books, and a whole series is just more than my ADD attention span can handle.
My husband and son are big fans of the book series, so when we recently went to Universal Studios Islands of Adventure and were immersed into the Wizzarding World of Harry Potter, they were just a tad bit stoked. I knew enough from watching some of the movies to be enchanted as well. Walking through the streets you immediately felt transported to another land.
To be honest with you, even though I don't know much about Harry Potter, I was willing to hang out anywhere that had this delicious drink concoction called Butterbeer. Apparently, Butterbeer is the beverage of choice for the Wizards at Hogwarts Academy. One sip from the closest beverage cart and I was hooked. In fact, we had so many great things to eat and drink on our vacation, but of all of it, my craving for Butterbeer hasn't ceased.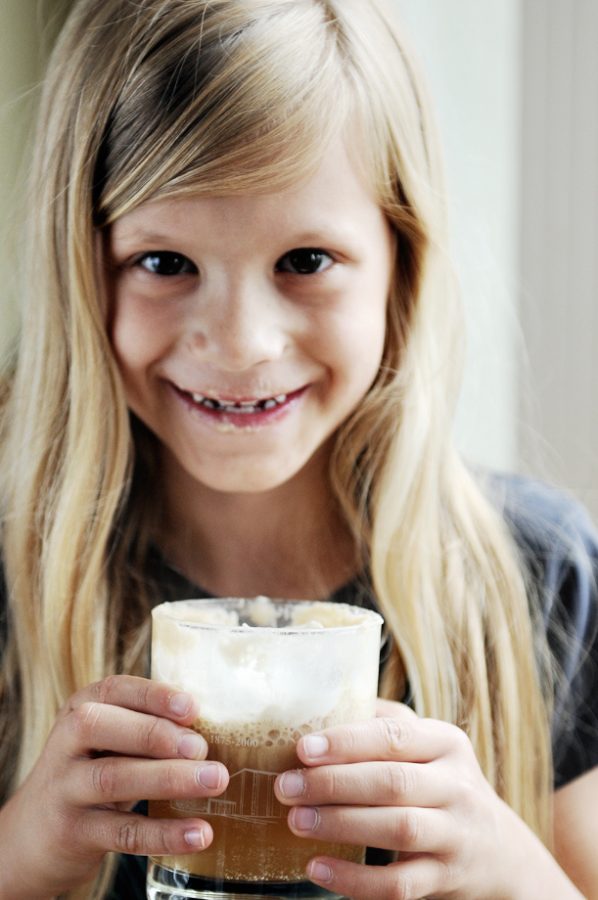 Our friend Katie gets her first sip of Butterbeer!
What does a food blogger do when they are craving something? First beg Chef Steven Jayson, who created the recipe, to share his secret. When this results in no avail, scour the internet trying to find copycat recipes or create the recipe itself. The Butterbeer created by the chef at Islands of Adventure and approved by J.K. Rowlings herself is a buttery and creamy mixture made without ice cream. I found this recipe on Fox News and decided it seemed the closest in ingredients to what I tasted at Islands of Adventure in Orlando. Close, but not quite… but delicious nonetheless! To get the real thing, I think I'm just going to have to go back to Universal Studios in Orlando…sooner rather than later!
Almost Like Butterbeer from Harry Potter
adapted from a Fox News recipe
Ingredients
1

cup

light or dark brown sugar

2

tablespoons

water

6

tablespoon

butter

1/2

teaspoon

salt

1/2

teaspoon

cider vinegar

3/4

cup

heavy cream

divided

1/2

teaspoon

rum extract

Four 12-ounce bottles cream soda
Instructions
In a small saucepan over medium, combine the brown sugar and water. Bring to a gentle boil and cook, stirring often, until the mixture reads 240 F on a candy thermometer.

Stir in the butter, salt, vinegar and 1/4 heavy cream. Set aside to cool to room temperature.

Once the mixture has cooled, stir in the rum extract.

In a medium bowl, combine 2 tablespoons of the brown sugar mixture and the remaining 1/2 cup of heavy cream. Use an electric mixer to beat until just thickened, but not completely whipped, about 2 to 3 minutes.

To serve, divide the brown sugar mixture between 4 tall glasses (about 1/4 cup for each glass). Add 1/4 cup of cream soda to each glass, then stir to combine. Fill each glass nearly to the top with additional cream soda, then spoon the whipped topping over each.
I'm sharing this post as part of the I'm Lovin' It roundup on TidyMom!
Disclosure: This blog post contains affiliate links. As an Amazon Associate, I earn from qualifying purchases.