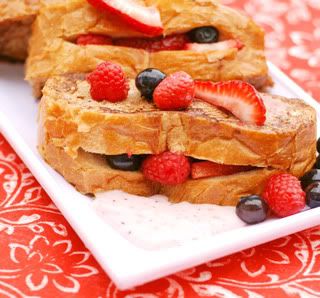 I am a big, fat crybaby. I'll just get that out in the open right now. I can be at a wedding of people I don't even know well and the music will start, and I am bawling. Someone can tell me a story about something sad that happened, and without even hearing all of it, I'm bawling. Put a bunch of graduating high school seniors in front of me, and tears are streaming down my face simply because I picture my kids there in just a few years. I  apparently was given one of those over sensitive crying triggers.
One thing that brings me to tears without fail is someone singing The National Anthem. The flag is waving, the song is pouring out from someones soul, and I am instantly in tears. I get overwhelmed with emotion… a sense of thankfulness and compassion washes over me. I cannot help but think that the life of freedom we have today is in part due to all of the people who gave (and are still giving) the ultimate sacrifice in order to protect our country. Men and women leave the comfort of their homes and families behind to make my world a better place to be in. That is a dedication I will never understand but that I appreciate from the bottom of my gratitude filled heart.
If you live in the United States, please have a safe and happy Independence Day. If you see someone who is in the military, a Veteran who has served our country… or if you even see the family members of one of these brave soldiers… please stop and give them a rightful thank you. It is because of them that we can fly our flags high and be thankful that we live in the U.S.A.
Berry Stuffed French Toast with Vanilla Yogurt Sauce, from Recipezaar
15 min | 15 min prep
SERVES 4
2 cups fresh

mixed berries

, about 1/2 lb (blueberries, sliced strawberries, raspberries or blackberries)
2 tablespoons

powdered sugar

1/3 cup

fat-free sweetened condensed milk

1 (6 ounce) container

low-fat vanilla yogurt

10 ounces

French bread

(1 small loaf)
1

egg

1

egg white

1/3 cup

low-fat milk

1 teaspoon

granulated sugar

1 teaspoon

vanilla extract

1/4 teaspoon

cinnamon

nonstick cooking spray
Place berries in a small bowl and sprinkle with powdered sugar. For the sauce, spoon about 1/4 of the berries, sweetened condensed milk and yogurt into a blender (or food processor) and puree until smooth; set aside.

Cut bread into twelve 1 1/2-inch pieces. Cut into each piece almost all the way through to create a pocket. Stuff the bread slices with remaining sweetened berries and press lightly to close; set aside. Reserve any unused berries to garnish top at serving time.

Whisk egg, egg white, milk, granulated sugar, vanilla and cinnamon in a medium bowl. Heat a large non-stick skillet over medium heat. Spray skillet with non-stick cooking spray. Dip stuffed bread slices in egg mixture to coat and cook until lightly browned on both sides, turning once.

Spoon sauce onto serving plate, arrange French toast on top and garnish with any remaining berries.