Amish Sugar Cookies are a simple, soft and flavorful sugar cookie, made famous by the Amish.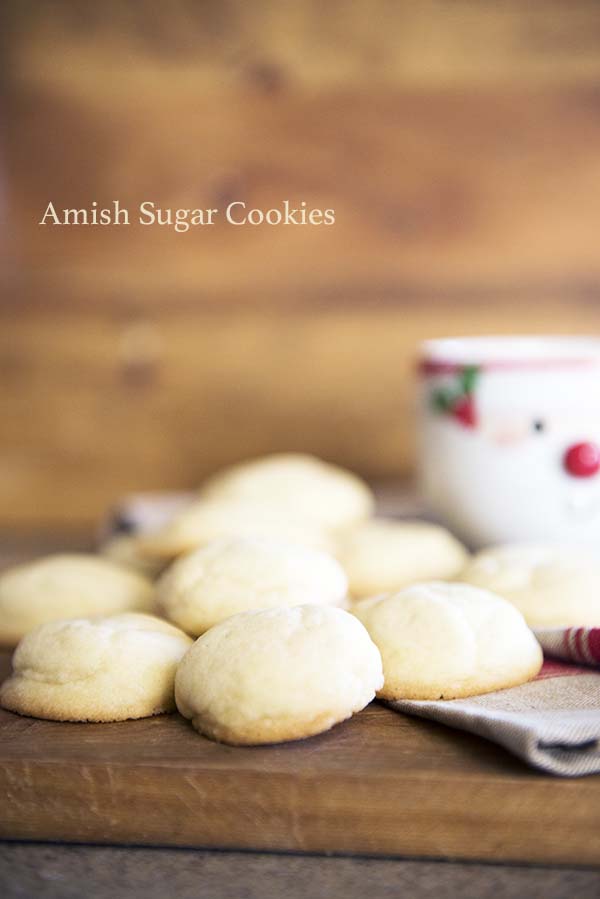 One of Nick's sisters lives in an Amish town. Every time we visit, I'm convinced we need to move away from the city, give up modern technology, and live the life of the Amish.
Then I remember I'm a blogger and 75% of my job requires a super fast internet connection, electricity and all things non-Amish. But still, with every horse drawn carriage I see hitched to a pole at the corner market, every yard we pass with clothes drying in the wind, and every hard working family I notice working out in their garden, I get a little twinge of wistfulness for a simpler life.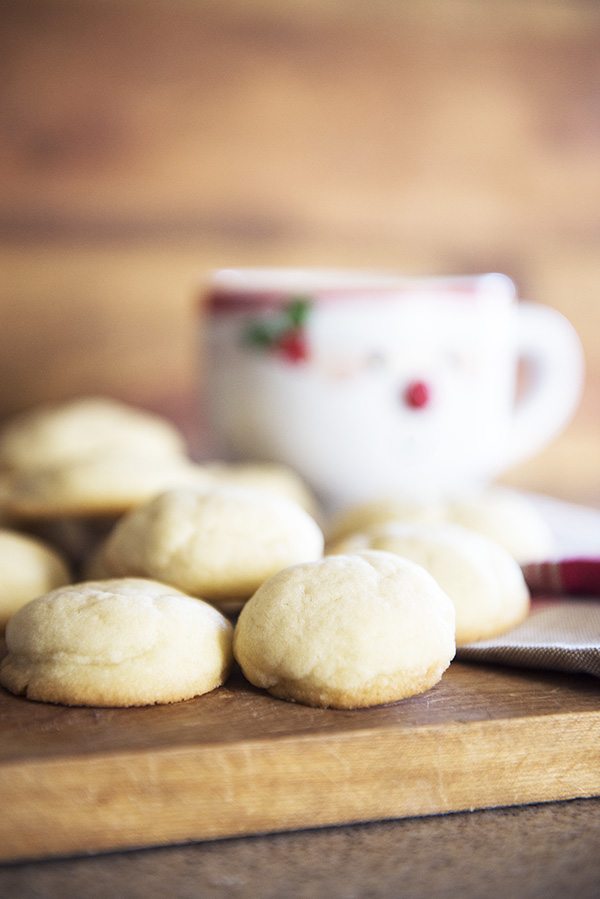 I say the Amish have a simpler life because I imagine a life without the constant pull of the TV and internet to be simple. However, I'm always incredibly impressed with how hard the Amish seem to work. Each time we drive through Kalona, you see kids working outside, markets full of hand made goods that you know took forever to make, and people generally soaking up every second of sunlight with hard work. Are their lives really that much more simple? I'm guessing not. Maybe simple is a relative term, right?
These soft Amish Sugar Cookies are simple, just like the lives of the Amish is meant to be. This is one of those sugar cookie recipes that makes a huge batch and doesn't need frosting of any kind to be delicious. They are simple, sweet and oh so good!
Nick was home the other day when I made these, so I enlisted his help in making a video. He did great for a first time videographer, so I'm not blaming him for the triple chins I seem to have. Apparently I've been eating too many of these Amish Sugar Cookies 🙂
Although these cookies would be great any time of year, if you are looking for a simple, classic cookie to add to your holiday trays, the Amish Sugar Cookie is sure to be a hit! Enjoy!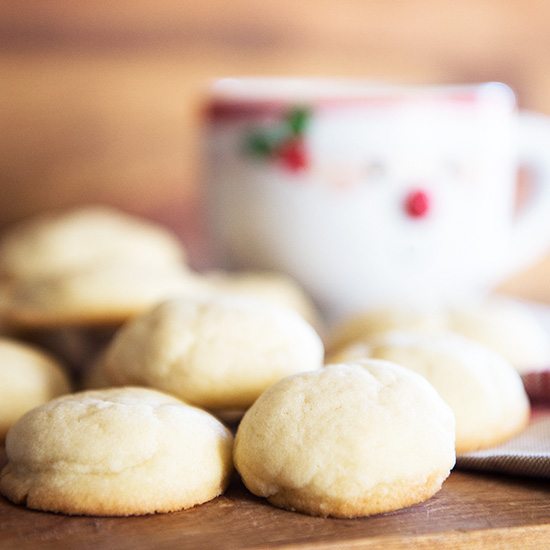 (PS – don't be alarmed by the amount of vegetable oil in this recipe. Don't try to change that…it's what makes these cookies so incredibly soft and good! Just go with it, knowing that this makes a really large batch of cookies, and eventually it all evens out).
If you are looking for a more traditional sugar cookie, give this best sugar cookie recipe a try!
Amish Sugar Cookies Recipe
This soft Amish Sugar Cookie Recipe takes you back to a simpler time and place. The perfect, simple cookie is here. Slightly adapted from the July 1990 issue of
Taste of Home magazine
.
Ingredients
1

cup

butter

softened

1

cup

vegetable oil

1

cup

sugar

1

cup

confectioners' sugar

2

large eggs

2

Tablespoons

vanilla extract

4-1/2

cups

all-purpose flour

1

teaspoon

baking soda

1

teaspoon

cream of tartar
Instructions
In the bowl of an electric stand mixer, beat the butter, oil, granulated sugar and confectioners' sugar together. Beat in the eggs until well blended and light in color. Add the vanilla and continue mixing on low.

In a separate bowl, combine the flour, baking soda and cream of tartar; gradually add to the creamed mixture. Mix just until all ingredients are incorporated.

Drop dough by small teaspoonfuls onto a Silpat or parchment lined baking sheets. Bake at 375° for 8-10 minutes or until lightly browned. Remove to wire racks to cool.