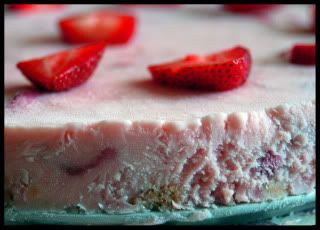 Spring is in full force here in the Midwest. I love the thunderstorms that come with the spring weather but I hate the tornados that this part of the country is known for. I have lived in Kansas all but one year of my life and would you believe I can count on only one hand the number of times I have actually had to take shelter from a tornado? Take that handful of times and subtract the times I have actually been in a place where a tornado has hit and you will get zero. I have never been in or near an actual tornado. That all being said, tornados still scare the heck out of me, which is one reason I always look forward to spring bidding farewell and summer coming into my life.
I tend to get myself in summer mode way before summer comes around. One of my favorite ways to pretend like it is summer when it is actually really still spring is to have lots and lots of strawberries around. Fresh strawberries are not in season here until June or July, but the stores start stocking their shelves with tons of strawberries at fairly decent prices during the spring. The store bought strawberries are not even close to the fresh from the vine goodness we get in the summer, but it is a good substitute. Good enough for me anyway and a good enough way to get me ready for those warmer, non-tornadic months.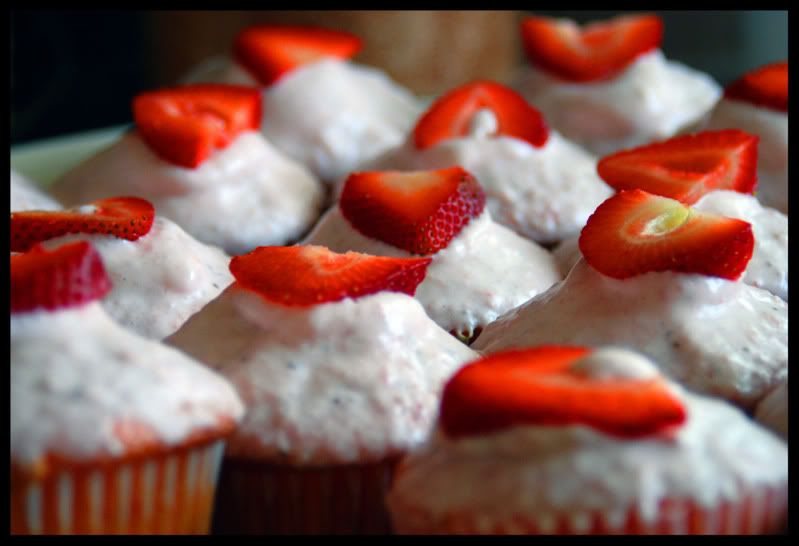 This weekend we had an impromptu Cinco de Mayo party. We had had a day that was jam packed full of craziness and we needed something to help us all unwind and celebrate. Our friends and neighbors came over and I made my sister-in-law's delicious enchiladas. Everyone was asked to bring a side dish or appetizer and we provided the main dish and the dessert.  The main dish was taken care of, but I had no idea what to make for dessert. Margarita cupcakes were what my mind originally went to, but when I opened the fridge and saw the enormous tub of strawberries I had bought at Costco that morning, I knew I needed to use them up. Since I was short on time, I took the easy way out and opened up Google and typed in "Strawberry Margarita Dessert". Several options caught my eye, but the one that I kept coming back to was a Frozen Strawberry Margarita Dessert from Recipe Source. I also wanted something a little more kid friendly, so I decided I would make Strawberry Cupcakes with Whipped Strawberry Frosting for the kids.
Both of these desserts were delicious. The Frozen Strawberry Margarita Dessert was a big hit among the adults. It really tasted like a frozen strawberry margarita. It was cool and refreshing and was a perfect Cinco de Mayo treat. The cupcakes were also delicious. I had some issues with my whipped frosting due to the heat and humidity that day, but the kids didn't notice at all.
For now, I will enjoy the spring weather and thunderstorms. I will continue to hope that I can keep from personally meeting a tornado face to face.  While I am doing that, I will still anticipate the tastes of summer, all the while munching on my tub of strawberries.
Frozen Strawberry Margarita Dessert
A great dessert for summer parties.
Ingredients
CRUST:
1 1/4

cups

finely crushed pretzels

1/4

cup

sugar

1/2

cup

butter or margarine -- melted
FILLING
1

can sweetened condensed milk -- 14 oz.

1/4

cup

lime juice

2

tablespoons

tequila

2

tablespoons

orange liqueur

I used Grand Mariner

1

package strawberries in syrup -- 10 oz. thawed

1

cup

whipping cream
Instructions
To make crust:
Combine pretzels, sugar and melted butter. Press firmly into bottom of 8" spring form pan. Chill.
To make filling:
Combine condensed milk, lime juice, tequila and orange liquor.

Beat until smooth. Add strawberries, beat at low speed until well-blended. Fold in whipping cream. Pour over crust, freeze 4 - 6 hours or until firm. Let stand at room temperature 15 minutes before serving.