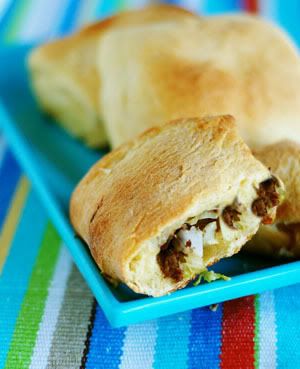 This is probably completely inappropriate talk for a food blog, but why is it that you can get in the car, leave work, drive for 30 minutes and not have to go to the bathroom at all. Then, when you pull onto your street and open the garage door, you suddenly have to go soooooo bad that you can hardly stand it! What is up with that? I think it is all about the anticipation of being home.
Being an instant gratification kind of gal, I don't do well with anticipation. I buy my husband Christmas presents and have to give them to him early because I can't stand to wait to see his reaction. I rarely let cookie dough chill before baking it. I've never made a sourdough starter because the thought of waiting for days for something to come to fruition would drive me to drink (actually… that may be a good enough excuse as any!).
Bierocks were on the menu for tonight. Bierocks are a German food, commonly seen at Oktoberfest events and well known for being a "stretch your dollar" kind of recipe. The only problem I have with Bierocks is it takes awhile to put them together. You start with the dough then you have the filling cooking on the stovetop… the aroma of it filling the air and your mind racing to the time when you can actually take your first bite. No instant gratification with this one, just a whole load of wonderful anticipation. I can tell you this much… the first bite of one of these Bierocks, fresh out of the oven, is well worth waiting for!
Did you know that Susan over at Sticky, Gooey, Creamy, Chewy is celebrating her 1 year blogiversary with a huge bash? She is and she has asked each of us to bring a dish. I know that Bierock's are probably not common party fare, but I am going to bring them anyway. They are a great handheld treat and are not something that people get to have everyday. Just like Susan's blog, they are a little pocket full of goodness with something unexpected in every bite!
Bierocks (adapted from Delicious! Delicious!)
Dough:
2 1/4 tsps. dry yeast
1 cup warm milk
1/4 cup sugar
1/4 cup vegetable oil
1 tsp. salt
2 eggs, beaten
4+ cups bread flour
Filling:
1/2 medium-sized onion, chopped
2 cloves garlic, minced
1 lb. ground beef, pork, or turkey (I used turkey)
1 Tbs vegetable oil
1/2 small head of cabbage, shredded
salt and pepper, to taste (I add garlic salt and other seasonings as I see fit… make sure you season the filling well because the cabbage can take the show if you don't!)
2 Tbs Butter, melted
1. Dissolve sugar and yeast in warm milk. Let stand until foamy, about 5 minutes. In a heavy -duty mixer, combine oil, salt and eggs; add yeast mixture. Add 1 cup of flour and beat for 1 minute. Beat in 1/2 cup of flour at a time, until dough pulls away from sides of bowl.
2. Switch to dough hook. Knead on low speed, adding remaining flour 1 TB. at a time, until smooth and elastic, about 8 minutes.
3. Place dough in a well-oiled large bowl and loosely cover. Let rise in a warm place for 1 hour, or until doubled in size.
4. To make filling, heat oil over medium-high heat. Add meat, onion and garlic and cook until meat is browned, stirring to crumble. Add cabbage and cook until wilted. Season with salt and pepper. Let cool.
5. Punch dough down and let rest 5 minutes.
6. Divide dough in half. Roll each half into a letter-sized rectangle (roughly 8 by 11) and cut each rectangle into 6 squares. Spoon 1/4 cup filling into center of each square. Bring opposite corners together at the center, pinching corners and seams to seal. Place seam side down on a large baking sheet covered with parchment paper. Repeat with remaining dough. Cover and let rise 20 minutes.
7. Preheat oven to 375 degrees.
8. Uncover, brush tops with melted butter and bake until lightly golden, about 15 minutes. Cool on wire racks.
Makes 12 bierocks.
How about some other German recipes to get you in the Fall mood! Check out what these other food bloggers have to offer: