This Avocado White Chocolate Chip Cookies recipe is a great one to try if you want to experiment with baking with avocados.
I know what you are thinking…avocados in a chocolate chip cookies recipe? Really?
I am here to say YES! Putting avocados into baked goods is something you should totally get behind. It may sound strange, but the nutty, creamy flavor fresh California Avocados adds to a cookie or bread (like in this Pistachio Avocado Quick Bread Recipe) is so good.
If you do a search for Avocado Recipes on the web, you'll discover there aren't a lot of options for baking with avocados…and I'm here to change that. Seriously, try it once and once you do, you'll try to figure out how you can add more avocados into your baked goods!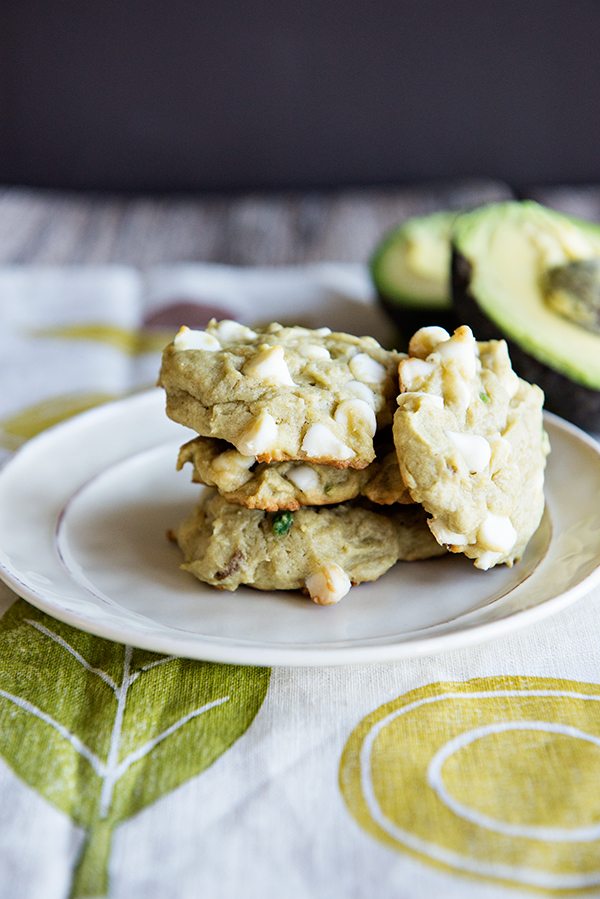 The only thing you may have to get used to when you bake with avocados is the slight green tint of the food. It's a beautiful green, but people may balk just a bit at the site of a slightly green white chocolate chip cookie! Just convince them to trust you… if you can't do that you may have to re-asses your friendship. True friends will trust that green cookies are really supposed to be green and you aren't trying to poison them or something.
If you are ready to start baking with avocados, you can find a lot of information on the California Avocados website to help you. Here's one quick tip for baking with avocados… an easy way to experiment with adding fresh avocados to your bake goods is to substitute half the butter in a recipe with avocado. So, if your recipe calls for 1/2 cup butter, try using 1/4 cup butter and 1/4 cup fresh, mashed avocado. You may have to add slightly more liquid if you do this, but for the most part your recipe should be good with an even substitution.
So what do you think? Are you ready to give adding California Avocados to your baked goods? I think you should start by giving this Avocado White Chocolate Chip Cookies Recipe a try. You'll be glad you did!
Disclosure: I am honored to be a paid brand ambassador with California Avocados. To discover more recipes using California Avocados, please visit the recipe page of their website.
Avocado White Chocolate Chip Cookies Recipe
The secret ingredient in this White Chocolate Chip Cookies Recipe is fresh California Avocados!
Ingredients
1/2

cup

Butter

softened

3/4

cup

firmly packed brown sugar

1/2

large California Avocado

mashed

1

small banana

mashed

1

egg

1

teaspoon

lemon zest

1/2

teaspoon

vanilla

2

cups

all-purpose flour

1/2

teaspoon

baking powder

1/2

teaspoon

baking soda

1/4

teaspoon

salt

2

cups

White Chocolate Chips
Instructions
Heat oven to 350°F.

Combine butter and brown sugar in large bowl. Beat at medium speed until creamy. Add banana, avocado, egg, lemon zest and vanilla; continue beating until well mixed. Add flour, baking powder, baking soda and salt; beat at low speed until well mixed.

Using a wooden spoon, gently fold in white chocolate chips.

Drop dough by rounded teaspoonfuls, 2 inches apart, onto ungreased cookie sheets. Bake 10-12 minutes or until edges are lightly browned. Cool completely.