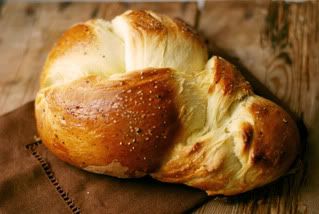 When you look at the photo associated with this post, what do you think? "Mmmmm… fresh homemade Challah bread." That would be the logical thing to think, now wouldn't it? When I took this bread out of the oven today, do you know the first thing I thought of? "Oh… it looks like a little newborn baby all swaddled up burrito style."
It is official everyone… I have baby fever.
I know! You thought after this incident, that baby fever wouldn't hit again, didn't you? Reading through that post from that awful day, I am honestly amazed by it myself. Then you thought, "Oh, her kids are getting a bit older now, things are running fairly smoothly these days… she can get out of the house without a diaper bag full of the necessities for a newborn. She gets to sleep through the night… no nursing sessions every 2 hours each and every day. Why would she want to add another baby into the mix to just cause chaos in her already semi-chaotic world?" Yeah, exactly. You are so right. I should listen to you more often.
But, you know what, it is still there and it isn't going away.
A special thanks for starting this whole fever goes out to you, you, you and you know what… I'm even blaming you a bit just because my Ella was born on the same day as Shiloh, and here you are going and having more babies. It also doesn't help matters that Ella is at about the cutest stage of life ever… well, minus the humongous fits and incredibly strong personality… she really is doing some adorable things these days. Really, she is… trust me.
There was a reason we have been getting rid of all of our baby stuff the second Ella grows out of it… my husband is 100%, completely and totally happy to have three kids. It is probably a good thing he doesn't read my blog or I imagine I would be padlocked away in a room somewhere until I reached menopause.
Tomorrow, I am sure I'll change my mind. Someone will puke on my head, we will have a grocery store meltdown, or even worse… the children will eat all the bread that I made and I won't get a single bite. Oh, wait! That did happen. In fact, it happend tonight with my little bambino loaf of Challah bread. I took the bread out of the oven, had one tiny nibble while it was still hot (because I personally can't contain myself when it comes to waiting for bread to cool), left for a two hour meeting and came back to no bread. Not even a single crumb. Hubby placed blame on the kids, which I am not completely buying, but I do bet those little selfish creatures had a lot to do with it.
Well, guess what. Baby fever is officially out the window. I can share my body, I can share my life… I can even get through diaper bags, 2am feedings, grocery store meltdowns, puking on the head, etc., but I draw the line at sharing food with one more person in this family. So, back off baby thoughts, the next loaf is mine. All mine.
Braided Bread Machine Challah
Ingredients
1 1/2

teaspoons

active dry yeast

2 1/2

cups

bread flour

1/4

cup

sugar

1/2

teaspoon

salt

7

teaspoons

vegetable oil

2

egg yolks

2/3

cup

water
Instructions
Place ingredients into bread machine according to manufacturers directions.

Set on dough cycle.

Place dough onto a lightly floured board and divide into three equal parts.

Stretch or roll each part into 9" ropes and braid.

Place on greased cookie sheet, cover and let rise for about 30 minutes.

Preheat oven to 350°.

Mix together one egg yolk and a tablespoon of water and brush over bread, then sprinkle with sesame or poppy seeds, if desired.

Bake for 30 to 40 minutes or until golden brown.

Cool on wire rack.
Ahhhh, you like homemade bread, do you? Check out these tasty recipes from other bloggers around the blogosphere: