A "clean out the fridge and pantry" meal turned into a family favorite. I hope you enjoy this Bacon and Chipotle Cheddar Linguine Recipe as much as we do!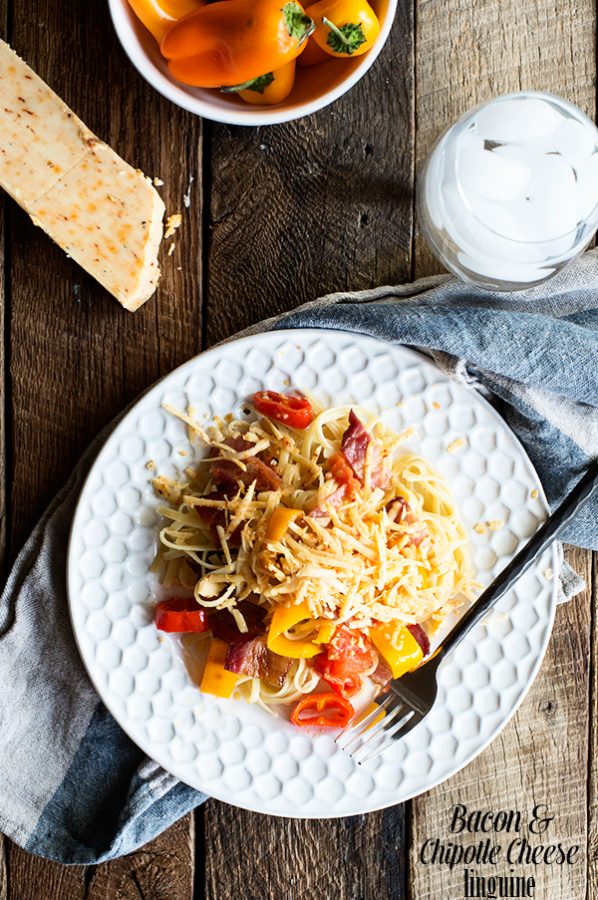 I love happy accidents, especially when they involve food.
The other day my family was grumbling about being hungry. The problem was, I hadn't been to the grocery store in awhile and the pickings for ingredients around our house was pretty slim.
I decided to scrape up whatever I could find and turn it into a meal. The result was this Bacon and Chipotle Cheddar Linguine recipe that has sense become a family favorite, requested multiple times over this past week, even!
The very best thing about this recipe is that it's so incredibly simple. Stupid simple. So simple that each time my family requested it over the past week, I made it. It is seriously no sweat to make.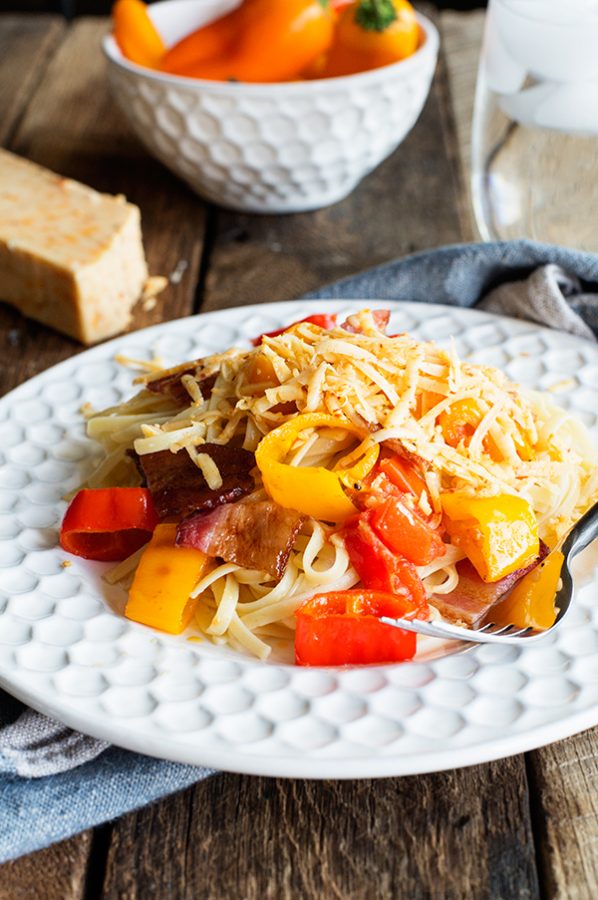 The star of this recipe is the Chipotle Cheddar Cheese from Cabot. No, this is not a sponsored post at all. I just really, really, REALLY love this cheese! I love it on pasta, in recipes, and sliced up to snack on by itself. It has just enough of a kick to make your mouth really happy! Sure you could use plain old cheddar cheese for this recipe, but if you want to take this dish up a notch, don't forget the Chipotle Cheddar Cheese. In my opinion, it's a must.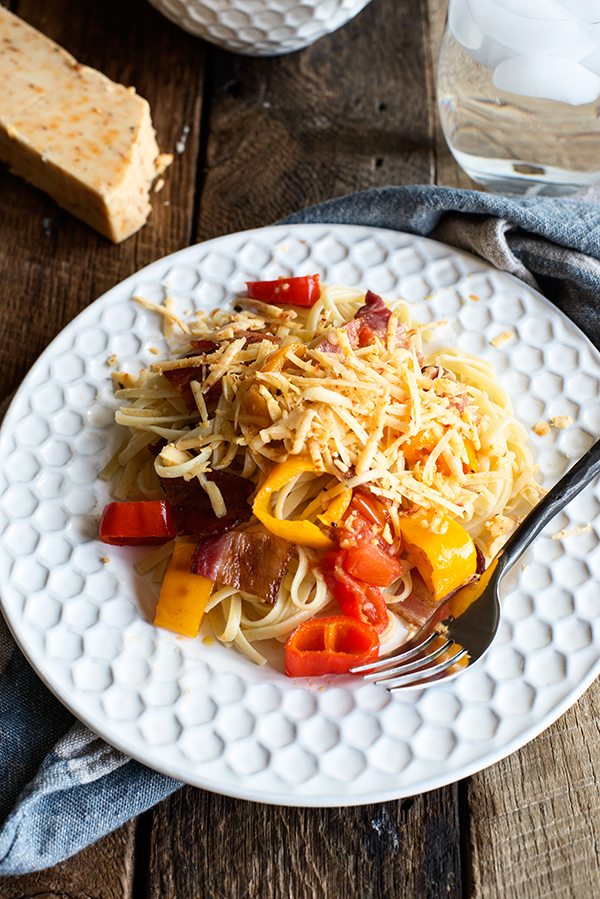 If you are looking for a quick and incredibly simple meal idea, this Bacon and Chipotle Cheddar Linguine recipe is your ticket to easy street. I hope you enjoy it as much as we do.
Bacon and Chipotle Cheddar Linguine Recipe
A "clean out the pantry and fridge" day resulted in this family favorite recipe!
Ingredients
10

slices

bacon

cooked and crumbled

8

ounces

uncooked linguine

1

Tablespoon

butter

2

garlic cloves

minced

6

red

yellow and orange mini bell peppers, seeded and sliced

Kosher salt and freshly cracked black pepper

to taste

4

ounces

shredded Cabot Chipotle Cheddar Cheese
Instructions
Cook linguine according to package directions.

While pasta is cooking, heat a skillet over medium heat. Add butter. Once butter is melted, add the garlic, and peppers and sauté until tender, approximately 4 minutes. Toss in bacon pieces until heated through, about 1 minute.

Once linguine is cooked, drain. Toss the bacon/pepper mixture with the linguine.

Serve immediately, topped with shredded Chipotle Cheddar Cheese.
 Craving more linguine recipes? Here are some of my favorites from around the web: