Grown-up pizza night is a very good thing, especially with this homemade Fleischmann's pizza dough recipe using Fleischmann's® Rapid Rise Yeast and a recipe for Sautéed Spinach and Mushroom Pizza!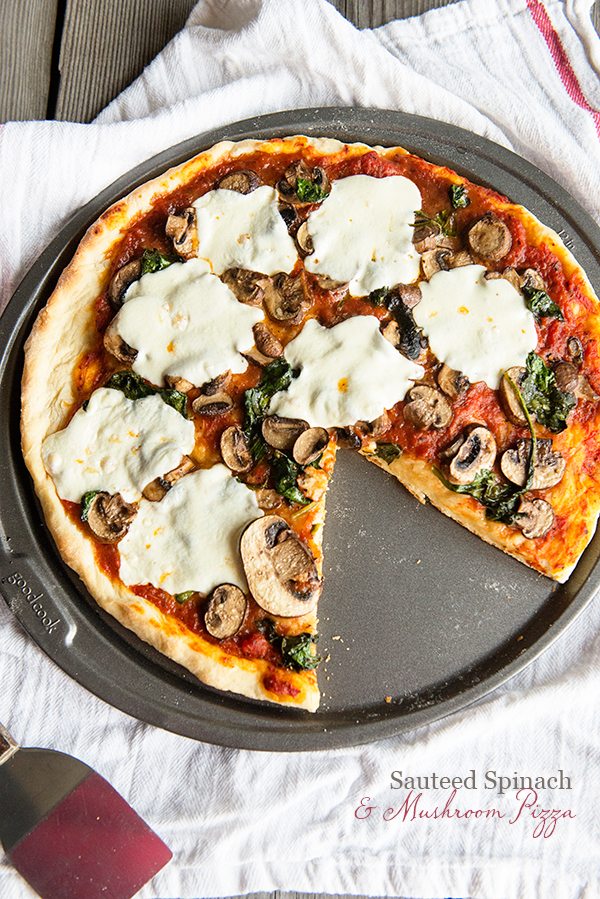 Almost every Friday night in our household, we have "Friday Night Pizza Night".
I love homemade pizza! It is one of my all-time favorite foods, and I kind of wish every night was pizza night! The only thing that is starting to become a problem at our house is the kids seem to have taken over pizza night. They want theirs to be pepperoni or plain cheese pizza and that's it. I love a good pepperoni pizza, but sometimes I really want a grown-up pizza night! I want adventurous toppings, veggies, and just the right amount of cheese and sauce on a really delicious crust.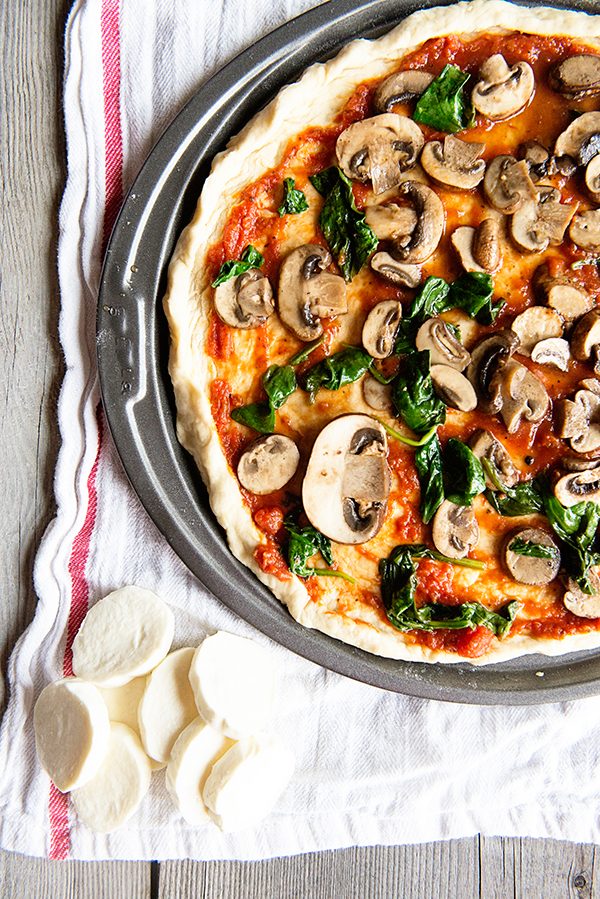 Well, this week I decided my husband and I are going to take back pizza night. The kids can have what they want, but since the easy pizza dough recipe from Fleischmann's® Yeast is so simple and requires very little effort, we are going to make whatever kind of pizza we really want too! Bonus is that this Fleischmann's Pizza Dough Recipe makes two 12 inch pizzas, so there's enough for everyone! Grownups and kids will all be happy.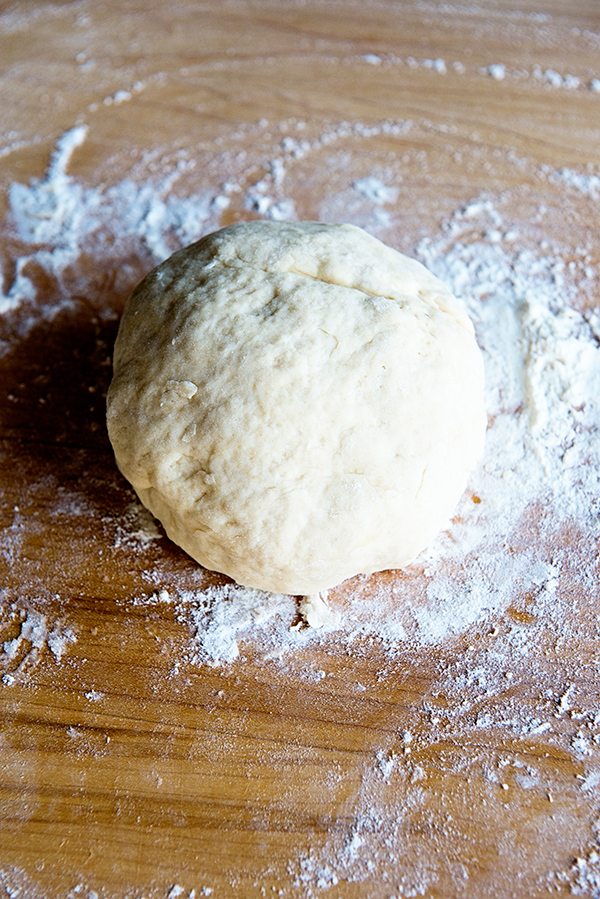 There's no need for Friday Night Pizza Night to be all about the kids. Grownups deserve what they want too, right?
You can find the recipe for Fleischmann's Pizza Dough and my Homemade Spinach and Mushroom pizza below but, before I get to that, can I talk about this pizza dough recipe for a second? Fleischmann's Pizza Dough Recipe is a dream to work with! It's super quick to make, which is important because no one wants to slave over a ball of dough waiting for it to rise on a Friday night. It rolls out easily and requires just a short rise time. Little effort recipes are the kind you need after a busy week.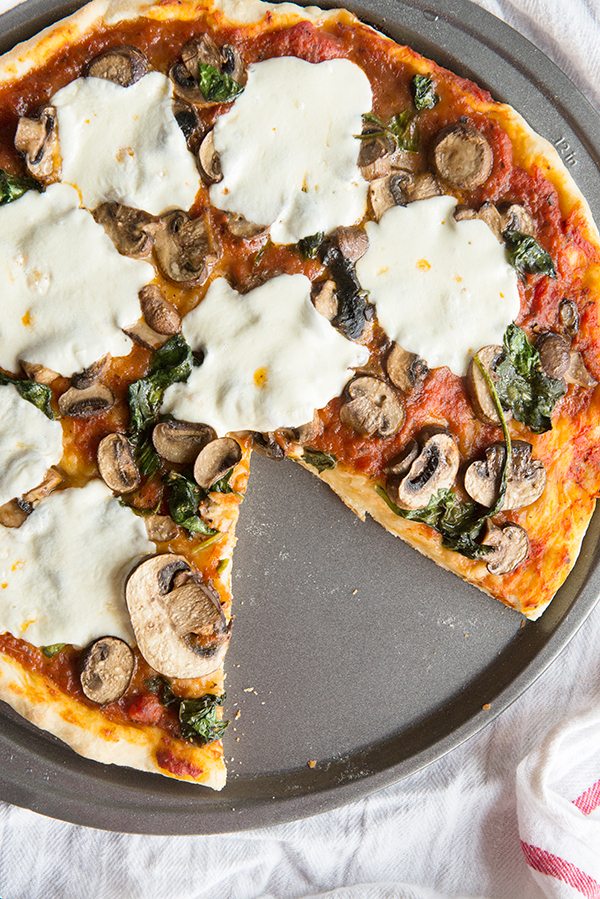 If you've shied away from yeast recipes before, there's nothing to be scared of. Trust me on this one. This crust bakes up to just the right chewy, but not too thick, consistency. It's so good!
Can you make Fleischmann's Pizza Dough Recipe Ahead of Time?
From start to finish, this pizza dough recipe is ready for the oven in less than 30 minutes. And yes, you can make the dough for your crust ahead of time, too. Pizza dough can be refrigerated for up to 24 hours. Just place the kneaded dough in a greased bowl and cover with plastic wrap. Remove the dough from the refrigerator at least 1 hour before shaping the crust. Isn't that awesome?
This is my new "go to" pizza night pizza dough recipe and if you are looking for a new "go to" recipe, I think you'll love it too!
I hope you'll give it a try and share what you thought of the recipe with me! Enjoy!
Fleischmann's Pizza Dough Recipe
This pizza dough recipe uses Fleischmann's Rapid Rise Yeast to make the most perfect "hand tossed" style dough. Makes 2 12-inch pizzas.
Ingredients
3 3/4

cups

all purpose flour

2 1/4

teaspoons

Fleischmann's® RapidRise™ Yeast

1 envelope

1/2

Tablespoon

sugar

1/2

teaspoons

salt

1/3

cups

warm water

120°F

1/3

cup

extra virgin olive oil
Instructions
Combine 2 cups flour, undissolved yeast, sugar and salt in a large bowl.  Add warm water heated to 120°F and oil to the bowl; stir until well blended, about 1 minute. 
Gradually add enough remaining flour to make a soft dough.  Dough should form a ball and will be slightly sticky. Knead on a floured surface, adding additional flour if necessary, until smooth and elastic, about 4 minutes. Let dough rest at this point for 10 minutes. Divide dough in half.

Roll dough on a floured counter to 12-inch circle; place in greased pizza pan or baking sheet.  Form a rim by pinching the edge of the dough.

Top the dough with pizza sauce. Using a spoon, spread sauce evenly across surface of dough. Top with desired toppings (such as the mushroom and sauteed spinach pizza recipe) and finish with mozzarella cheese.  Repeat with second pizza.


Bake for 12-15 minutes, until cheese is bubbly and crust is browned.  For best results, rotate pizzas between top and bottom oven racks halfway through baking.
Sautéed Spinach & Mushroom Pizza
Grown up pizza night is so good with this Sauteed Spinach and Mushroom Pizza Recipe made with this simple homemade pizza dough from Fleischmann's.
Ingredients
1

prepared batch of Basic Regular Pizza Crust dough using Fleischmann's® RapidRise™ Yeast

pizza pan or baking sheet

2

cups

baby bella mushrooms

sliced

2

cups

baby spinach

2

Tablespoons

olive oil

¼ to ½

cup

prepared pizza sauce

8-10

slices

fresh mozzarella

dash of cracked black pepper

dash of Kosher salt
Instructions
Preheat oven to 425°F

Add olive oil to a medium skillet and heat to medium low. Once warmed, add the baby bella mushrooms and spinach and cook for 5 minutes, stirring occasionally, until the spinach starts to wilt and mushrooms soften. Remove from heat.

Spread pizza sauce over prepared dough. Top with mushroom / spinach mixture and then the fresh mozzarella cheese slices.

Sprinkle salt and pepper over the topped pizza.

Place in the oven on the lowest rack and bake for 12-15 minutes. Remove from oven when cheese is bubbly and crust is a golden brown.

Slice and enjoy!
Check out these recipes for other easy weeknight meals: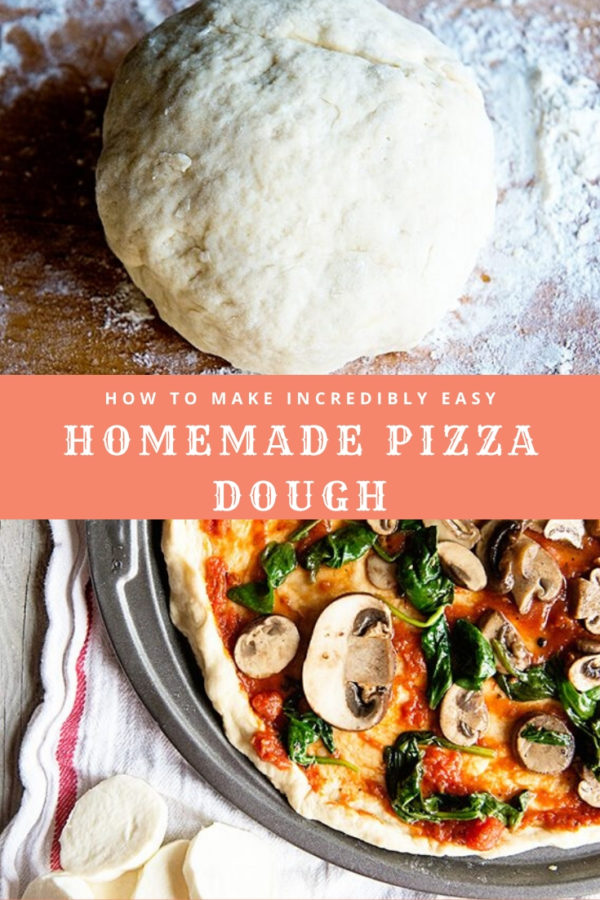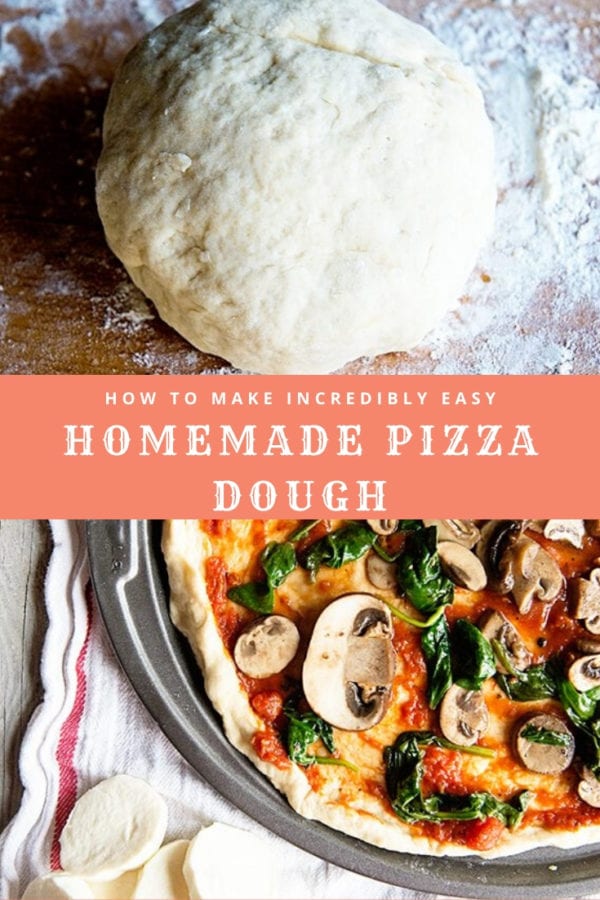 Disclosure: This post is sponsored by One2One Network on behalf of ACH Foods. I am an ACH Baking Ambassador. Thank you for supporting the brands that make Dine & Dish possible!