"Mom, why do you get to put all of that butter and honey on your biscuits and we only get a tiny bit?"
The question asked was fair enough. Buttermilk biscuits, fresh from the oven, are meant… they practically BEG for… melted butter honey goodness, but my kids don't need to know that. They will be just fine with the little pat of butter and a slight drizzle of honey. No need to spoil them rotten at an early age by introducing them to an overload of honey and butter on top of a warm, delicious, flaky buttermilk biscuit.
My answer, one that I thought I'd never hear coming from my mouth, "Because I'm the Mom, that's why."
"That's not fair!!" one little person exclaimed.
Out comes another phrase I used to roll my eyes whenever I heard it as a kid… "Well, honey, life is not fair." Followed by, "Someday when you become a mom you can put as much honey and butter on your buttermilk biscuit as you want."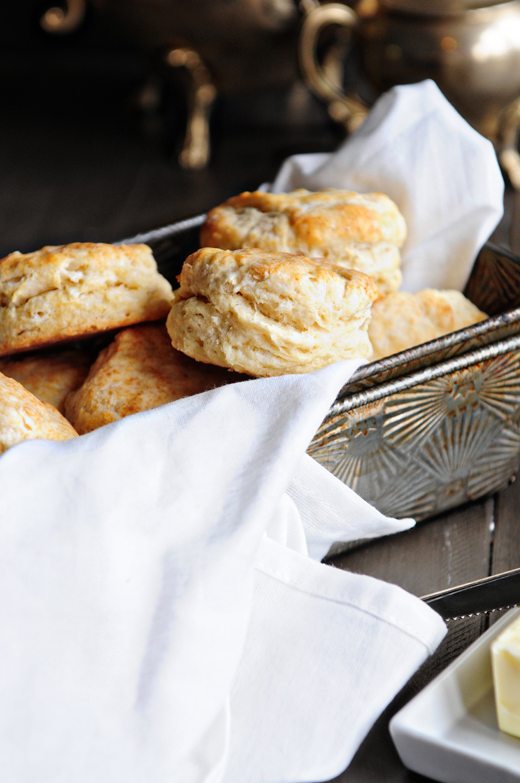 To me a warm, fresh from the oven buttermilk biscuit slathered in butter and doused in sweet honey is one of life's guilty pleasures. It's one I first discovered from my mom, as she would savor every last bite of her biscuit. At our family table growing up, her biscuit even got a separate plate from the other breakfast food, just so the honey wouldn't seep over into her bacon and eggs.
Go ahead and make this recipe, slather the biscuits up in some delicious butter and honey, and enjoy eating every last bite. In my world, it's one of the best things about being a grown up!
Recipe: Warm and Flaky Buttermilk Biscuits
Tall, fluffy buttermilk biscuits made even better warm from the oven with a pat of butter and drizzled with honey. A recipe that has been in my recipe box since before I was married.
Ingredients
2

cups

unbleached all-purpose flour

1/4

teaspoon

baking soda

1

tablespoon

baking powder

1

teaspoon

kosher salt

6

tablespoons

butter

cold, and cubed into smaller pieces

1

cup

buttermilk or buttermilk substitute

1 cup milk with 1 tablespoon lemon juice, left to set for 10 minutes

1

tablespoon

butter

melted

Flour for dusting
Instructions
Preheat oven to 450° F

In a medium bowl and using a wooden spoon, combine all dry ingredients.

Using a pastry blender or fork, add butter cubes into the dry ingredients. Blend, without over blending, butter into the dry ingredients until it resembles course meal.

Add the buttermilk slowly, and stir until the mixture is just combined. It will still be someone dry, but should hold together when pressed.

Dump dough mixture out onto a slightly floured board.

Using your hands, gently pat the dough out until it is approximately 1/2 inch thick. Do not over handle the dough and do not use a rolling pin... simply flatten the disc out with your hands.

Starting at the very edge, use a round cutter and cut the biscuits. (You should get 10 biscuits from this recipe).

Place on an ungreased cookie sheet, with sides of each biscuit touching another.

Bake for 10-12 minutes or until slightly brown on the top.

Remove from the oven and brush with the 1 tablespoon of melted butter.

Serve warm with a butter and honey.