My attempt to re-create a Peach Crunch Muffin recipe we had at a Bed and Breakfast in Martha's Vineyard was a success!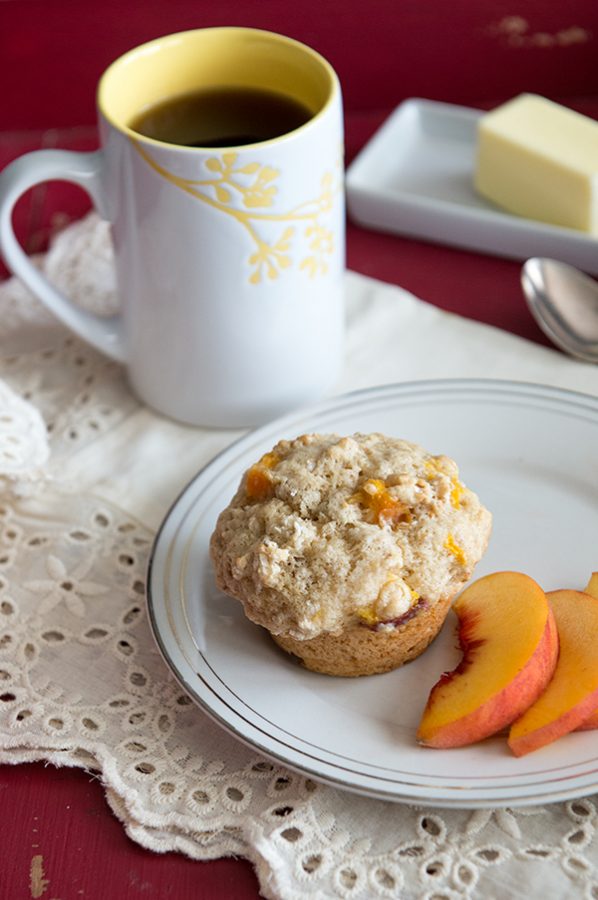 "He said no! He said no? Did he really just tell me no to my request for his Peach Granola muffin recipe?"
My husband looked at me like I'd gone crazy. "Yes, I'm pretty sure he said no and that if you liked the muffins you'll just have to come back again sometime."
"Well…" hmph. 
Last month, my husband and I took a kid free vacation to Martha's Vineyard. We were celebrating our 15 year wedding anniversary a few months early and decided to do it up right! During our visit, we stayed in a quaint Bed & Breakfast in Vineyard Haven (one of the townships on Martha's Vineyard). During said visit, we ate muffins… not just any muffins. We ate peach granola muffins that were amazing. My husband, totally not a muffin liking kind of guy, would not stop talking about how good these muffins were. I would not stop dreaming about how good these muffins were. They were so darn good.
I'm assuming that you gather what happened based on my intro. Since both my husband and I fell head over heels in love with these muffins, I decided to ask the innkeeper for his recipe…and got a big, fat, reject. He did not know I had a food blog, so thinking I'd go plaster the recipe all over the internet was not why he said no. He just was really proud of his recipe – as he should be – and would not share.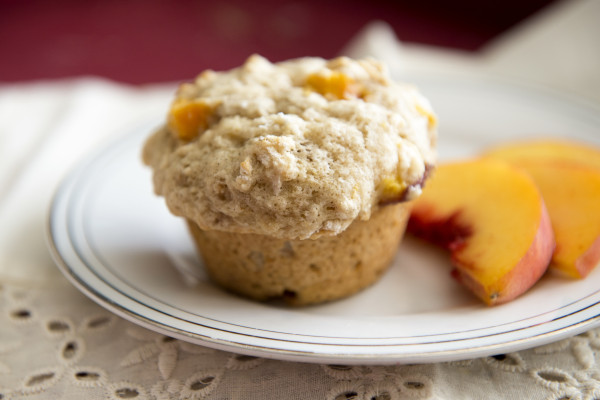 If you tell someone with a few skills in the kitchen no when she asks for a recipe, guess what she's going to do? She's going to go straight home and make attempt after attempt to get this muffin recipe right. And I did. (Well, almost… Nick still says innkeeper Karl's muffins were fluffier…and I'll concede to that. Karl probably actually weighs out his ingredients while I measure.) Had he given me his recipe, we could have had nice, long morning chats about our love of baking and shared our favorite tips and tricks in the kitchen, but noooooo. He decided to keep his secrets guarded.
Even though these aren't quite the same as Karl's muffins, I am really happy with the results. I found this recipe for Pear and Granola Whole Wheat Muffins on Epicurious. I used that as a starting off point, but made a few changes along the way and loved the results. I think you will too, and you won't have to spend a hefty amount of money for a vacation at a B&B to get them! Enjoy!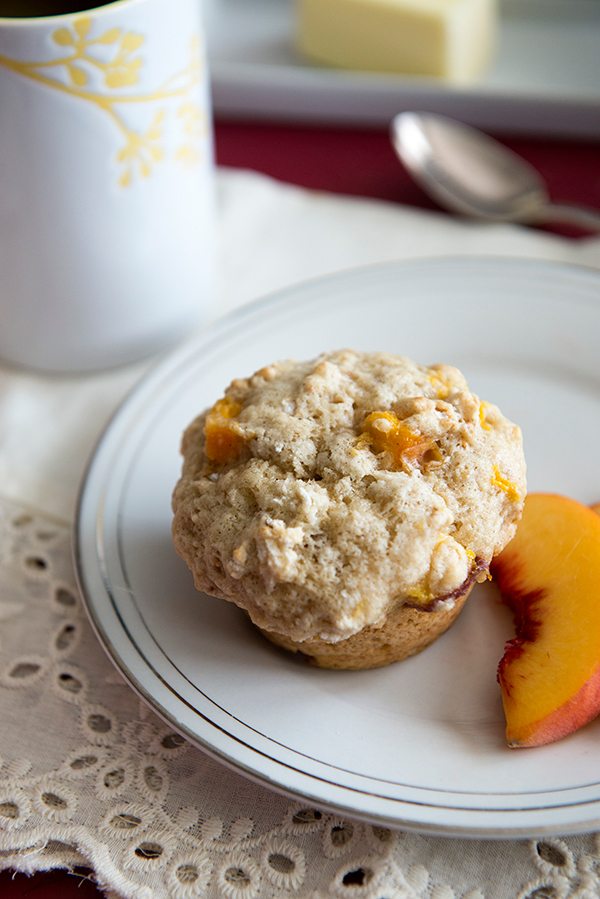 Bed and Breakfast Style Peach Crunch Muffins Recipe
A tasty Bed & Breakfast style Peach Crunch Muffin Recipe
Ingredients
1

cup

sugar

divided

1

Tablespoon

lemon juice

1

Tablespoon

cinnamon

3

large peaches

pits removed and coarsely chopped

2

eggs

2

Tablespoons

vegetable oil

2

cups

flour

1/2

cup

Grape Nut Flakes Cereal

1

Tablespoon

baking powder

1/2

teaspoon

salt
Instructions
Preheat oven to 350°F. Prepare a 12 cup baking tin with cooking spray.

In a small saucepan, bring 1/2 cup sugar, lemon juice, cinnamon and chopped peaches to a slow boil over medium heat stirring continuously. Once boiling, remove from heat and set aside. Once mixture is completely cool, strain the juice from the peaches into a medium bowl. Whisk in eggs with the juice.

In a separate bowl, stir together flour and remaining 1/2 cup sugar. Add baking powder, salt and cereal. Combine.

Add chopped peaches to the flour mixture and toss until well coated.

Pour egg/peach juice mixture into the flour/peach mixture and stir gently, just until ingredients are incorporated and turn to a moist batter.

Divide batter equally among the muffin cups (will get 10-12 muffins).

Bake for 20 minutes or until toothpick inserted into the center of the muffin comes out clean.

Remove to a wire rack to cool.