Making homemade sweet rolls is easier than you think. Make your Easter holiday extra special with this Salted Caramel Rolls recipe adapted from the Karo® Syrup website.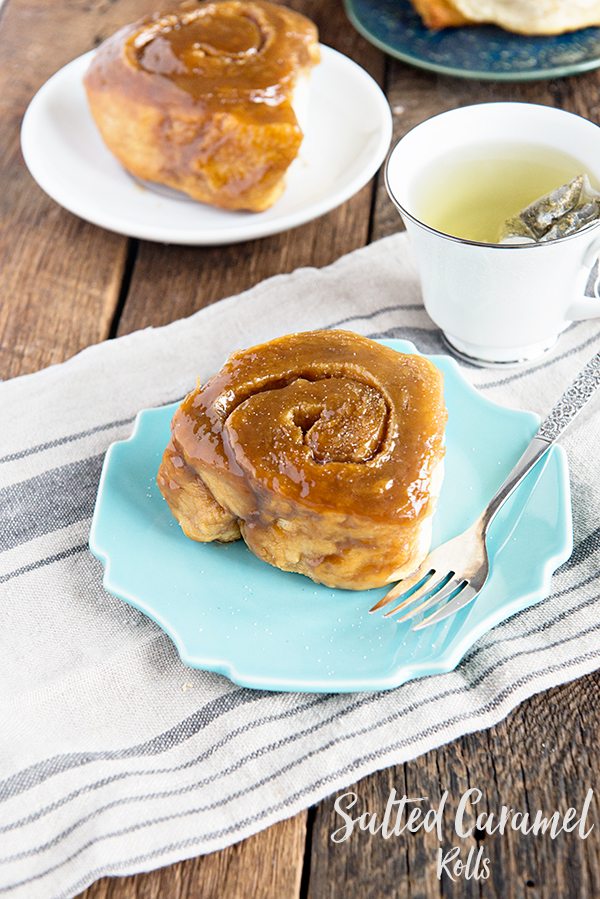 Friends, how can Easter be just around the corner? I have no idea where 2016 is going in such a hurry, but I sure wish it would slow down!
Even though it's hard to believe, Easter is almost here, which means it's time to start thinking about what delicious food you will be serving up. Whether it be something for just your family, or you want to bake a little extra for friends and neighbors to show how much you care, making your Easter meal special doesn't have to be complicated.
Take these Salted Caramel Rolls, for example. Big, fluffy, tender caramel rolls are really quite doable, even if you've never made a sweet roll of any kind before.  The secret is to use Fleischmann's® RapidRise™ Yeast. It saves time by only requiring one rise and you can make this dough ahead of time and refrigerate overnight to bake when ready!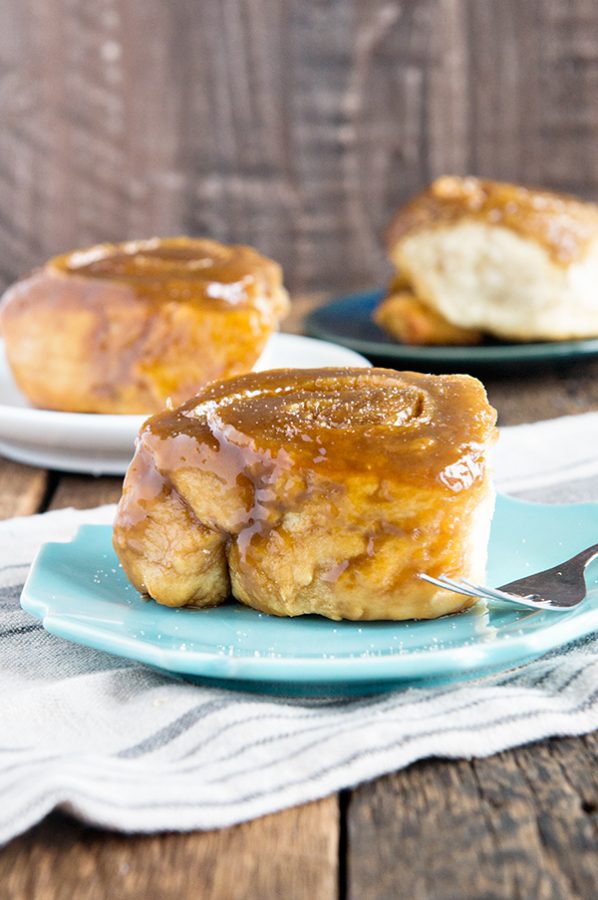 Salted Caramel Rolls make for an extra special breakfast or can even be a delicious part of your Easter brunch. In addition, if you know of some friends or neighbors who might be alone on Easter, this batch of rolls makes enough to share and is sure to be appreciated. Package up a few extra for a sweet Easter treat for someone who would enjoy a little extra love sent their way this holiday.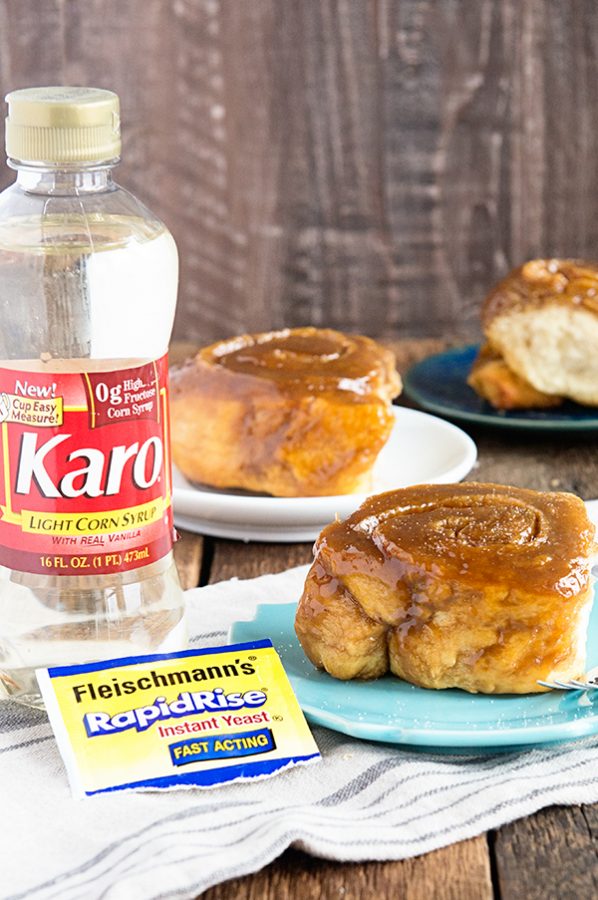 The original Caramel Roll recipe I found on the Karo® Syrup website had an impressive pecan caramel glaze. To shake things up a bit, I decided to skip the pecans and instead top my caramel rolls with a little fine sea salt, to create one of my favorite flavor profiles…salted caramel.
However you choose to top your rolls, I assure you that this simple, beginner's recipe is one to try for caramel roll making success and is a great choice to adorn your table this Easter.
Enjoy!
Salted Caramel Rolls Recipe
A simple salted caramel roll recipe, easy enough for even beginner bakers!
Ingredients
4-1/2 to 5

cups

all-purpose flour

1/3

cup

sugar

2

packets Fleischmann's® RapidRise™ Yeast

1

teaspoon

salt

1-1/2

cups

water

6

tablespoons

butter OR margarine

1

egg

Caramel Syrup:

1/2

cup

butter OR margarine

1

cup

brown sugar

1/4

cup

Karo® Light Corn Syrup

Pinch

fine sea salt

for after rolls are cooked

Filling:

1/3

cup

sugar

2

teaspoons

Spice Islands® Ground Saigon Cinnamon

3

tablespoons

butter OR margarine

very soft

pinch

fine sea salt
Instructions
Combine 2 cups flour, sugar, dry yeast and salt in a large mixer bowl and stir until blended. Place water and butter in a microwave-safe bowl. Microwave on HIGH in 15 second increments until very warm but not hot to the touch (120° to 130°F. Butter won't melt completely). Add to flour mixture with egg.

Beat 2 minutes at medium speed of electric mixer, scraping bowl occasionally. Add 1 cup flour; beat 2 minutes at high speed, scraping bowl occasionally. Stir in just enough remaining flour so that the dough will form into a ball.

Knead on lightly floured surface until smooth and elastic and dough springs back when lightly pressed with 2 fingers, about 6 to 8 minutes. Cover with a towel; let rest for 10 minutes.

To make Caramel Syrup, combine butter, brown sugar, sea salt and corn syrup in a medium saucepan over medium heat, stirring frequently. Bring to a boil for just 30 seconds. Remove from heat and pour into 13 x 9-inch baking pan that has been sprayed with cooking spray.

For filling, combine sugar and cinnamon in a small bowl. Set aside.

Roll dough into a 15 x 10-inch rectangle using a rolling pin. Spread 3 tablespoons butter over dough stopping at least 1/2-inch from the edges on the long sides. Sprinkle with cinnamon sugar mixture. Beginning at long end of each rectangle, roll up tightly. Pinch seams to seal. Cut into 12 equal pieces. TIP: Use unflavored dental floss instead of a knife to cut rolls. To do, cut a piece of floss about 12 inches long. Slide floss under the roll; bring the ends up and cross over to cut each slice. Place, cut sides down, in prepared pan. Cover with towel; let rise in warm place until doubled in size, about 1 hour .

Bake in preheated 350ºF oven for 28 to 33 minutes or until rolls are golden brown. Cool on wire rack for 5 minutes and then invert onto serving tray. Gently pour any caramel remaining in the baking pan over the rolls.

Before serving, top each roll with a small sprinkling of fine sea salt.
Disclosure: I am a Bake a Little Extra Blog Ambassador and this recipe is sponsored by Karo® Syrup. For more recipes made perfectly sweet by Karo® Syrup visit their website.