Originally published on December 23rd, 2011 (when my babies were so little). I'm re-publishing it today because this recipe is so good and the memories in this post are some of my favorites!
These big, fluffy, homemade cinnamon rolls have been a part of our Christmas morning for years and years.
The dough is made in your bread machine, which makes it super easy!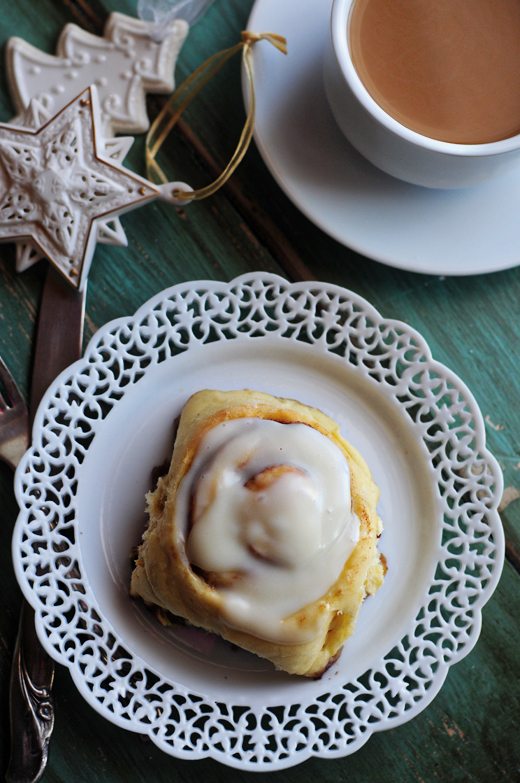 There are just a couple more days until Christmas! This morning, as I sit by the light of the Christmas tree, with presents wrapped (ahead of time, which NEVER happens) I can't help but feel so grateful for all of the blessings in my life. Our family is healthy, our friends are plenty, and life is just really, really good right now.
I love Christmas, for a multitude of reasons, but mostly because it is a season full of traditions. I love all of the traditions we have developed around Christmas within my own family, like these homemade cinnamon rolls. The traditions have become so important to my kids as well. Like Nick and I, they look forward to the traditions we've created as much as we do. It really warms my heart so much.
Our family holiday traditions
Winstead's Skyscraper Milkshake
When I think about our holiday traditions, my favorite one is our night to tour the lights. We start out by stopping at Winstead's, a local diner. We order their signature "Skyscraper Milkshake" and the kids go to town, always saying this is the year we are going to finish the whole thing. (We have yet to even get half way done between the 6 of us!)
Afterwards we take off on a tour of the wonderful light displays Kansas City has to offer. The kids each take turns choosing "left, right or straight", so we never know where we'll end up. We've stumbled upon some fun light displays we wouldn't have otherwise (and have gotten quite lost a time or two as well!)
If you are near Kansas City, our Winstead's tradition is one I can't recommend enough. Put one of the Skyscraper Milkshake's in front of a child and you will get the BIGGEST look of amazement and a smile from ear to ear.
Random Acts of Kindness
Another tradition that happens on this night is we do something good for someone. Some years we anonymously pay for the dinner of a family or someone dining in Winstead's. Other years we leave a gigantic (to us) tip for the server. When we do this, we always hurry out to the car where we can still peek through the windows to watch their reaction.
I honestly think that's one of my favorite parts of the night. We've seen waiters jump up and down, yelling to their co-workers to check it out. We've seen a waitress break down in tears. It's been such a wonderful experience and something pretty amazing for our kids to witness.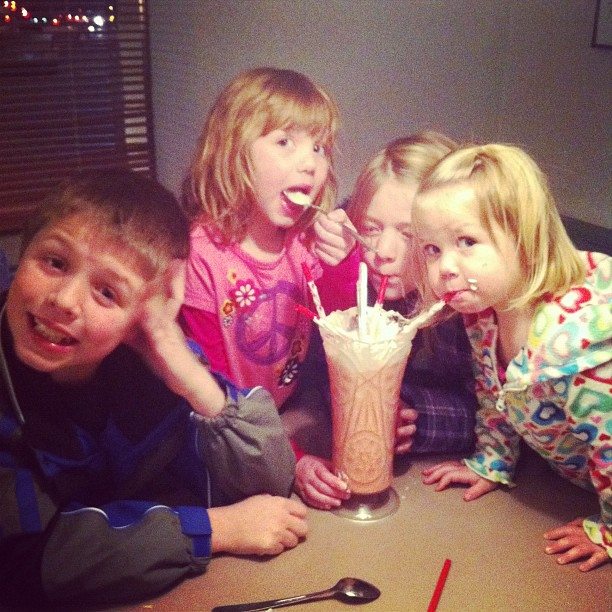 The Nutcracker Ballet – a daddy / daughter date night
Each year, Nick and the girls go on a daddy daughter date to see the Nutcracker Ballet. They get to get dressed up fancy, go to a fancy restaurant with daddy, and are spoiled rotten.
As soon as the girls are in Kindergarten, they get to go. This was Ella's first year to go and she was so excited. When she came home she was bouncing off the wall, telling me  "The true meaning of Christmas is family, mama!" It is a fun night for the girls and I think Nick looks forward to it just as much. One of these days, maybe I'll actually get to go too.
I've been told the girls often fall asleep before the show is over, and that's part of the tradition too. Another part of the tradition is for them to get to choose a nutcracker to bring home. At this point we have about 10 nutcrackers from the ballet, and I find each of them to be really creepy. Don't tell the girls that though. They love them dearly.
Also, don't worry – Jacob isn't left out. We usually go to his favorite restaurant, Olive Garden, for a mom and son date. Woo-woo. (I actually love this night for us too…we never get time just the two of us!).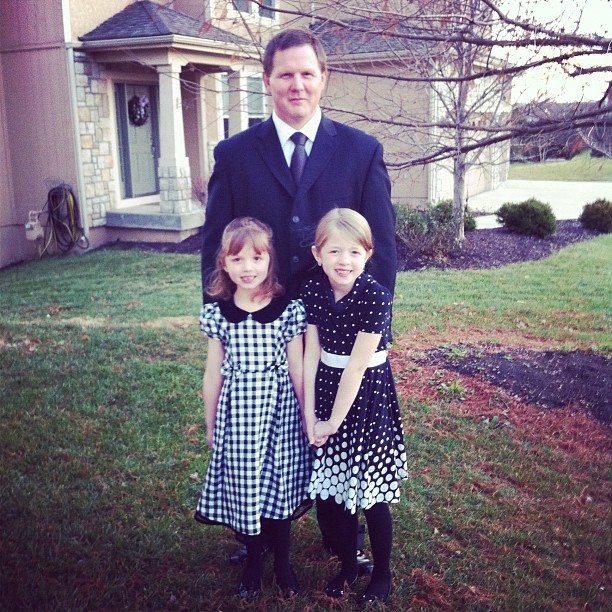 Homemade Cinnamon Rolls for Santa
One last tradition that serves us all pretty well is leaving homemade Cinnamon Rolls out for Santa. We figure that by the time he gets to our house, he's tired of cookies, so we give him homemade cinnamon rolls. It works out well because we get the leftovers, which is the perfect Christmas morning breakfast.
In addition, a tradition regarding the cinnamon rolls that serves my neighbors well, is we take batches to them every Christmas Eve. We take the cinnamon rolls to them pre-baked, so they can bake them themselves Christmas Morning. Everyone on our block gets to enjoy homemade cinnamon rolls for Christmas breakfast! This has been a tradition that serves everyone quite well.
Well friends, here's to wishing you all a very Merry Christmas! Thanks for all your support of Dine & Dish over the past year. I'll be back soon. In the meantime, I hope you enjoy every last minute of your holiday break. I also hope you make these homemade cinnamon rolls with cream cheese frosting a part of your Christmas traditions! Much love, joy and happiness to you all!
Before the recipe, I wanted to share a couple tips!
Tips for the BEST Homemade Cinnamon Rolls with Cream Cheese Frosting
1.  Alternatives for the bread machine
I absolutely love using my bread machine, but know this recipe doesn't HAVE to have a bread machine to work. The dough can easily be made in the bowl of your stand mixer or by hand. If you use your mixer, let the dough hook do the job of kneading the dough.
I love using a bread machine because it keeps the temperature just right for dough to rise. If you use your stand mixer (or by hand), make sure you are in a room that is just about room temperature. You don't want someplace too hot or too cold. In addition, you'll know the dough is ready to be rolled out onto a floured surface when it has doubled in size. Doubling outside of the bread machine takes from 30 minutes – 45 minutes.
If you are in the market for a bread machine, I've had this Oster Bread Machine since before my kids were born, and I use it ALL the time. I can't recommend this bread machine enough!
2. Cutting the cinnamon rolls with ease
Once you have rolled the dough out, filled it with melted butter and cinnamon / sugar, and tightly rolled it up, you'll want to cut it. A serrated knife can be a struggle when attempting to cut cinnamon rolls. To solve this problem, use the dental floss trick!  To cut your cinnamon rolls, use non flavored (I learned this from experience) dental floss and just slice through the rolled dough! Super simple and such an easy hack.
3.  Do not over bake. I repeat, do NOT over bake!
This should actually be tip 3, 4 and 5 it's so important for the best results. Whatever you do when you make these cinnamon rolls, do NOT overbake them. For the softest, oooey gooey homemade cinnamon rolls, you want to take them out of the oven as soon as they turn a light golden brown. There is nothing worse than a dry, over baked cinnamon roll. Here's what I do. Set the timer at 15 minutes then check on the rolls every minute after. I know my oven takes a little bit longer than most, so I usually remove the rolls around 17 minutes. I've never baked them all the way to 20 minutes. I'm pretty sure most people prefer cinnamon rolls to be undercooked versus overcooked. This tip will help to make sure your rolls come out of the oven perfectly!
I hope these tips help you to make the BEST Homemade Cinnamon Rolls of your life! Now scroll down to check out the recipe and get baking!
 Hungry for more recipes like this Homemade Cinnamon Roll recipe? Here you go: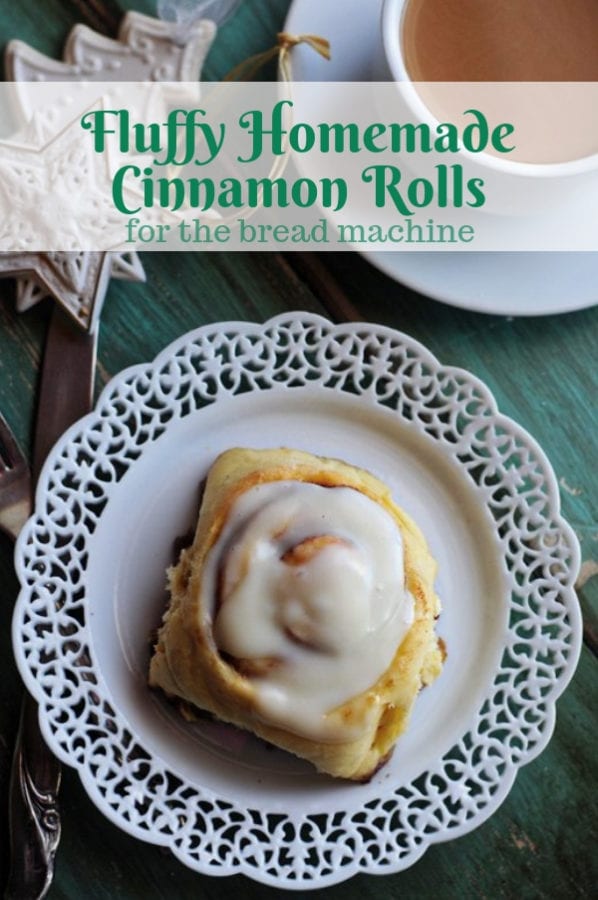 This homemade cinnamon roll recipe is from Food.com and is the best we've ever tried – so we never stray from this recipe. Enjoy!
Big Fluffy Homemade Cinnamon Rolls for the Bread Machine
This recipe has been a Christmas tradition in our family for years. Warm, fluffy cinnamon rolls with most of the work happening in your bread machine!
Servings
12
giant cinnamon rolls
Ingredients
ROLLS
1

⁄4 cup butter

melted

1

⁄4 cup water

2 1

⁄2 tablespoons vanilla instant pudding mix

about 1/2 package of pudding

1

cup

milk

1

egg

beaten

1

tablespoon

sugar

1 1/4

teaspoon

teaspoon salt

4

cups

bread flour

2 1/4

teaspoons

yeast
FILLING
1/2

cup

butter

softened

1

cup

brown sugar

2

teaspoons

cinnamon
FROSTING
4

ounces

cream cheese

softened

1/4

cup

butter

softened

1 1/2

cups

confectioners' sugar

1/2

teaspoon

vanilla extract

1 1/2

teaspoons

milk
Instructions
For the Rolls: Place ingredients in the machine following manufacturer's instructions and set for dough cycle.

After completion of cycle, remove from machine and roll out to 17x10-inch rectangle.

For the Filling: Mix together brown sugar and cinnamon.

Spread softened butter over dough and sprinkle brown sugar/cinnnamon mixture over the top.

Roll tightly from long end, pinching edges closed when finished.

Slice into sizes of your choice (I usually get 12 rolls from this).

Place on greased cookie sheet and let rise until doubled.

Bake at 350F for 15-20 minutes, until golden-DO NOT OVERBAKE!

For the Frosting: Mix together and spread over hot rolls.

Enjoy!