On a recent trip to New York City, I decided to scope out many of the local coffee shops. Here are my favorite!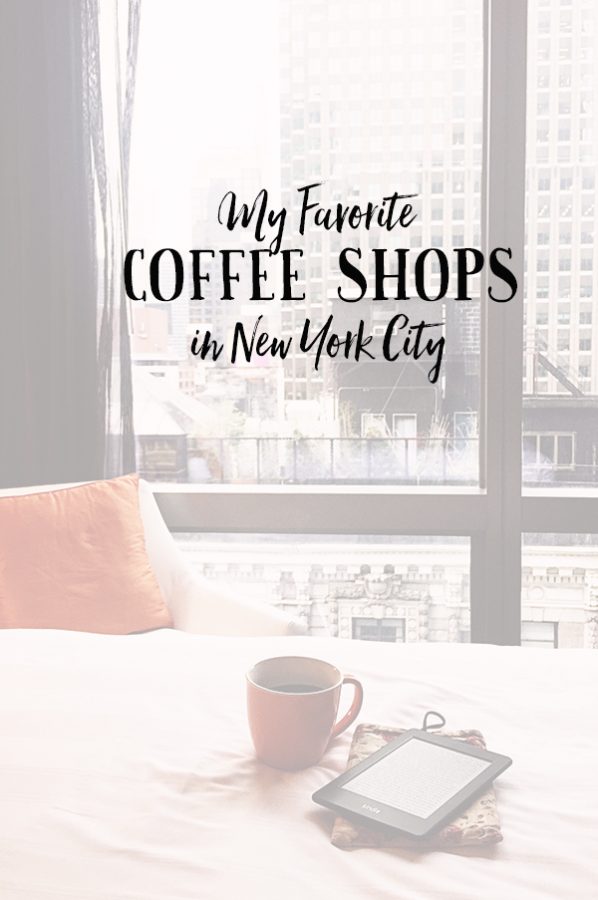 One of my favorite things to do when traveling is to find new, local places to enjoy my morning cup of coffee each day. I've been to New York City many times, but until recently had yet to really explore the coffee scene. Since I had several days to explore New York, I decided this time I was going to really delve into visiting as many coffee shops as I could throughout the city, and share some of my favorites with you!
As much as I appreciate Starbucks being on every corner…and getting me through many mornings at home…it just seems silly to not branch out to local shops when traveling.  I've judged my favorite New York Coffee Shops on two things. #1, the taste of their coffee…or in my case, their lattes. #2, the atmosphere of the coffee shop.
I like my coffee to be rich, smooth and slightly bold. When I drink a latte, I want the flavor of the coffee to be the dominating taste and not to feel like I'm just drinking coffee flavored warm milk. As far as atmosphere, I don't want to feel rushed ordering and/or drinking my coffee. I want the other patrons experiencing the coffee shop to be diverse and the overall feeling of the place to be as much of an experience as drinking the actual coffee. The following coffee shops are my favorite New York City Coffee Shops because they met all of the above and more!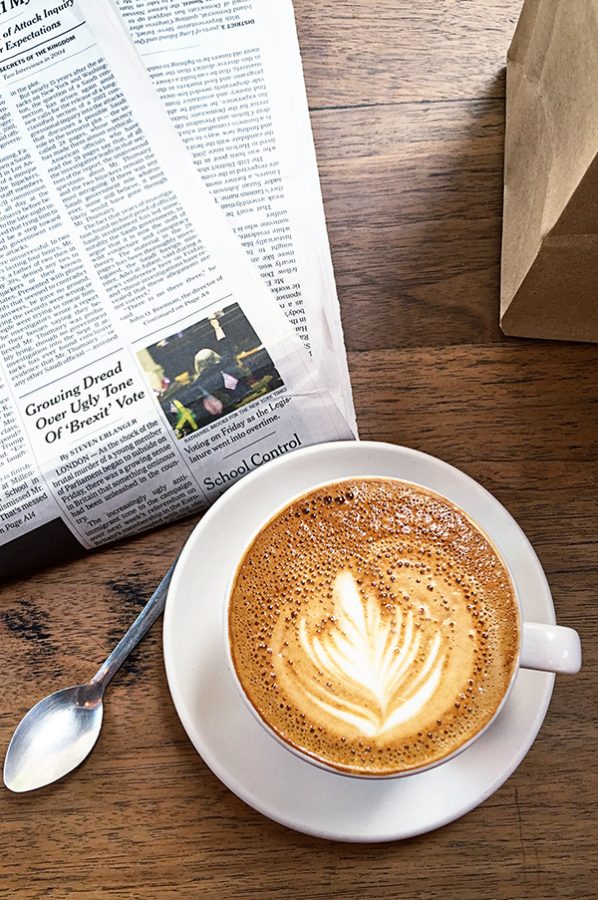 Toby's Estate, 44 Charles Street, NY, NY
Of the coffee shops in New York I visited, Toby's Estate was my favorite. Based on the gold plated logo embedded in the sidewalk and the overall feel when I first walked in the door, I half expected Toby's Estate to be a pretentious place for coffee snobs. What I discovered was a warm, welcoming atmosphere where patrons lingered over the morning newspaper, conversations with friends were a plenty, and the coffee was so smooth, rich and lovely. I had a hard time leaving… it felt like the kind of coffee shop you could sit at comfortably all day long.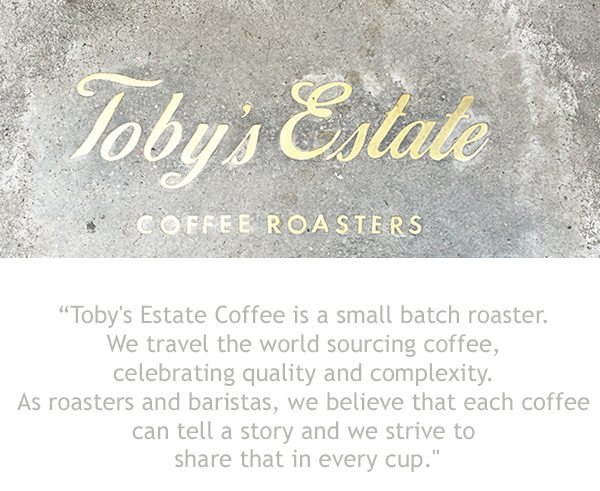 I bought a bag of "The Local" espresso beans and have been enjoying the Toby's Estate experience at home. Next time I'm in New York, I'm definitely going to make time to take one of their Latte Art classes. I can't wait!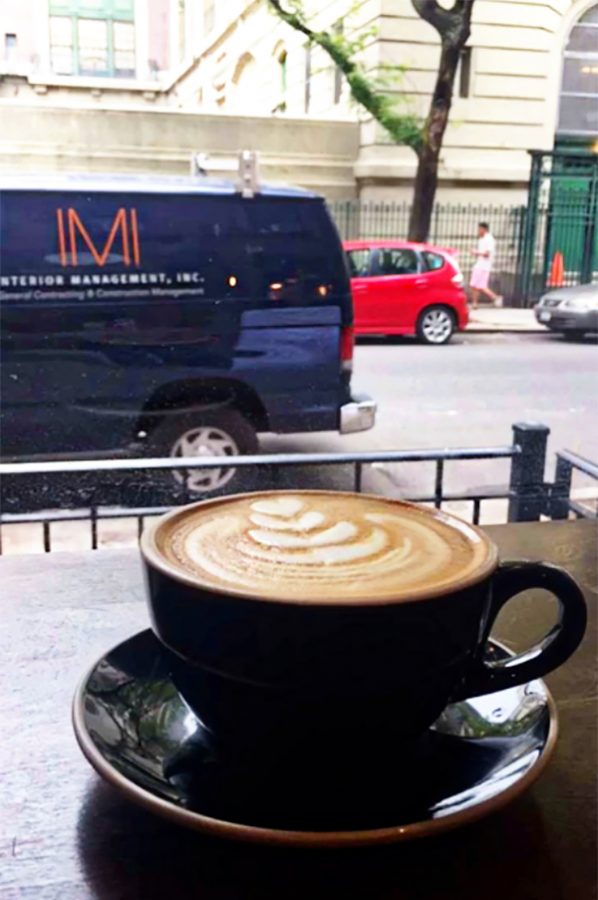 Frisson Espresso, 326 West 47th Street, NY, NY
www.facebook.com/frissonespresso
I found the Frisson Espresso coffee shop completely by accident. I arrived in New York City in the early afternoon, and although it was a rainy day, I wanted to go out and explore the neighborhoods around my hotel some. As I was walking along, I heard music coming from an open door and turned to see a small coffee shop, nestled in among some of the brownstones and apartments on 47th street. Small, quaint and perfect…Frisson Espresso is the very best kind of neighborhood treasure.
The friendly baristas at Frisson Espresso made me feel right at home, and their talent behind the bar was evident at first sip. As far as the space, cozy is an understatement…if you plan on sitting in the shop, be prepared to get close to your neighbor. I had several wonderful conversations with strangers while I was there, which made the experience all the better. My experience at Frisson Espresso was about as perfect as you could get for a rainy, New York City afternoon.
Blue Bottle Coffee, 54 West 40th Street, NY, NY
Blue Bottle Coffee felt most like a chain of any of the coffee shops I visited while in New York City, but I soon discovered that was because it is. As I walked around New York, I noticed many Blue Bottle Coffee locations, and then found out they have locations in the Bay Area as well as LA too.
Although it felt more like a chain, my experience was still a great one. The staff was friendly and the coffee was incredible. In fact, I bought espresso beans to have the Blue Bottle Coffee experience at home, and recently joined their coffee subscription service, where we'll get new and different espresso beans delivered to our house each month. Both Nick and I agree this is the best expresso we've made at home, and one of the best cups we've had in New York City.
I took my coffee to go, as there wasn't a lot of room for sitting inside the Bryant Park location. What an enjoyable experience it was to spend an afternoon sipping on a delicious coffee, reading a book in Bryant Park.
If you are looking for a solid cup of coffee in New York City (and at home), Blue Bottle Coffee is a sure bet.
Tisserie, 870 7th Avenue, NY, NY
Tisserie in New York City is mostly known for their outstanding baked goods, but in my opinion, this coffee shop ranks up there with some of the best coffee in the city.
Nick and I took a long walk through Central Park, then stopped at Tisserie to relax and enjoy what ended up being a very hot, smooth and rich espresso drink. Bustling with customers, Tisserie was busier than most of the coffee shops we visited, but service was still quick and friendly. The atmosphere was modern, with subway art adorning the walls and plenty of seating. After viewing their website and reading the rave reviews of all the baked goods, I now wish I would have had a croissant or something to nibble on to go with my perfect cup of coffee!
Well, friends, that ends my tour of my favorite coffee shops in New York City. I know there are plenty more places worth visiting. If you have favorites, leave a comment so I can give them a try next time I visit!
Thanks and happy coffee drinking!