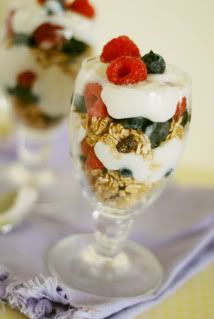 I was reading an article on BlogHer the other day about how blogging has now become a mainstream activity for women. I certainly believe this. It seems like everytime I turn around I see a new blog pop up somewhere. Especially in the food blog world… there are so many talented women and men contributing to food blogs. I just wish I had the time to sit down and read through them all!
Reading through this study made me start thinking about a couple of thing…
Why do you blog? I know that I blog because it is a way for me to express myself, keep track of my food/recipes and to connect with others. Even though I work from home and have that connection with the outside world, I enjoy the interaction with others I get from my blog. Oh – and I have to add… I love photographing food, and through this medium I can do it without others thinking I am an odd duck 😉
Why do you read blogs? Blogs have now become my number one source for food related information. If I am looking for a recipe, I look at the Food Blog Search first for things tried and true, then turn to other online sites like Recipezaar or My Recipes. I love the food photography on food blogs and the passion that goes into each photo. I love the stories that go along with the food. I love supporting other people who have similar lives as mine with their blogging efforts. On a regular basis, if I stumble through the blogosphere, I can always find a story that makes me laugh, cry and feel. I really enjoy the ideas and tips shared by others in the blogging world as well. There are some very smart people in the world, and they are finally being heard through this great medium!

Would you continue to blog if you did not receive feedback on your blog? Honestly, one of the great things about blogging is connecting with people, so I probably would lose the interest or motivation to blog if I was just writing for myself. Thank you all for your comments and interaction! It means a lot to me.
If you don't blog, why is that? When people I know find out that I blog, I almost always hear, "I've thought about starting a blog, but I just don't know what I would write about!" I would venture to guess that most of us who blog aren't writing about what we originally planned on writing about. Blogs take on a life of their own once you get them started. You get inspired by various places and eventually you have a voice that is taking you to places you wouldn't have imagined.
So, those are just some of my random blogging thoughts. I would love to hear your answers, simply because I am curious to find out what is it about blogging that intrigues us all so.
And, speaking of completely random… here is a simple recipe for a Fruit and Yogurt Breakfast Parfait. Nothing complicated about it or even related to this post about blogging. It is sharing an incredibly simple recipe idea with others through the blogosphere, which is one of my blogging goals. Enjoy!
Fruit and Yogurt Parfait
5 minutes total | 5 minutes prep
SERVES 1
8 ounces low-fat

vanilla yogurt

, divided
½ cup mixture of fresh raspberries and fresh blueberries
1 cup

granola cereal with raisins

, divided
Place 1/3 cup of granola in a parfait glass.

Layer half of the fresh fruit mixture on top of the granola.

Layer half of the granola cereal with raisins on top of the fruit

Repeat layers, leaving some fresh fruit to place on top as garnish
So, you love a good parfait? Check out the different versions these food bloggers share with us: