A simple, budget friendly meal with big budget taste! You'll love this Korean Beef and Rice recipe.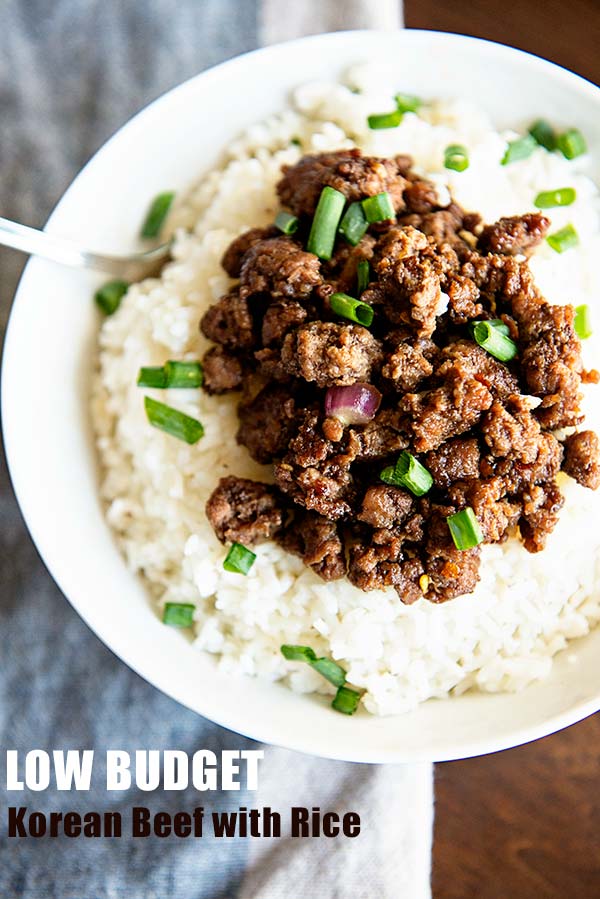 My friend Aggie and I have been on a bit of a savings spree (after too many spending sprees). We're getting a lot of joy out of texting each other with updates on our what we're saving money on each day. "I cancelled my house cleaners and am saving $300 a month!". "I cancelled my gym membership and am saving $90 a month!". "I finally cancelled that ABC Mouse subscription that my kids haven't used in 5 years." (I wish I was kidding on that one… why do they make it so difficult to cancel ABC Mouse?).
It's motivating to have a partner in crime when trying to save money, isn't it? In fact, each time she texts me something she's saving on, I start looking to see what the next thing is I can save money on. 
Of course, not having a house cleaner or gym membership will require us to be creative. I'm not sure how long the no house cleaner thing will last, honestly. I absolutely hate cleaning with all my heart. Decluttering I love, but cleaning? Ugh.
Budget friendly meals are one way I'm trying to save us money. I love checking out what we have in the pantry and being creative with what's on hand versus making yet another trip to the grocery store. My grocery budget is absolutely out of control, so I'm doing what I can to try and make meals out of pantry, fridge and freezer items. This Budget Friendly Korean Beef and Rice is just that…something that was so easy to make and didn't require an extra trip to the grocery store.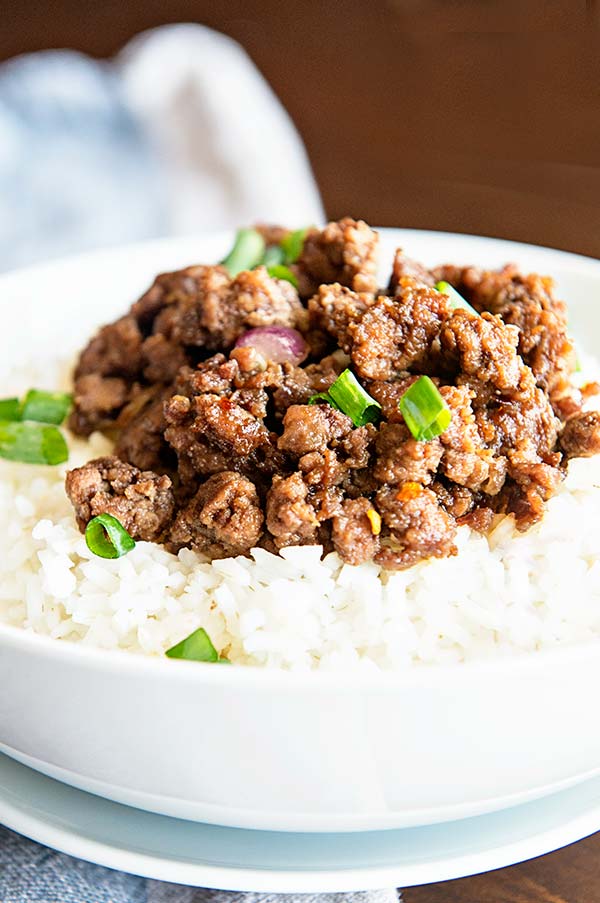 I found this Korean Beef and Rice recipe on the Taste of Home website after googling "what can I make with ground beef and rice"? I adapted it every so slightly. I doubled the sauce because I felt like the original recipe could use a little more sauce. Other than adding some red/purple onions from Ella's garden, the Taste of Home recipe was a great starting point for a fantastic, budget friendly meal.
If you're looking to save some money or just want a great, quick and easy meal, give this Korean Beef and Rice recipe a try. I think you'll love it!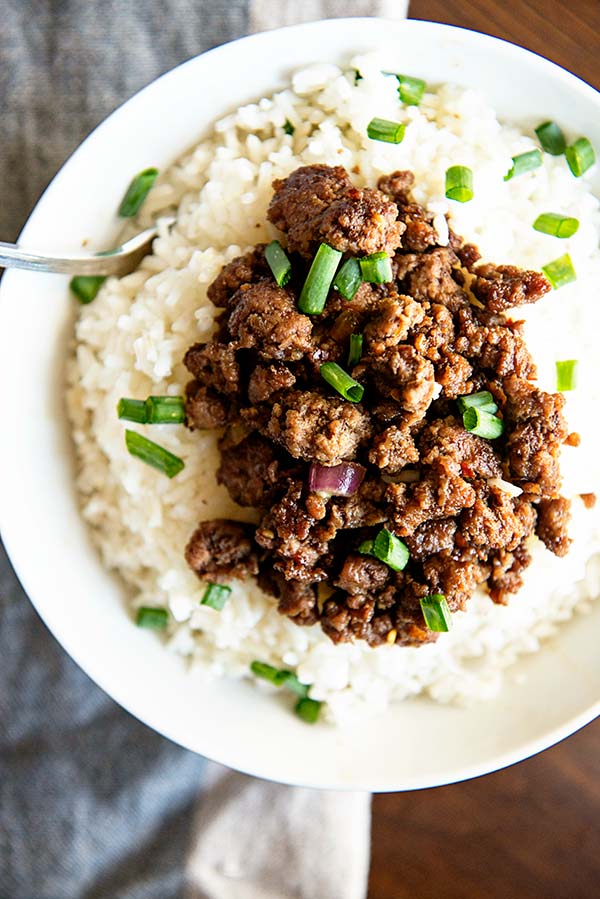 Budget Friendly Korean Beef and Rice Recipe
This budget friendly Korean Beef and Rice recipe is easy on the budget but big on flavor!
Ingredients
1

pound

lean ground beef

90% lean (I prefer Certifed Angus Beef Brand)

3

garlic cloves

minced

1

small purple onion

diced

1/2

cup

packed brown sugar

1/2

cup

reduced-sodium soy sauce

4

teaspoons

sesame oil

1/4 - 1/2

teaspoon

crushed red pepper flakes

1/4

teaspoon

pepper

2

cups

hot cooked rice

3

green onions

thinly sliced
Instructions
In a large skillet, cook beef (I prefer Certified Angus Beef), garlic and purple onion over medium heat 6-8 minutes or until beef is no longer pink, breaking up beef into crumbles. Meanwhile, in a small bowl, mix brown sugar, soy sauce, oil and seasonings.

Stir sauce into beef; heat through. Serve with rice. Sprinkle with green onions.