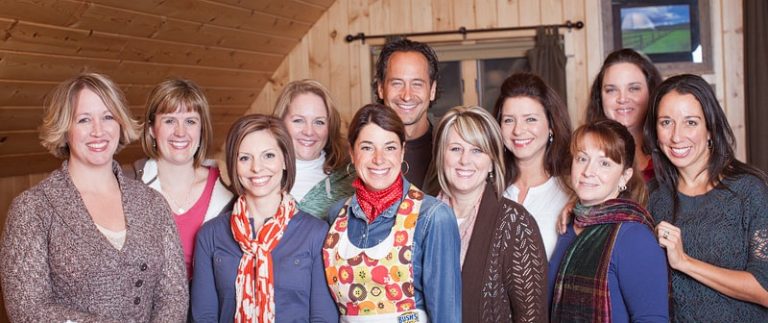 Most of the Bush's Beans Blogger Partnership Family. Photo courtesy of Crackle Photography
This giveaway is now closed. The winner, Kim Barrett, has claimed the prize. Thanks for entering!
See below for a giveaway from Bush's Beans!

A couple weeks ago I shared a few pictures from a wonderful trip I had just returned from with Bush's Beans. I am incredibly honored to be a part of this amazing team of bloggers, chefs, PR friends and of course… Bush's Beans team members. We have a lot of fun together, work hard together, and honestly… when we are together I feel like I'm with family (the non-crazy, no drama kind of family!) I love spending time with everyone on the team and always leave feeling refreshed and inspired.
I made a short video of our experience in Montana at the beautiful Paws Up Resort. If you don't have this destination on your bucket list, I highly recommend adding it. I've never felt so at peace in my life as I did when I sat out on the porch of our log home and listened to the sound of the calm, quiet stillness. I can't wait to return someday.
Thanks to Bush's Beans, Paws Up and the chefs who continue to inspire us Connie Gutterson and Jeffrey Saad. ˆI also want to thank my fellow blogging friends for their friendship… they are part of the reason the Bush's Beans family is a great one: Sandy, Amy, Cheryl, Aggie, Katie, Laura and Tina.
I promise I'll share some of the recipes we cooked in a future post. In the meantime, I want to give you the opportunity to win a great prize pack from Bush's Beans!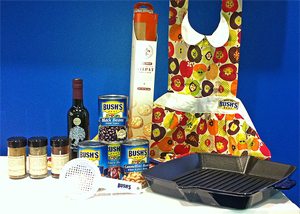 Staub Grill Pan • Adorable Apron • Silpat • Bean Strainer • Recipes made at the event
Various spices to the make recipes • Coupons for free cans of Bush's Beans
To enter, simply leave a comment on this post telling me what your favorite dish to cook with Bush's Beans is! That's it! Giveaway will end on Friday, October 28th at midnight, CST. Winner will be chosen via Random.org and notified following the drawing. Thanks and good luck!