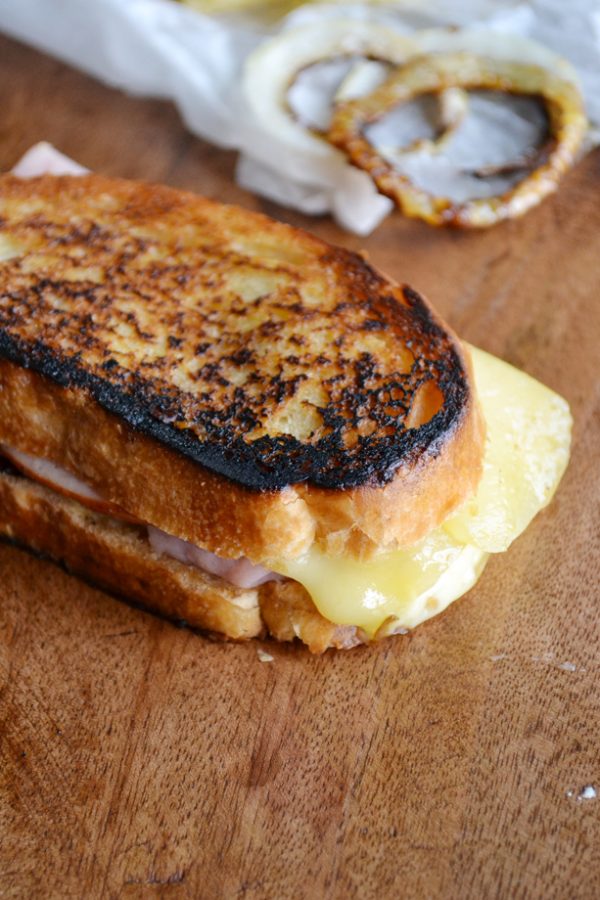 This past fall, I ate the grilled cheese sandwich that would make all other grilled cheese sandwiches inferior. Never again would I be satisfied with a plain, old, boring run of the mill grilled cheese sandwich. I would need a sandwich with only the finest cheese, ham and bread, toasted perfectly with the right amount of butter. No other sandwich, after that fateful sandwich at Cafe de la Presse in San Francisco, would do.
April happens to be National Grilled Cheese month. As part of a group from Kitchen Play, we are partnering with Jarlsberg cheese and are celebrating by serving up the best grilled cheese sandwiches out there. I thought it was about time I attempt to create the "best grilled cheese ever" to celebrate National Grilled Cheese month.
The recipe I created is about as close to perfect as I think I'm going to get. It's a simple, yet sophisticated sandwich, and it reminds me very much of the Croque Monsieur I enjoyed at Cafe de la Presse.
I hope you'll enjoy my version of my favorite grilled cheese sandwich. Hopefully, you'll want to join in on the fun to and will create your own grilled cheese sandwich to celebrate National Grilled Cheese month. Jarlsberg Cheese is giving everyone who submits a Jarlsberg Grilled Cheese sandwich recipe to www.freetoastbag.com a FREE Grilled Cheese Toast Bag and a $1.00 off coupon for Jarlsberg and Jarlsberg Lite cheese. Additional details can be found at www.freetoastbag.com.
Interested in partnering with great brands and being a part of fun blog events? Make sure to check out Kitchen Play, where PR Professionals and food bloggers connect!
Recipe: Jarlsberg Grilled Cheese and Ham Sandwich
1 slice yellow onion, separated into rings
2 slices Italian style loaf bread
4 slices Jarlsberg cheese
2 slices deli sliced ham
Butter
Melt 1/4 tablespoon of butter in a cast iron skillet. Add onion rings and saute over medium heat until edges are slightly crispy. Remove from pan.
Spread butter on one side of each slice of bread.
Place 2 slices Jarlsberg cheese, 2 slices deli sliced ham, grilled onions, and then the remaining 2 slices of cheese on top of the non-buttered side of bread. Place the other side of bread on top of the ham and cheese toppings, butter side up.
Melt 1/2 Tablespoon butter in previously used cast iron skillet. Turn heat to medium and place the sandwich in the skillet. You'll want it to "sizzle". Cook for 2 minutes or until one side of the sandwich is a nice, golden brown. Flip the sandwich over and cook the remaining side until cheese is melted and bread is a nice, golden brown.
This is a sponsored post however the opinions written are strictly my own.