The very best bread machine shaped dinner roll recipe and an Oster Bread Machine giveaway to kick off a celebration of 7 years of blogging.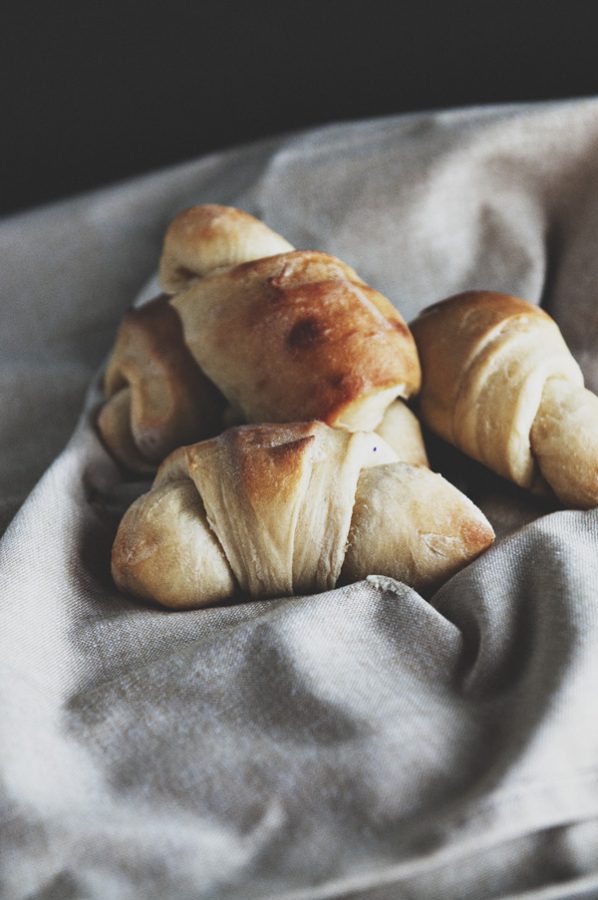 Friends, this is a big, big day because it's the start of my SEVEN years of blogging celebration!! Over the next few weeks I'm going to be sharing some of my favorite things and doing some extra special giveaways to celebrate! Why giveaways? Well, because Dine & Dish wouldn't be what it is today without your love and support and I want to share my thanks with you by giving back.
When I started Dine & Dish 7 years ago I had no idea what great joy this little site would bring me. I have developed friendships, created wonderful work relationships, have traveled and experienced things I've never even imagined, I've gained new skills, have been able to contribute to our family financially and most of all, I've been able to do it all from home while raising my kids.
Dine & Dish is not even close to the biggest blog out there, but I have the BEST readers, hands down. Thank you all so, so much for being such an important part of my life and for taking the time to click over and read what I share. It means more to me than I could ever tell you.
Without further ado, I'd like to share the first of many giveaways with you!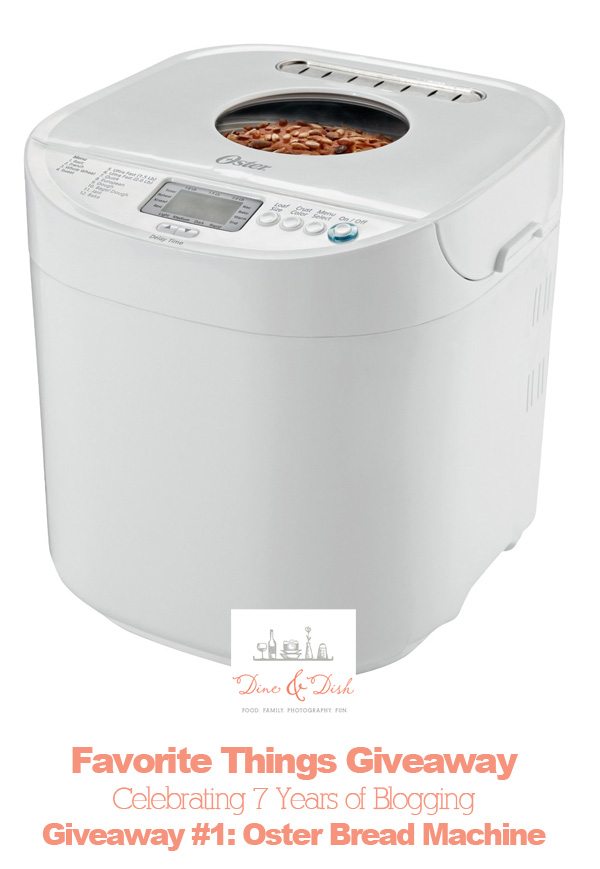 It's hard to believe that 12 years ago, when we'd have people over for dinner, my "go-to" meal to make was Hamburger Helper and a dessert I still love but haven't made in ions (Easy Eclair Dessert). I used to not be able to cook at all! I then discovered an old site called Recipezaar (now Food.com) and discovered that there were recipes out there I could cook. Then, through their forums, my love of food photography began to take shape and, well, here I am today doing both professionally. Crazy stuff!
Whenever we go to a dinner party or host my family for events, it is expected that I make homemade bread. It's kind of become "my thing" over the years. I have had the same Oster bread machine for 10 years now and I love it. I never actually bake bread in my bread machine, but always use it for the dough cycle. As much as I love to knead bread dough into shape, I don't always have time for that. Being able to just throw all the ingredients into my bread machine and leave it until the dough is all read for me has been such a huge timesaver. Other than my Keurig, my Oster Bread Machine is the most used small appliance in my house!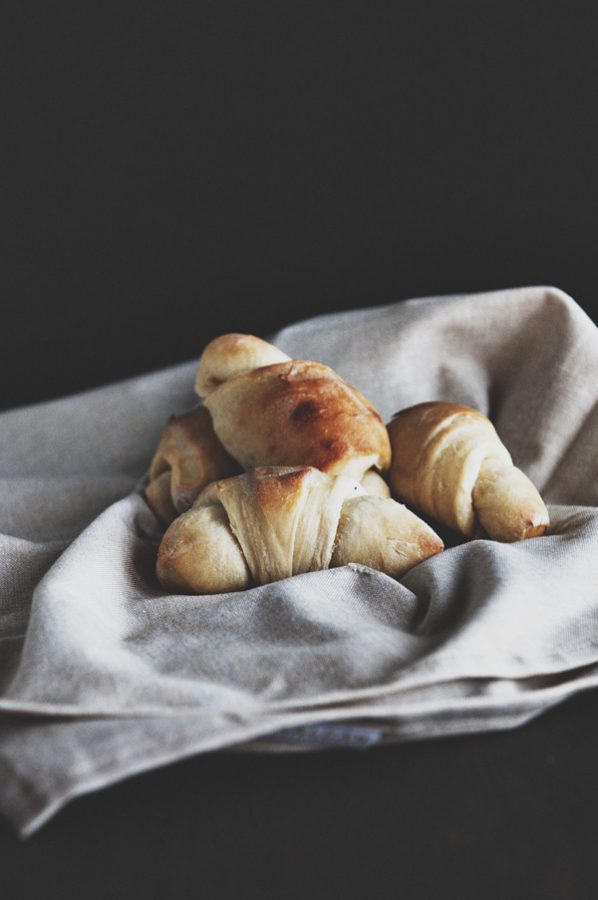 I'm starting off this big Dine & Dish celebration with a recipe I tried today that has totally kicked my favorite dinner roll recipe out of the Thanksgiving rotation. In fact, I had planned on kicking my celebration off with a completely different giveaway, but then made this recipe and HAD to share it with you right this very minute.
This isn't a Dine & Dish original recipe… I've seen it on other blogs but traced the origination to Allrecipes. As much as I'd like to shake it up and make it my own, this recipe needs no changing at all. (I did take out the second rise time, just because I'm impatient). It's absolutely perfect just the way it is! Check the recipe out below, then below that enter to win an Oster Bread Machine of your very own! Good luck and enjoy — oh… and THANK YOU!!!
Disclosure: This is not a sponsored giveaway. I truly love my Oster Bread Machine and want to say thanks by giving one Dine & Dish reader the chance to win one too!
The Very Best Buttery Dinner Rolls Recipe
The most wonderfully soft, tender and delicious dinner roll recipe!
Ingredients
1/2

cup

warm water

110 degrees F/45 degrees C

1/2

cup

warm milk

1

egg

1/3

cup

butter

softened

1/3

cup

white sugar

1

teaspoon

salt

3 3/4

cups

all-purpose flour

1

.25 ounce package active dry yeast (I prefer Red Star Yeast

1/4

cup

butter

softened
Instructions
Place water, milk, egg, 1/3 cup butter, sugar, salt, flour and yeast in the pan of the bread machine in the order recommended by the manufacturer. Select Dough/Knead and First Rise Cycle; press Start.

When cycle finishes, turn dough out onto a lightly floured surface. Divide dough in half. Roll each half into a 12 inch circle, spread 1/4 cup softened butter over entire round. Cut each circle into 8 wedges. Roll wedges starting at wide end; roll gently but tightly. Place point side down on ungreased cookie sheet. Preheat oven to 400 degrees F (200 degrees C).

Bake in preheated oven for 10 to 15 minutes, until golden.

Brush tops with softened butter.
Disclosure: This blog post contains affiliate links. As an Amazon Associate, I earn from qualifying purchases.