Help alleviate the stress of meal time by giving the gift of something different this holiday season. Make this Chicken Nacho Pizza with Fleischmann's® Yeast easy homemade pizza crust and bake a little extra to share with your neighbors. Dinner at the ready is a welcome gift for all!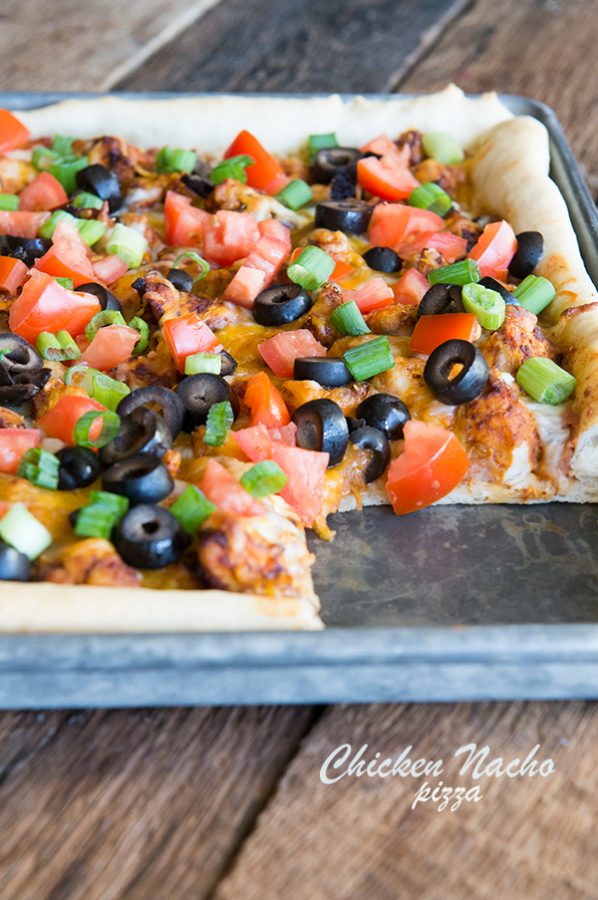 What do you all do for neighbor and friend gifts this time of year? I know in our neighborhood, baked goods show up on our doorstep night after night from kind and generous neighbors, wishing us well for the holiday season. I thought about doing my traditional "bake on Christmas morning" cinnamon rolls to give, but I've been so inspired by some recent cooking I've done to switch things up a little.
You see, the holidays are always so busy. Between Christmas concerts, parties, family gatherings and then regular sports, homework and school activities, our family meal time really suffers. When the evenings are jam packed full of activities, it makes it so much harder to cook and eat together as a family. So, my thought was… how about this year I help solve this problem for my neighbors? What if I made homemade pizzas to share with baking instructions so they can have a quick and delicious dinner without any of the effort?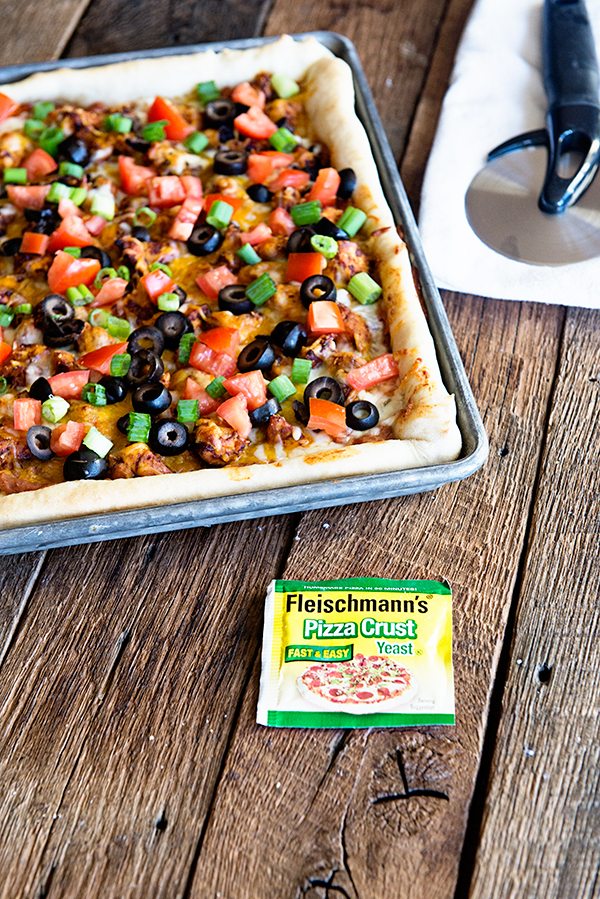 Homemade pizza is so easy to make…especially when I use Fleischmann's® Pizza Crust Yeast. Simply let the dough rest while you prepare your other pizza ingredients, and it should be ready to pat into a pan and fill with toppings in no time.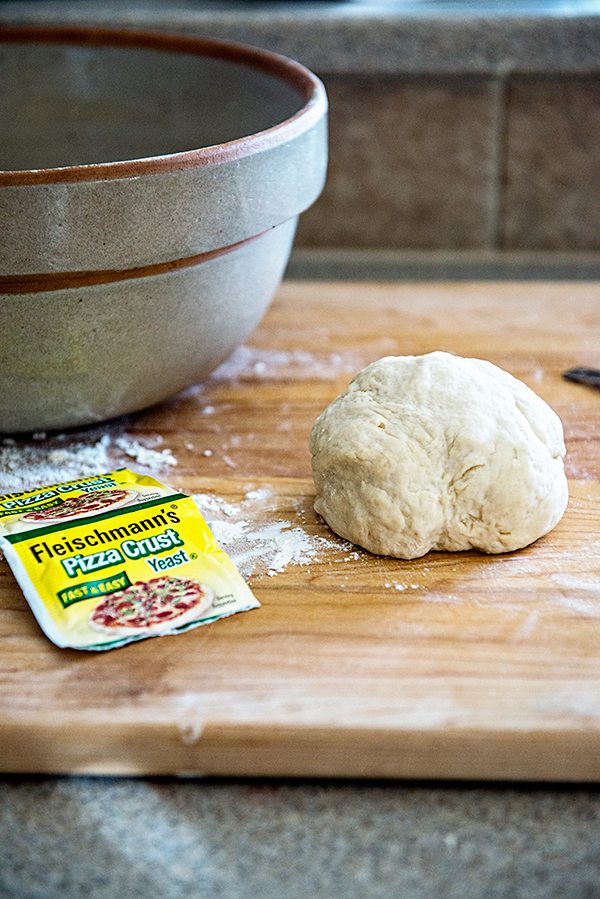 So, what do you think? Would a night off in the kitchen be a welcome gift to you? Do you have neighbors who would probably find relief in the gift of a homemade meal for their family? Homemade pizza is definitely not a traditional Christmas gift, but I think that needs to change. If someone showed up on my porch with this Chicken Nacho Homemade pizza in their hands, I'd be happy as can be! I'm sure your friends and neighbors would be too! Enjoy!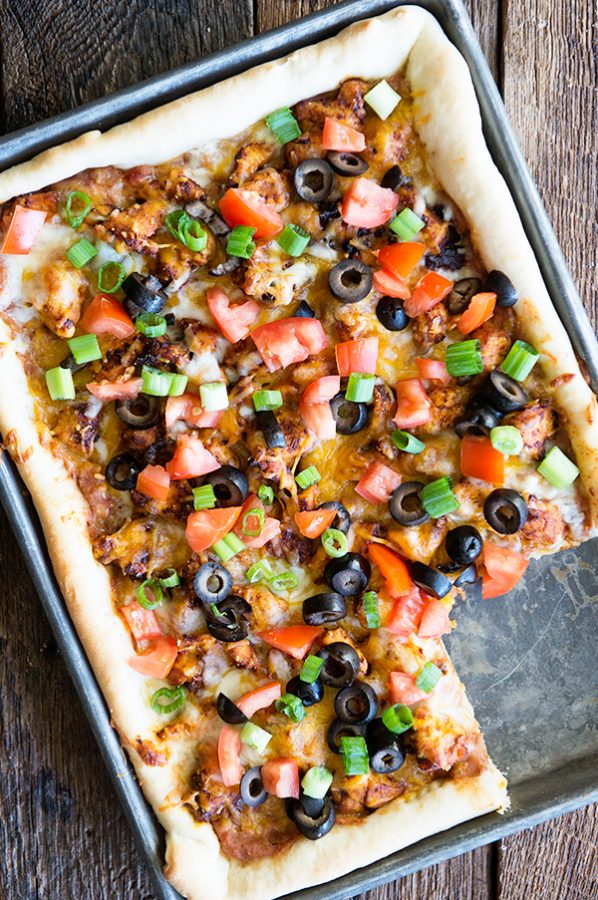 Chicken Nacho Pizza Recipe
A simple homemade pizza crust serves as the base for a loaded Chicken Nacho pizza!
Ingredients
For the crust:

1-3/4 to 2-1/4

cups

all-purpose flour

1

envelope Fleischmann's® Pizza Crust Yeast

3/4

teaspoon

salt

2/3

cup

very warm water

120° to 130°F

3

tablespoons

Mazola® Corn Oil

For the toppings:

1

pound

boneless chicken

cut into small cubes

1

package taco seasoning

1/2

cup

refried beans

1/4

cup

salsa

1

cup

shredded mozzarella cheese

1

cup

shredded mild cheddar cheese

Favorite nacho toppings as desired: diced tomatoes

sliced black olives, diced green onions, jalapeno slices, sour cream, guacamole OR salsa
Instructions
Preheat oven to 425°F.

Combine 1 cup flour, undissolved yeast and salt in a large bowl. Add very warm water and oil; mix until well blended, about 1 minute. Gradually add enough remaining flour to make a soft dough. Dough should form a ball and will be slightly sticky. Knead** on a floured surface, adding additional flour if necessary, until smooth and elastic, about 4 minutes. Cover and let rest on floured surface while preparing toppings.

Heat a large skillet and cook cubed chicken all the way through. Add taco seasoning and water according to package directions. Cook according to package directions.

Roll dough into 14 x 10-inch rectangle; place on greased baking sheet or 15 x 10-inch rimmed pan OR, pat dough with floured hands, pressing gently to fill greased pan. Form a rim by pinching the edge of the dough; prick surface with fork.

Combine refried beans and 1/4 cup salsa; carefully spread over crust. Top with reserved seasoned chicken and sprinkle with cheese. Bake on lowest oven rack 15 to 18 minutes until center is set and crust is golden brown.

Remove from oven and top with favorite nacho toppings - diced tomatoes, sliced black olives, or diced green onions.. Cut into squares and serve immediately. Serve with sour cream, guacamole or salsa, if desired

*If you don't have a thermometer, water should feel very warm to the touch.

**To knead the dough, add just enough flour to the dough and your hands to keep the dough from sticking. Flatten dough and fold it toward you. Using the heels of your hands, push the dough away with a rolling motion. Rotate dough a quarter turn and repeat the "fold, push and turn" steps. Keep kneading dough until it is smooth and elastic. Use a little more flour if dough becomes too sticky, always working the flour into the ball of dough.
Disclosure: This is a sponsored conversation on behalf of Fleischmann's® Yeast. I am honored to be sharing recipes with you all year as a Bake a Little Extra Blog Ambassador. Thanks for supporting the brands who make Dine & Dish possible!