Al Fresco fully cooked chicken sausage is the star of this simple weeknight meal. Scroll down for the Chicken Sausage with Roasted Red Pepper Sauce over Zucchini Noodles recipe.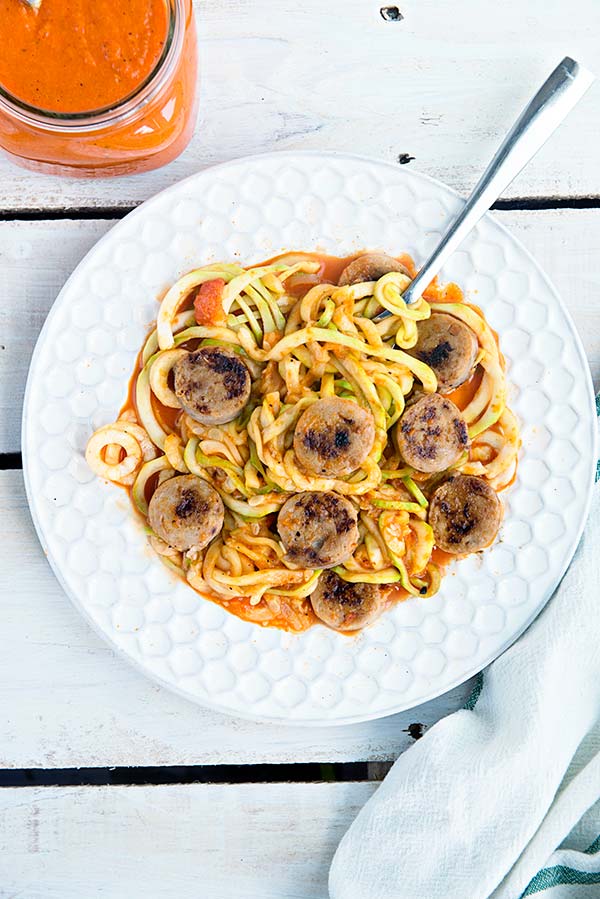 Can we talk for a minute about this stage of life I'm in? I thought when my kids were young life was hectic, but having teenagers with crazy different schedules than the rest of the family is throwing me for a loop. Long gone are the consistent nights of "family mealtime". Instead, we get to experience the rare occurrence of us all sitting down for dinner at the same time just a few times a week.
When my oldest is not at sports practices or games, he has a job umping baseball which keeps him gone many nights from 5 until 9:45. This means he needs to eat dinner incredibly early and since he's a always starving teenager he eats his 2nd dinner when he gets home.
My three girls are all involved in sports activities as well as school clubs like yearbook and publications. This means some nights they are out for games or to take pictures at games, etc. Throw in Nick's crazy travel schedule and what we have is the need for dinners that are quick, easy and able to be eaten at various times of the evening. I'm so glad I discovered al fresco all natural chicken products because it has saved this new dinnertime struggle. Healthy, delicious and QUICK are the key things I look for in a meal now, and al fresco absolutely fits all of these.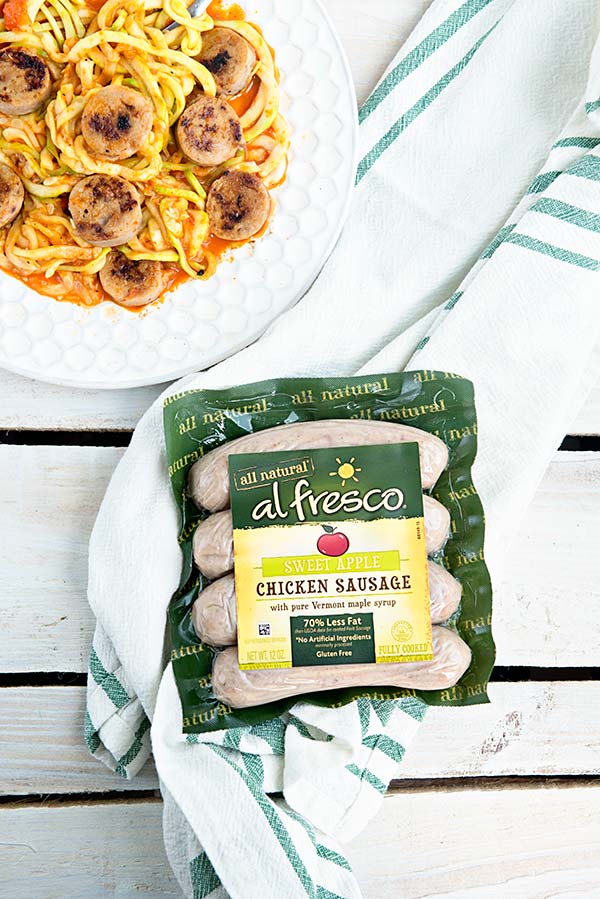 What I love the most about al fresco is that it can be used in any recipe you might use chicken in for an even quicker meal. Chicken fried rice, chicken and pasta, chicken salad…just substitute the chicken breast in those meals with one of many al fresco's all natural chicken products and you'll be good to eat in a jiffy.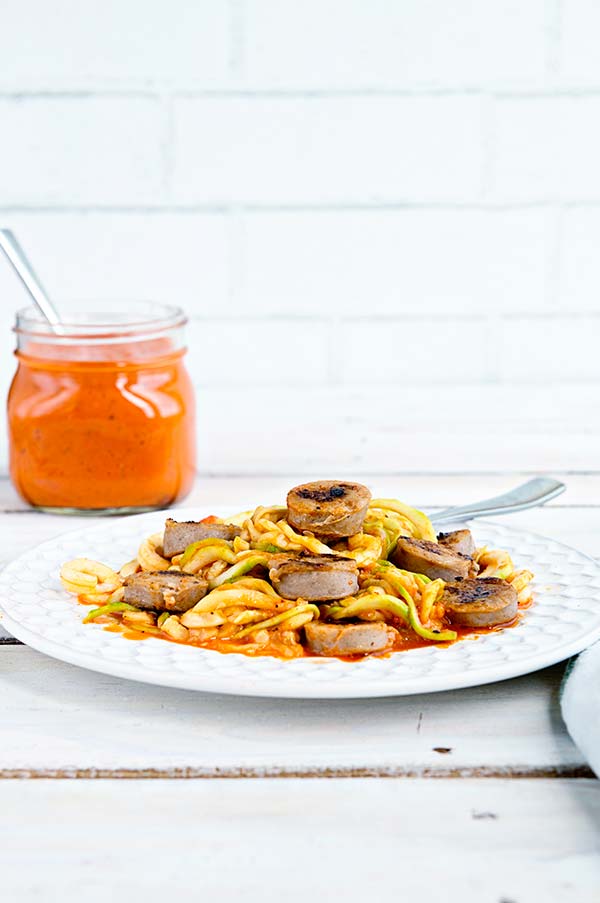 The recipe I'm sharing today is for al fresco Chicken Sausage with Roasted Red Pepper Sauce over Zucchini Noodles. This recipe is so versatile. I used al fresco fully cooked Chicken Sausage links but their fully cooked Chicken Meatballs would be a great substitution as well. Also, if your family isn't fans of zucchini noodles, you could certainly swap in cooked pasta and have a great meal.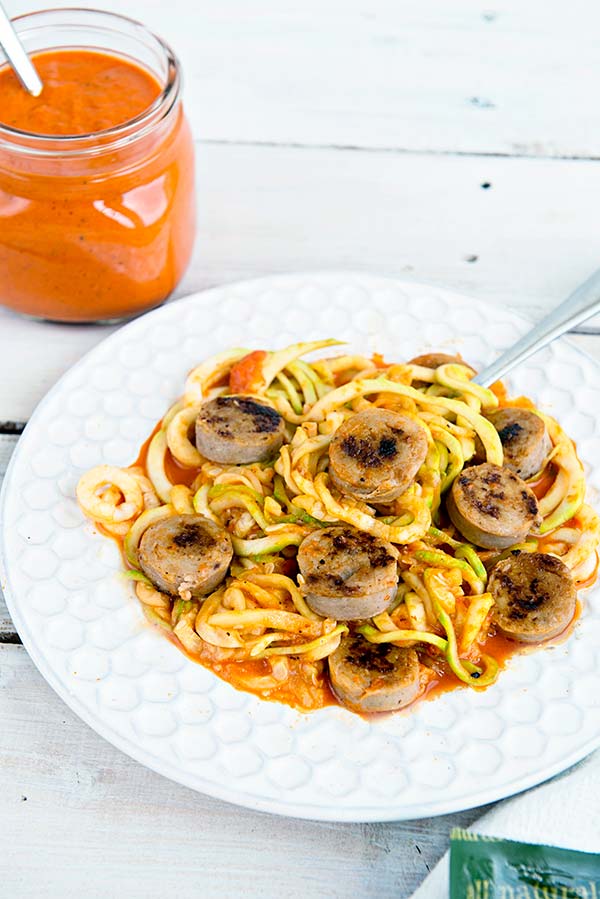 If you're like me and are looking for some simple, weeknight dinner solutions for your on the go family, definitely take a look and see how al fresco all natural chicken can make a difference in your life. This Chicken Sausage with Roasted Red Pepper Sauce recipe is a great place to start. Enjoy!
Looking for another way to enjoy Zucchini Noodles? Check out this Zucchini Noodles Pad Thai Recipe from White on Rice.
Disclosure: This post is sponsored on behalf of al fresco All Natural Chicken. All opinions expressed are my own. For more recipes featuring al fresco All Natural Chicken, click here. 
Chicken Sausage with Roasted Red Pepper Sauce over Zucchini Noodles
A simple and healthy chicken dish perfect for those busy weeknights.
Ingredients
For the Roasted Red Pepper Sauce:
2

Tablespoons

Extra Virgin Olive Oil

divided

1/2

Vadilla Onion

diced

2

cloves

garlic

minced

1

16 oz jar roasted red peppers

liquid drained

1

teaspoon

red pepper flakes

1

Tablespoon

Italian Seasoning

1/8

teaspoon

Kosher salt

1/8

teaspoon

cracked black pepper
For the remaining part of the recipe
1

4 pack al frescoAll Natural Fully Cooked Chicken Sausage Links

any flavor, sliced into 1/2 inch coins

2

Zuchinni

Spiraled into zucchini noodles
Instructions
Heat 1 Tablespoon olive oil in a large skillet over medium heat. Add the diced onion and garlic. Sauté for 2-3 minutes, or until onions are tender.

Place roasted red peppers, red pepper flakes, Italian Seasoning, salt and pepper into the jar of your blender. Carefully add the cooked onion and garlic (including the olive oil). Cover and blend on high until sauce is smooth. Set aside.

Heat remaining 1 tablespoon of olive oil in the same pan you used for the onions and garlic. Add the sliced al fresco chicken sausage and stir while cooking until chicken sausage is slightly brown and warmed through. Add the spiralized Zucchin to the pani and cook for an additional 2-3 minutes.

Spoon 1/4 to 1/2 cup Roasted Red Pepper sauce over the zucchini noodles and chicken sausage. Toss and serve immediately.

Remaining roasted red pepper sauce can be covered and stored in the refrigerator for 1 week.