Chocolate Cowboy Cookies are one of the first homemade cookie recipes I ever made with my very first KitchenAid Mixer 14 years ago!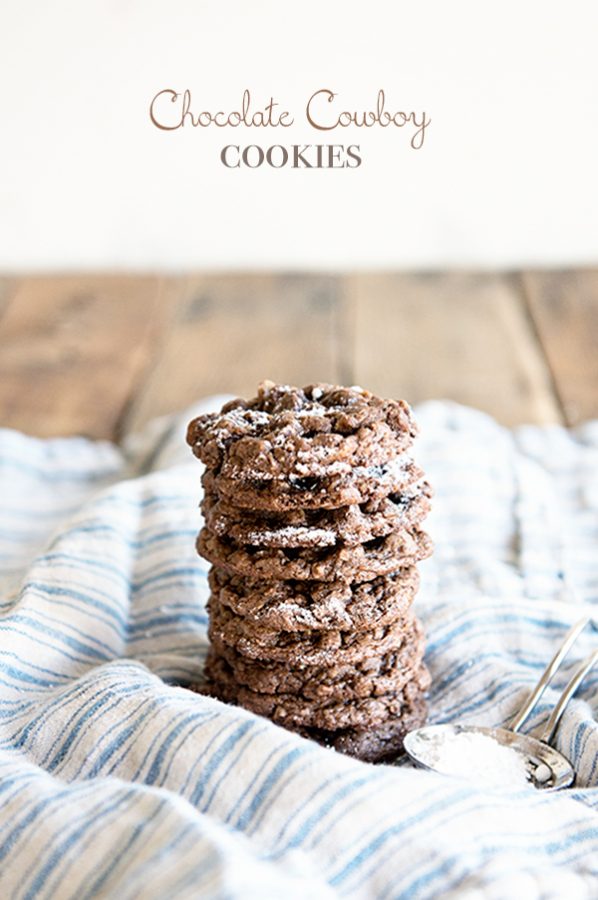 When I was first married I was a horrible cook. Well, I take that back…maybe I wasn't such a horrible cook, but was working 60+ hour work weeks and didn't have the time or desire to cook. Even so, things were pretty bad. When we'd have company I'd make Hamburger Helper (Chicken Helper if I was feeling extra fancy), canned green beans and an easy eclair dish for dessert. I don't really remember much of what my husband and I would actually eat for dinner as newlyweds, but I guarantee it wasn't much better.
After Jacob was born, I was still working, but from home and much less. I had more time to focus on "domestic" tasks, and I think because of a hope and prayer for a wife who would actually cook meals, my husband bought me my first KitchenAid mixer. Up until that point, if I made cookies, it was always using store bought dough. I just didn't have the time or the desire to make cookies from scratch. Nick LOVES cookies and grew up in a household where homemade cookies were a daily thing. I decided to embrace my husbands love for cookies and began baking.
Chocolate Cowboy Cookies are the very first homemade cookies I made for my husband. It was soon after he gave me my KitchenAid Mixer that I discovered Recipezaar, now Food.com. I don't know what it was about this chocolate cowboy cookie recipe but it stood out and I knew I had to give it a try. Since that day many, many years ago, I've made these cookies time and time again. I realized just this week when I went to make a batch that for some reason I never blogged the recipe here on Dine & Dish. So, today, I'm changing that!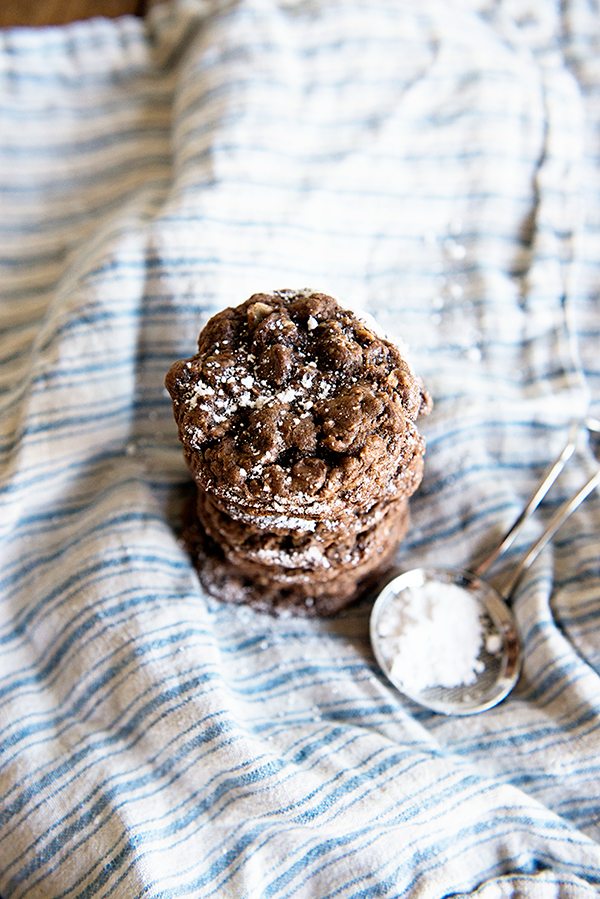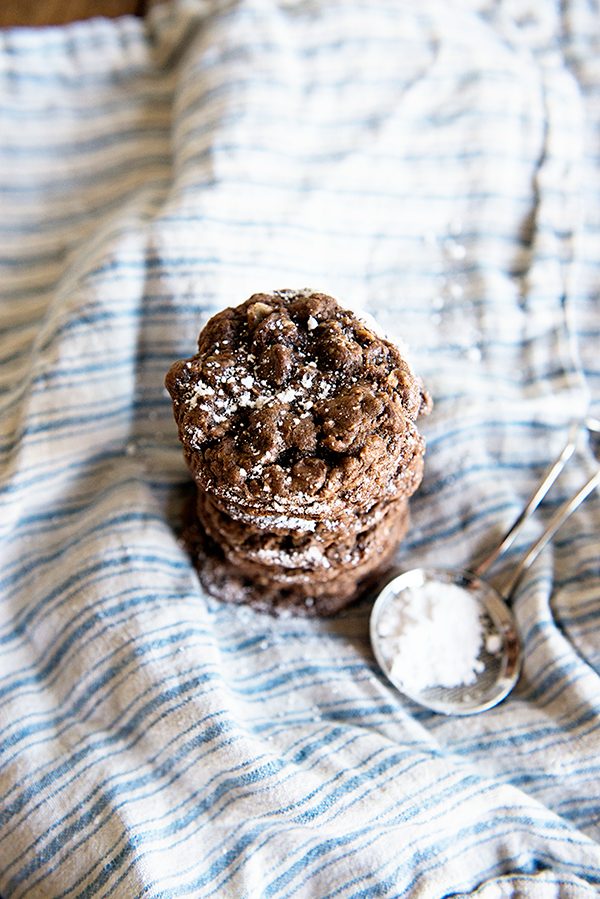 If you'd love a full of chocolate flavor, awesome cookie recipe, here's a great one to try! Enjoy!
Chocolate Cowboy Cookies Recipe
Chocolate lovers will love this tasty cookie recipe!
Ingredients
3

⁄4 cup flour

1

⁄4 cup cocoa

1

⁄2 teaspoon baking soda

1

⁄4 teaspoon salt

1

⁄4 teaspoon baking powder

1

⁄2 cup margarine or 1⁄2 cup shortening

1

⁄2 cup white sugar

1

⁄2 cup brown sugar

firmly packed

1

large egg

1

cup

quick-cooking oats

1

⁄2 teaspoon vanilla

1

cup

chocolate chips

Sifted powdered sugar for topping
Instructions
Sift together dry ingredients; set aside.

Blend together margarine (or shortening) and sugars.

Add egg & beat until light & fluffy then stir in vanilla.

Combine with dry ingredients & mix well.

Add remaining ingredients& mix well.

Drop by teaspoon onto greased or parchment-lined cookie sheets and bake in preheated 350°F oven for 12 minutes.

Cool on a wire cooling rack, then top with sifted powdered sugar if desired.