I am constantly making meals for people. Some people donate money, some people scour their house and pack up things to fling to Goodwill, some people volunteer their time, some people have charity auctions. I do those things as well, but what I find myself doing at least once on a weekly basis is cooking something for someone. I enjoy cooking and baking and I enjoy blessing others with the things that I make. I hope they enjoy it too.
My friend Amy had a baby a couple of weeks ago and I volunteered to make dinner for her family this evening. She had a special request… chicken enchilada casserole. I was excited to not have to play the guessing game on what they would like and was pleased to make her a chicken enchilada casserole. It's a simple recipe, and one that I can make in two's so my family wouldn't go hungry.
Along with the chicken enchilada casserole, I made a spring mix salad and chips with black bean dip. Things were all good until I started to think about what to make for dessert. After my day of baking on Sunday, the last thing I really wanted to conquer was more baking. If I did bake something, I sure as heck wanted it to be something simple yet different. Something that they wouldn't be getting a ton of this time of year.
I decided to pull out my trusty copy of The Good Home Cookbook. Do you have a copy of this cookbook yet? If not, run out and get one today. You deserve it, as it should be a staple in any and everyone's kitchen from here on out. It is one of those new cookbooks that I can tell will be a classic, almost like The Joy of Cooking. It has recipes that are easy to follow and it is chock full of down home goodness. Each and every recipe has been tested by real people… cook's just like you and me. In this cookbook you'll find outstanding comfort food, recipes for gourmet meals, and everyday meals for the busy chef. I plan on buying this cookbook as a wedding gift for each new bride and groom that I know, as a "going to college gift" for each new college student I know, and anyone needing recipe inspiration, whether they are a new or experienced cook.
I knew I would find something in a cinch when I opened the cover. My first instinct was to do something other than cookies, but the recipe for Chocolate Dipped Shortbread Cookies caught my eye. I flipped past it but in the back of my mind, I kept thinking about it. I went back to page 401 in the cookbook, and decided this would be it. Amy would be getting Choclate Dipped Shortbread Cookies as the dessert with her meal.
This recipe was so simple, and the result was fabulous! I used the Nestles Swirled Milk and White Chocolate Chips for the chocolate, just because it sounded good to me (and it's all about me, right?) These shortbread cookies were so soft and delicious and they would go perfect with a cup of hot tea or hot chocolate.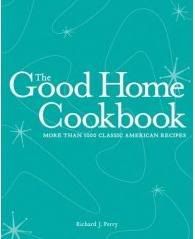 Here's the recipe, adapted from The Good Home Cookbook:
Chocolate Dipped Shortbread Cookies
 Shortbread:
2 cups all-purpose flour
1/4 teaspoon salt
1 cup (2 sticks) butter, room temperature
1/2 cup powdered (confectioners) sugar
1 teaspoon pure vanilla extract
In the bowl of your electric mixer (or with a hand mixer), cream the butter until smooth. Add the sugar and beat until smooth. Beat in the vanilla extract. Gently stir in the flour mixture just until incorporated.  Flatten the dough into a disk shape, wrap in plastic wrap, and chill the dough for at least an hour.  
Preheat oven to 300 degrees with the rack in the middle of the oven. Line two baking sheets with parchment paper.
On a lightly floured surface roll out the dough to 1/4 inch thick. Cut into rounds or whatever shapes you wish using lightly floured cookie cutter. Place the cookies on the prepared baking sheet and place in the refrigerator for about 15 minutes. This will firm up the dough so the cookies will maintain their shape when baked. Bake for 20
minutes, or until cookies are lightly brown. Cool on rack.
For Chocolate-Dipped Shortbread Cookies
Allow the cookies to cool. Melt 4 ounces of semisweet, milk chocolate or white chocolate with 1 teaspoon oil in the microwave (watch carefully, stopping at every thirty seconds to stir… do not over cook). Dip each cookie into the melted chocolate and place on a parchment lined baking sheet. (I used a knife and spread it on as my dish wasn't deep enough for dipping. I also just covered half of the cookie in chocolate).  Chill in the refrigerator until the chocolate is set.
One week ago today I dished about The Bad Day Cure!
In our Family Blog, I begged for someone to please smack me.