A perfect holiday breakfast is made complete with this Cinnamon Pear Coffee Cake recipe featuring Fleischmann's® Yeast.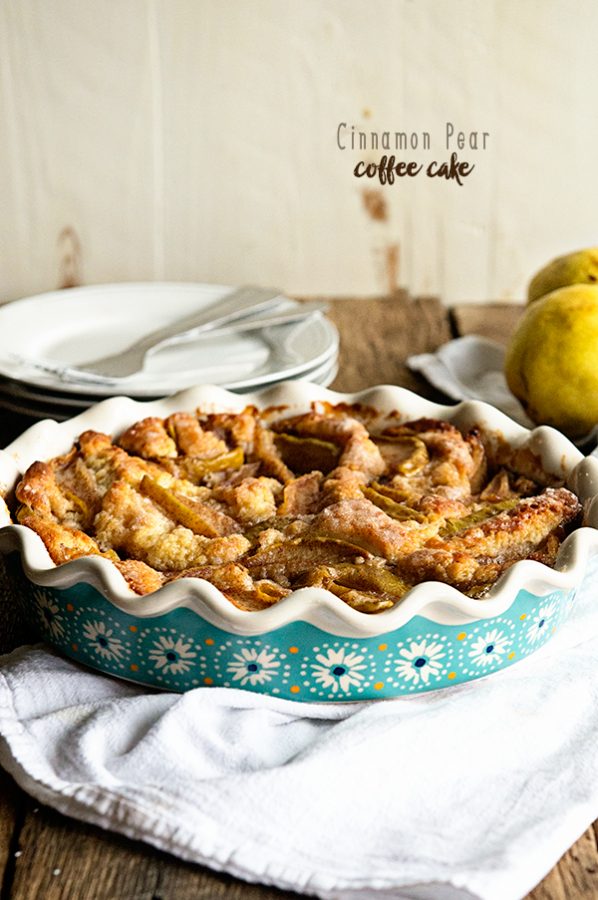 Morning is my favorite time of the day. I absolutely love waking up and having some time to ease into my day with a cup of coffee, some writing or reading time, and the stillness of the house. I especially love mornings when our Christmas tree is up and lit, and I can bask in the glow of the beautiful lights. There is something really magical about that time.
I think that's why I especially love breakfast foods. How you start your day can really effect how the rest of your day goes. A rushed bowl of cereal will never give you the same calm, start to your day as sitting down to savor a slice of warm, fresh from the oven, coffee cake. Mornings are too important to rush through!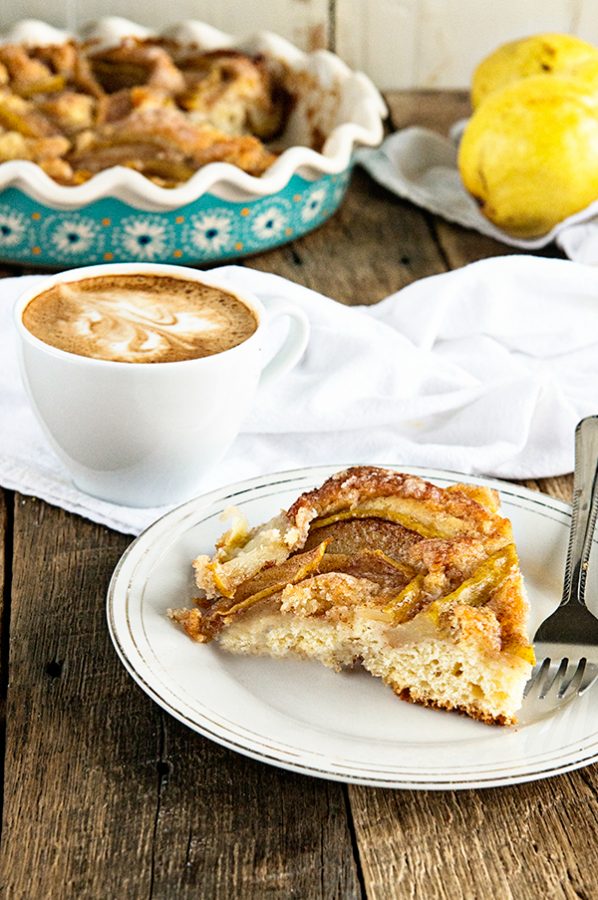 The holiday season seems to naturally be a season of hurried and rushed activity. In reality, the holidays should be a season of calm and peaceful reflection, savoring and embracing each moment.  It's so easy to get caught up in the rush of the season that we forget to take some quality time out for ourselves. I'd love to challenge you all to spend some time slowing down this holiday season, and to do that by starting your morning off with a slow and leisurely breakfast! This simple Cinnamon Pear Coffee Cake, made using Fleischmann's® Yeast, is the ideal eat with your morning cup of coffee, companion.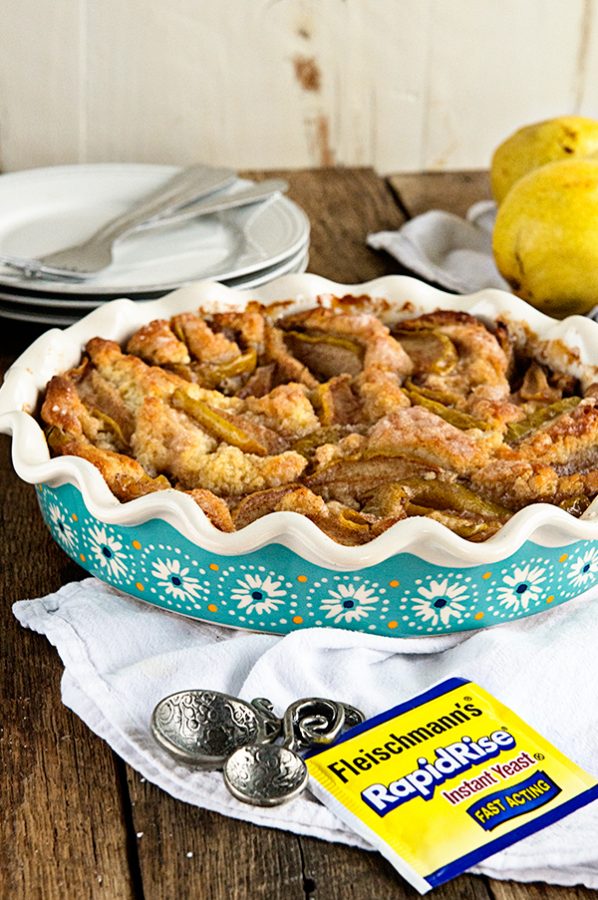 Make this simple Cinnamon Pear Coffee Cake recipe for breakfast this holiday season. In fact, for an easy morning breakfast, make the dough ahead of time the night before, cover and refrigerate, then prepare the pears and topping, allowing it all to rise and bake in the morning. The aroma of cinnamon and pears wafting through the house will be the gentle nudge to wake up your family needs. Sitting down to enjoy a slice of warm from the oven coffee cake will give everyone the peaceful start to an absolutely great day. Enjoy!
As you are baking this holiday season, consider baking up a little extra of this Pear Coffee Cake to share with others…what a great gift to share with others the joy of a peaceful start to the morning.
Cinnamon Pear Coffee Cake Recipe
A simple Cinnamon Pear Coffee Cake is the ideal slow down and savor mornings, breakfast! Recipe adapted from
Cinnamon Apple Coffee Cake
from Fleischmann's® Yeast.
Ingredients
DOUGH

2-1/4

cups

all-purpose flour

1/3

cup

sugar

1

envelope Fleischmann's® RapidRise™ Yeast

1

teaspoon

salt

1/2

cup

water

1/4

cup

milk

1/3

cup

butter OR margarine

1

egg

CINNAMON PEARS

1/3

cup

butter OR margarine

2

tablespoons

sugar

1/2

teaspoon

Spice Islands® Ground Saigon Cinnamon

3

cups

sliced fresh pears

cored

1

Tablespoon

Vanilla Bean Paste or 1 Tablespoon pure vanilla extract

CINNAMON TOPPING

1/2

cup

sugar

1-1/2

teaspoons

Spice Islands® Ground Saigon Cinnamon

2

tablespoons

butter or margarine
Instructions
Combine 3/4 cup flour, sugar, undissolved yeast and salt in a large mixer bowl. Heat water, milk and butter until very warm (120o to 130oF); gradually add to flour mixture. Beat 2 minutes at medium speed of electric mixer, scraping bowl occasionally. Add egg and 1 cup flour; beat 2 minutes at high speed. Stir in remaining 1/2 cup flour to make a stiff batter. Turn into greased 13 x 9-inch pan. Arrange Cinnamon Pears (and sauce) evenly over batter; sprinkle with Cinnamon Topping. Cover; let rise in warm, draft-free place until doubled in size, about 1 hour.

Bake at 375F for 25 minutes or until done. Cool in pan on wire rack.

Cinnamon Pears: Combine butter, sugar and cinnamon in a large skillet. Cook over medium heat until sugar dissolves, stirring constantly. Add pears and vanilla; cook, stirring occasionally, until pears begin to soften, about 5 minutes. Remove from heat; let cool.

Cinnamon Topping: Combine sugar and cinnamon in a small bowl. Cut in butter with pastry blender until mixture resembles coarse crumbs.
Notes
For presentation purposes, I baked the coffee cake in 2 greased, deep dish pie pans.
 Disclosure: This is a sponsored conversation on behalf of Fleischmann's® Yeast. I am honored to be sharing recipes with you all year as a Bake a Little Extra Blog Ambassador. Thanks for supporting the brands who make Dine & Dish possible!