Today I'm sharing a special Connect Through Reading post – it includes a really fabulous Banana Beignet recipe – but it's special for other reasons! I have to give you some backstory first, though.
About 9 years ago I was working from home doing a job I hated. I was working as a recruiter for a 1 man company. Recruiting was my background and the pay was good, but the type of recruiting I was doing required me to be on the phone a lot throughout the day cold calling. Cold calling is something I detest, but the job paid well and I really liked the guy I was working for. Now, mind you, I had a 2 year old and an infant at the time. I was really trying to balance it all, and was stressed out to the max. I thought I should have been grateful to have a job from home that was flexible so I could be at home with my kids, but again… every time I would pick up the phone to make a call, I wanted to throw up and cry.
I was part of a book club and along came our month to read the book Tending Roses by Lisa Winegate. This book, with the quote to describe it being "The lessons that most enrich our lives often come at unexpected moments and from unlikely places. " absolutely changed my life. This one story, so tender and achingly real, touched my heart in so many ways and taught me an important lesson about recognizing what the priorities in our life should be… and how quickly life can pass us by. I quit that recruiting job the day after I finished the book and decided to find something more rewarding (hello Dine & Dish!). It was one of the best moves I've ever made and I owe it all to a book.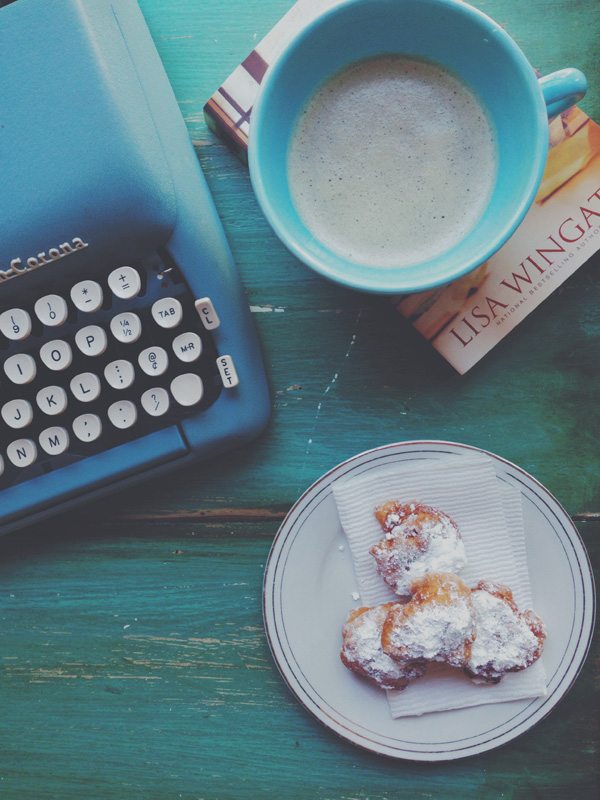 Through the years, Lisa Wingate has remained a favorite author of mine. I was really excited when my friend DeLynn mentioned that Lisa was doing a special project with the release of her newest book, The Prayer Box, and she wanted us to be a part of it! You see, Lisa was doing a "Sisterhood of the Traveling Book" event…where a group of books would be traveling across the United States and read by several women. Each woman was to write their notes in the pages and share their own thoughts throughout the book before they mailed it on to the next woman. What resulted was a book that looked something like this: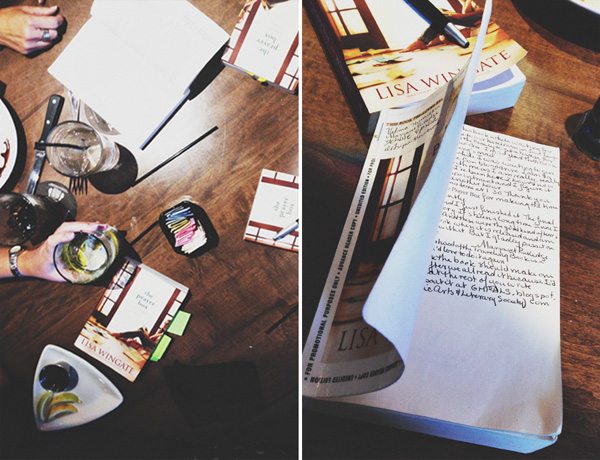 The traveling book had note after note on each page… each reader of The Prayer Box got to share their thoughts on the characters, emotions they were feeling while reading the book, and funny snippets. It was such a neat experience to see what other people thought while they were reading. My friends DeLynn, Whitney, Terri and I got together several times on Google Hangout while were were reading and then met for our final book discussion in person to share our thoughts together. It was a wonderful shared experience with great friends.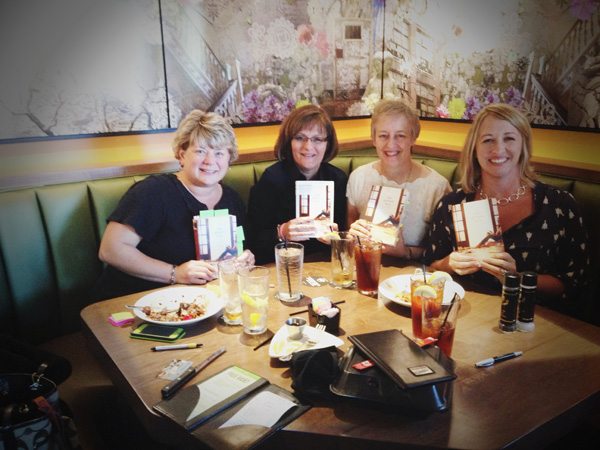 I think one of my favorite parts of this project was getting the chance to communicate with Lisa and tell her what an important role Tending Roses played in my life. (Do you all ever email authors after reading a book? I do all the time now, but back when I read Tending Roses I hadn't started doing that.) I was thankful to finally get to thank Lisa for writing such a personal and touching story and for making a big difference in my future with her book.
If you are looking for a story with heart, I highly recommend reading The Prayer Box. The Prayer Box is set in the Outer Banks of North Carolina, where a formerly abused wife and her children move to start a new life. What she discovers in her new town has her questioning her faith, family, and whether she could love and trust again. As Lisa says… "The Prayer Box is a novel about the untold story of a woman's life, as discovered through the 81 prayer boxes found in her home after she's gone." I gave The Prayer Box 4 stars on Goodreads and highly recommend it, as well as many of Lisa Wingates other books. (She's an incredibly talented writer!)
Download The Prayer Box on your Kindle, here, buy a paper copy from Amazon or add it to your virtual library on Goodreads, here. (Make sure to follow me on Goodreads so we can share book recommendations!)
I love it when books have some tie in to food, and The Prayer Box had a connection with Banana Beignets. You'll have to read the book to find out what the tie in is, but I thought I'd share the recipe shared on Lisa's site for the Banana Beignets with you! Enjoy!
Homemade Banana Beignets Recipe
A delicious homemade Banana Beignet recipe. Serve as an alternative to doughnuts for breakfast or as a special treat during the day!
Ingredients
2

large eggs

1

large banana

mashed

1 1/2

cups

all-purpose flour

3/4

cup

milk

1

tablespoon

sugar

1

teaspoon

baking powder

1/4

teaspoon

salt

oil

for frying

powdered sugar
Instructions
Whisk eggs in a large bowl.

Add Banana, flour, milk, sugar, baking powder, and salt to eggs.

Whisk until smooth.

Carefully place dough by the spoonful into the hot oil, three dollops at a time.

Cook until golden on both sides (about 4-5 minutes).

Carefully remove fried beignets from the oil and place on a paper towel to drain.

Sprinkle powdered sugar over Beignets while still warm. Serve warm.
Disclosure: I was selected to participate in the traveling book project and therefore received a copy of the book for free. All opinions expressed are my own.
Disclosure: This blog post contains affiliate links. As an Amazon Associate, I earn from qualifying purchases.