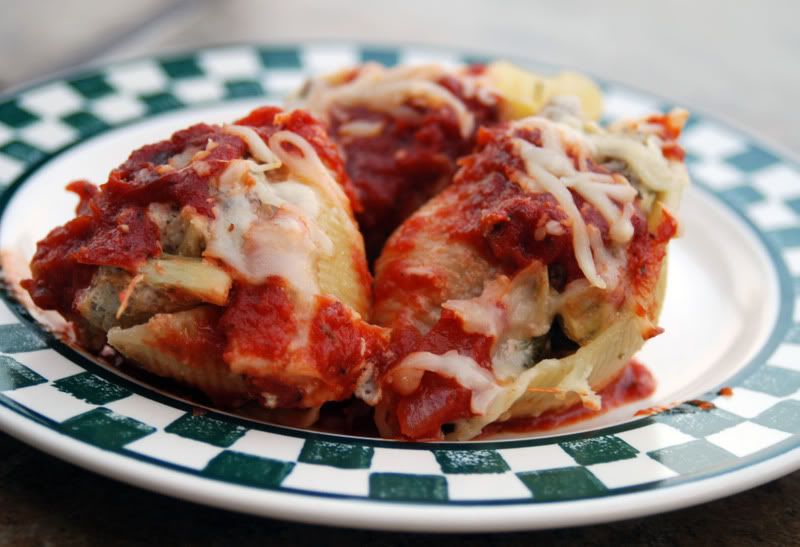 Did I mention something last week about cool weather? Really? Because since that post, I think I have jinxed things. The temps were back up in the warmer ranges and the cool days we were were having are long gone for awhile again. Ahhhh…. you have to love Kansas. If you don't like the weather one day, just wait. It is bound to change!
Kansas weather is not consistent at all. Giada's recipes? Consistently good. So far, every recipe I have tried out of her cookbook, Everyday Pasta, has been great. Her recipe for Turkey and Artichoke Stuffed Pasta Shells was no exception. This recipe was simple and delicious! I felt miserable because of my allergies the night that I made this for dinner for my best friend and her husband. Even through the sniffling and watery eyes, the constant sneezing, and the allergy medicine drug induced coma I was about to be in, I managed to make this recipe and was still able to taste by the time it was ready. Everyone loved it, including myself.
If you are looking for consistency, do not move to Kansas. If you are looking for consistency, turn to Giada's cookbooks. You will find consistently great recipes every time.
Turkey and Artichoke Stuffed Pasta Shells (from Everyday Pasta) 
Turkey and Artichoke Stuffed Pasta Shells
Perfect home cooked meal for a group of six.
Ingredients
1

12-ounce box jumbo pasta shells (recommended: Barilla)

3

tablespoons

extra-virgin olive oil

1/2

large yellow onion

chopped (about 1 cup)

3

cloves

garlic

chopped

1

pound

ground turkey

1/2

teaspoon

kosher salt

plus 1/2 teaspoon

1/4

teaspoon

freshly ground black pepper

plus 1/4 teaspoon

1

8 to 10-ounce package frozen artichokes, thawed and coarsely  (I used canned)

1

15-ounce container ricotta cheese

3/4

cup

grated Parmesan

2

eggs

lightly beaten

1/4

cup

chopped fresh basil leaves

2

tablespoons

chopped fresh flat-leaf parsley

5

cups

Arrabbiata Sauce

recipe follows

1 1/2

cups

grated mozzarella

about 5 ounces
Arrabbiata Sauce:
2

tablespoons

extra-virgin olive oil

6

ounces

sliced pancetta

coarsely chopped

2

teaspoons

crushed red pepper flakes

2

garlic cloves

minced

5

cups

jarred or fresh marinara sauce
Instructions
Bring a large pot of salted water to a boil over high heat. Add the pasta and partially cook until tender but still very firm to the bite, stirring occasionally, about 4 to 5 minutes. Drain pasta.

Meanwhile, in a large heavy skillet, heat the olive oil over medium-high heat. Add the onions and the garlic and cook until the onions are soft and starting to brown, about 3 minutes. Add the ground turkey, 1/2 teaspoon salt, and 1/4 teaspoon black pepper and continue to cook, stirring occasionally, until the meat is slightly golden and cooked through. Add the artichoke hearts and stir to combine. Remove from heat and let cool.

In a large bowl combine the cooled turkey mixture with the ricotta cheese, Parmesan cheese, eggs, basil, parsley, and the remaining salt and pepper. Stir to combine.

To stuff the shells, cover the bottom of a 9 by 13 by 2-inch baking dish with 1 cup of Arrabbiata sauce. Take a shell in the palm of your hand and stuff it with a large spoonful of turkey mixture, about 2 tablespoons. Place the stuffed shell in the baking dish. Continue filling the shells until the baking dish is full, about 24 shells. Drizzle the remaining Arrabbiata Sauce over the shells, top with the grated mozzarella. If freezing, cover tightly with plastic wrap and place in the freezer for 1 day and up to 1 month.

To bake, preheat the oven to 400 degrees F. Bake until the shells are warmed through and the cheese is beginning to brown, about 60 minutes (20 minutes if shells are unfrozen.)




Sauce: Heat the olive oil in a large soup pot over medium heat. Add the pancetta and saute until golden brown, about 5 minutes. Add the garlic and saute until tender, about 1 minute. Add the marinara sauce and red pepper flakes and bring to a simmer. Remove from heat and let cool until ready to use.
Notes
Yield: approximately 6 cups