Especially as the summer months come around, staying hydrated is key to a healthy lifestyle. If you are looking for a way to increase your water intake, like me,  take a tip from the spas and make up a batch of Cucumber Citrus Infused Water…made especially cute in a jar glass and pitcher from Tuesday Morning.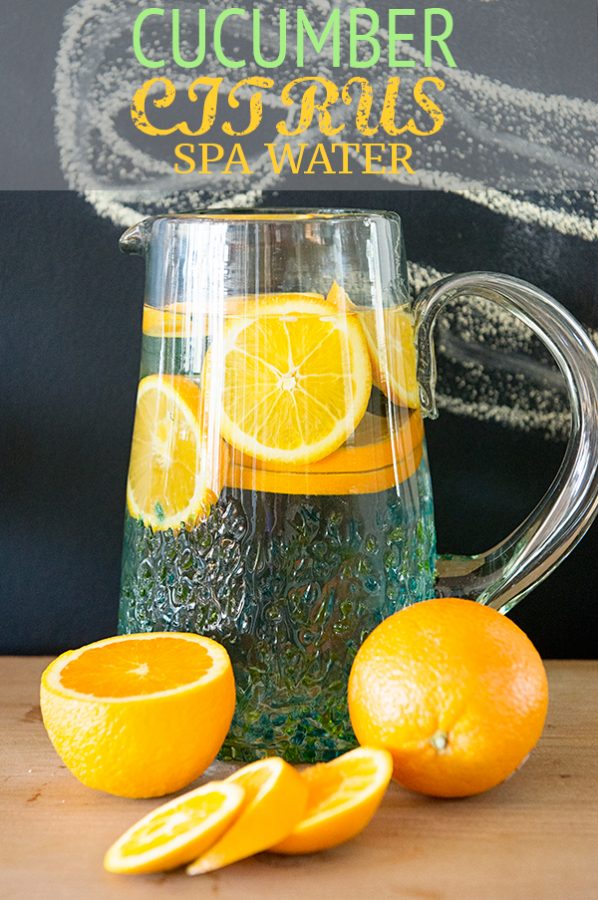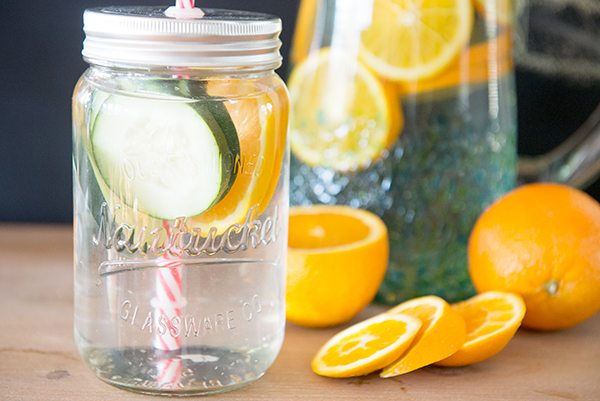 One of the biggest challenges for me in this whole weight loss / healthier lifestyle journey is water. I've never been a big lover of drinking water…I don't know what it is but I've just never been able to consistently be a water drinker. Oh I know how good water is for me and how essential it is if you are wanting to lose weight, but up until recently it just wasn't something I could consistently remember to do.
I tried setting "drink your water" reminders on my phone to go off during the day (by the way…there's an app for that!). I tried having giant glasses filled at every possible place I might be in the house – hoping it'd entice me to chug a cup or two down. I've tried buying bottled water, sparkling water, filtered water, warm water, ice cold water and none of those things ever really made me want water.
While I was away on my Princess Cruise in the Caribbean, I drank water like crazy and loved it. The difference was, the water I had was infused water. It was plain water infused with citrus and cucumber. The water served there was the same concoction I find at most spas I go to…ironically enough, the other place I love to drink water! I had a bit of a "duh" moment when I thought "why don't I just keep a pitcher of infused water on hand at home and refill a big glass with it during the day? Instead of forcing myself to drink plain water, which I don't like, I can drink spa water at home and actually enjoy it!" Easy enough, right?
I went shopping at Tuesday Morning and found this beautiful pitcher and a set of two, large jar glasses with a lids and straws. Each evening I make up a batch of this spa-like infused water,  let it sit overnight in the fridge, wake up, fill my two big glasses, and then I'm set for the day. I refill the glasses a couple times during the day and before I know it, I've happily drank my desired amount of water…no crazy phone reminders needed!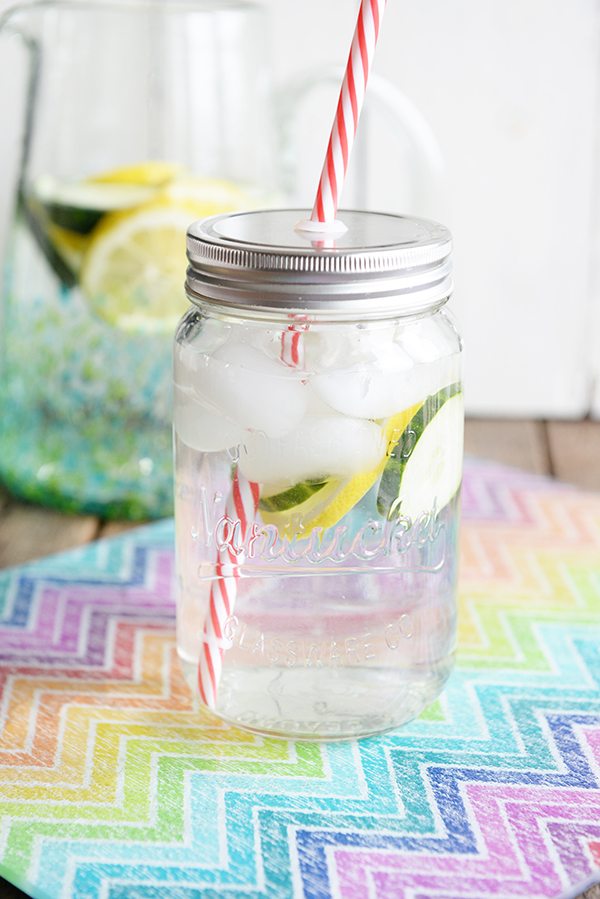 While I was shopping at Tuesday Morning, I found so many other things to help with maintaining a "healthy and fresh" kitchen. Check out my post over on the Tuesday Morning blog where I'm sharing some more tips for keeping a kitchen stocked with fresh food and colorful kitchen tools. We all know when what you are drinking out of is cute (like my mug above) it makes those hard to form habits a lot easier!
Is drinking enough water during the day a hard habit for you or have you mastered it? If so, leave a comment below with your tips and tricks – I'd love to read them! 
You can find the instructions for the spa water below. Head over to the Tuesday Morning blog for more healthy kitchen tips (and cute product suggestions), sign up for the Tuesday Morning newsletter here to be notified of current deals and new products, and find the Tuesday Morning store location nearest you here. Thanks and happy drinking!
Cucumber Citrus Infused Water
A refreshing blend of citrus and cucumbers infused with water creates a great drink to keep you hydrated.
Ingredients
1

large cucumber

washed and sliced thick

1

large orange or lemon

sliced

1

pitcher of water
Instructions
Fill a pitcher with water. Stir in sliced citrus and cucumbers. Allow to sit overnight in the refrigerator to infuse. Enjoy and refill as often as you'd like.
 Disclosure: This is a sponsored conversation on behalf of Tuesday Morning. All opinions expressed are my own.