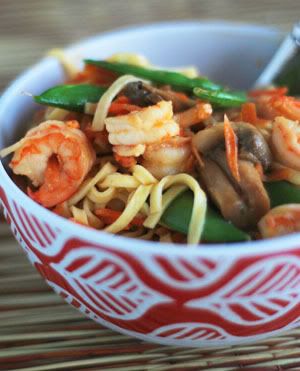 I'm going to preface this post by saying that I am just about the last person in the world to be passing out Photoshop and food photography tips.  That may be the case, but I am going to do it anyway! My dear friend, Julie Lackey, who is an extremely talented portrait photographer, shared this tip with me awhile back and I have used it more than I ever thought I would.
One of the things I hate about the winter months in the midwest is how dark it gets so early in the evening. This frustrated me as a kid because it always meant we had to come in earlier from playing. Now, as an adult and one of those crazy people who can always be found taking photos of the food she cooks, the early sunset means that it is that much harder to get a good photo of dinner in the natural light. Around this time of year, a lot of food bloggers will be posting baked goods and desserts simply because it is too difficult to take a good photo at dinner time.
Enter my friend Julie and her Photoshop tip. This tip works if you take a photo and notice that the image is too dark, which usually happens when your flash is off and there isn't enough natural light pouring in. I am not a techie, so please excuse my non-technical terms as I flubber through sharing this with you.
Open your dark photo in Photoshop
Up at the top toolbar go to the "Layers" tab and then drop down and select "Duplicate Layer"
If your layers window isn't open on the side of your PS main window, go up to the top toolbar, go to the "Windows" tab and select "Layers"
OK – now that the layers window is open, you should see a drop down menu in it that shows "normal". Click on that and go down to where it says "screen". Your photo should brighten up immediatley. If it is too bright, adjust the opacity (located in your layers window) to a lower percent.
Now, go back up to the Layers tab on the top of your Photoshop screen and drop down to "Flatten Image"
If your photo still needs to be brighter, repeat steps 2 – 5.
When I have the photo as I want it, I usually adjust the saturation slightly to give it a little pop of color and will also sometimes do a curve adjustment
The photo below was a prior version of the one at the top of this post. To save this photo from ending up in my computer recycle bin, I made the changes listed above and was able to salvage it. Many of you probably know this tip, but for those of you who don't, I hope you found it helpful! Thank you, Julie, for sharing this tip with me and for allowing me to showcase my dinner in a new light.
What is one of your favorite photo editing tips?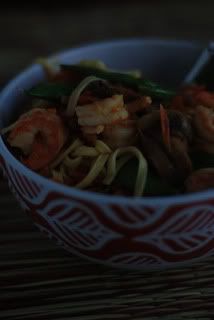 And now for the recipe… a quick and easy one from Simple & Delicious magazine!
Thai Shrimp Linguine (from Simple and Delicious Magazine)
20 min | 5 min prep
SERVES 3
Cook linguine according to package directions, adding snow peas and linguine at the same time.

Meanwhile, in a large skillet, cook carrots and mushrooms in oil over medium heat for 3 minutes. Add shrimp; cook and stir 3 minutes longer or until shrimp turns pink. Stir in peanut sauce; heat through.

Drain linguine and snow peas; transfer to a serving bowl. Top with shirmp mixture; toss to coat.