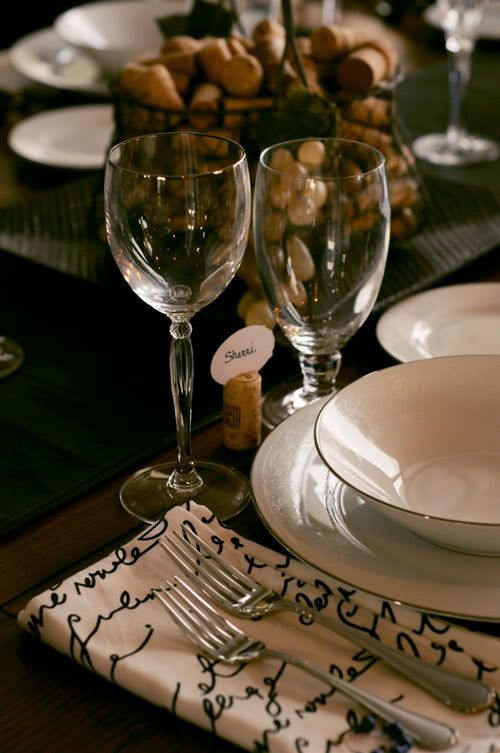 We had our second Dinner Club on Saturday and I thought it was another big success. The food that was shared was fantastic, the friendship was great and the conversation was the best! I love this eclectic group of people… there is never a dull moment.
Dinner Club came and went and I was so caught up in enjoying the company that I totally forgot to take pictures of the food. You will have to take it from me, everything we had was delicious!
I did manage to snap a photo of our table before everyone came. Much to the belief of some of you (DeAnn!), I am not Martha Stewart. I do not have a crafty, creative bone in my body. That is why, when I came up with the idea for the place cards for our Rustic Italian Dinner Club, I was especially proud of myself! My husband and I have a collection of wine corks that we have saved over the past ten years. I decided it would be neat to cut a small slit into the top of the wine cork, use a die cut to cut oval shapes out of card stock scrapbook paper (the paper had a black and white design on the other side) and write each guests name on the blank side of the paper. Then, it was as simple as inserting the card stock oval into the slit of the wine cork. Voila – you have a simple, inexpensive and creative place card for your dinner party!
Now, for those of you here for the food, here are some of the recipes from our Rustic Italian Dinner Club menu. Each couple is assigned to bring something. I was in charge of the main dish and the bread. If you haven't started a Dinner Club yet, I hope that my posts encourage you to do so! With the right group of people, it can be a lot of fun!
Appetizer: Ali's Amazing Bruschetta
Salad: Rustic Italian Summer Salad
Bread: Italian Cheese Bread
Side Dish: Bacon Wrapped Green Beans
Main Dish: Spinach Chicken Manicotti with Creamy White Sauce (I used Manicotti instead of Cannoli & added garlic. Recipe recommended to me by SB's Bea from On My Plate)
Dessert: Italian Cream Cake