This Oatmeal Pumpkin Bundt Cake is a great cake for either breakfast or dessert!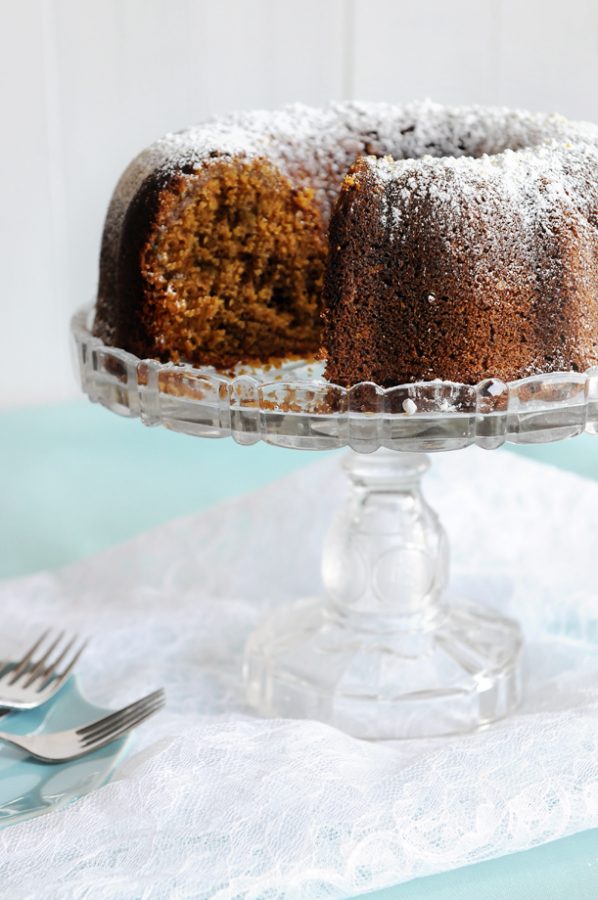 Okay, okay… I know I just shared a Bundt cake recipe with you. And yes, two Bundt cake recipes in a row is probably a bit much, but I couldn't help myself.
This recipe was inspired by a pantry cleaning project. This past Saturday I was bound and determined to get my pantry in tip top shape.
Ignoring the suggestion of FlyLady to pull out only what I can put away in 15 minutes' time, I pulled everything out of my pantry. Every inch of the countertop was covered in baking supplies, canned goods, spices, snacks, pasta, and more.
As I looked around my kitchen trying to determine what should stay and what should go, I decided that there were some items that simply needed used up. 1 cup of oatmeal, an insane amount of canned pumpkin, and enough powdered sugar to cause a state of emergency in Kansas, I decided to do what most people would do. No, I didn't put everything that was on my counter away… instead, I decided to bake a cake.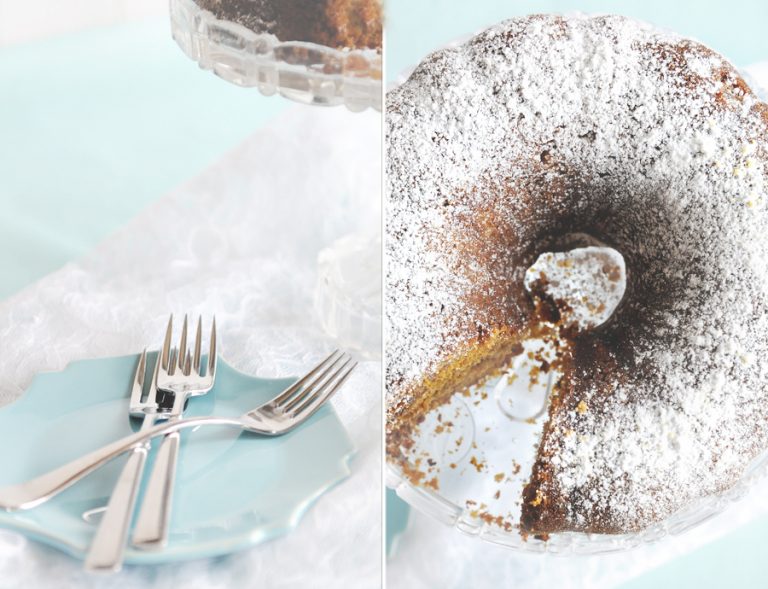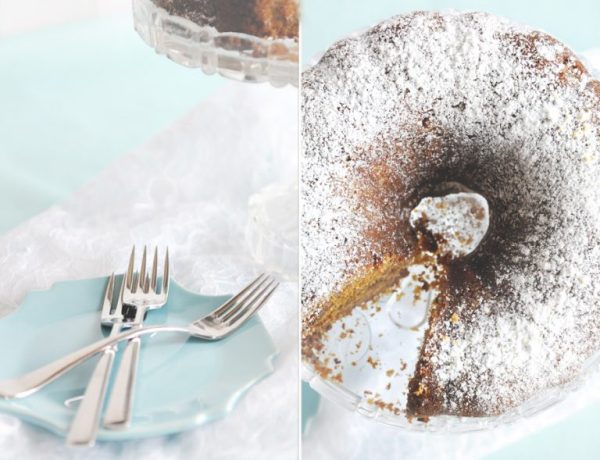 Moving everything aside, I pulled out my mixer and decided another Bundt cake was in order. I adapted the Pumpkin Bundt cake recipe I shared the other day, omitted some ingredients and added some others. The end result is what I am calling my "Clean Out the Pantry Bundt Cake".
It's a Pumpkin and Oatmeal Bundt Cake with a powdered sugar dusting and it was delicious. In fact, we ate it for breakfast the next morning… couldn't be any worse for you than a muffin, could it?
Anyway, Bundt Cake, if you are wondering, is a great distraction. I think you should stop what you're doing right now and go make one yourself. Cleaning can wait, right?
Recipe: Oatmeal Pumpkin Bundt Cake
Oatmeal Pumpkin Bundt Cake is perfect for breakfast or dessert!
Ingredients
2

cups

granulated sugar

1

cup

quick cooking oatmeal

1/4

cup

boiling water

1

cup

butter

softened

4

large eggs

1

cup

canned pumpkin

2

teaspoons

vanilla extract

3

cups

all-purpose flour

1

tablespoon

pumpkin pie spice

2

teaspoons

baking soda

1

teaspoon

salt

powdered sugar
Instructions
Preheat oven to 350° F. Grease and flour a 12-cup Bundt pan (I use Pam Baking spray).

Place 1 cup oatmeal in a small bowl. Pour 1/4 cup boiling water over the oatmeal and stir together. Allow oatmeal and water to sit for 10 minutes.

Add sugar and butter to a large mixing bowl. Beat on low until light and fluffy.

Slowly add the eggs, one at a time, and continue mixing until well incorporated.

Add the pumpkin, oatmeal/water mixture and vanilla, mixing on slow speed until well blended.

While mixer is still going on slow, add the flour, one cup at a time. Next, add the pumpkin spice, baking soda and salt. Blend until well incorporated.

Pour cake batter into prepared Bundt cake. Bake for 60 minutes or until a knife inserted into the center comes out clear.

Allow to cool in pan for 10 minutes then invert onto a large cake plate. If desired, dust with powdered sugar.