Try this recipe for double chocolate Pecan Pie / Tart for a sweet twist on a holiday favorite! Thank you to Diamond Nuts for sponsoring this recipe.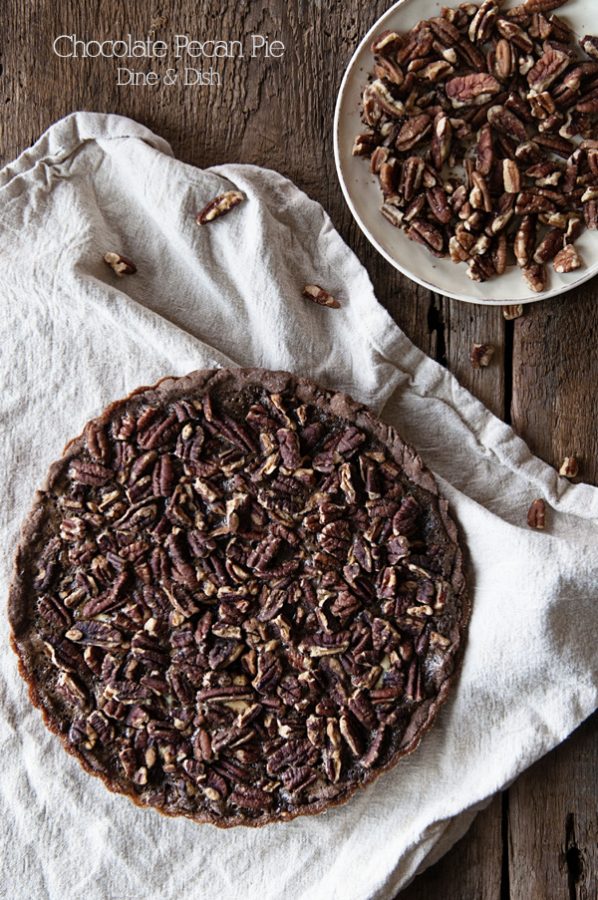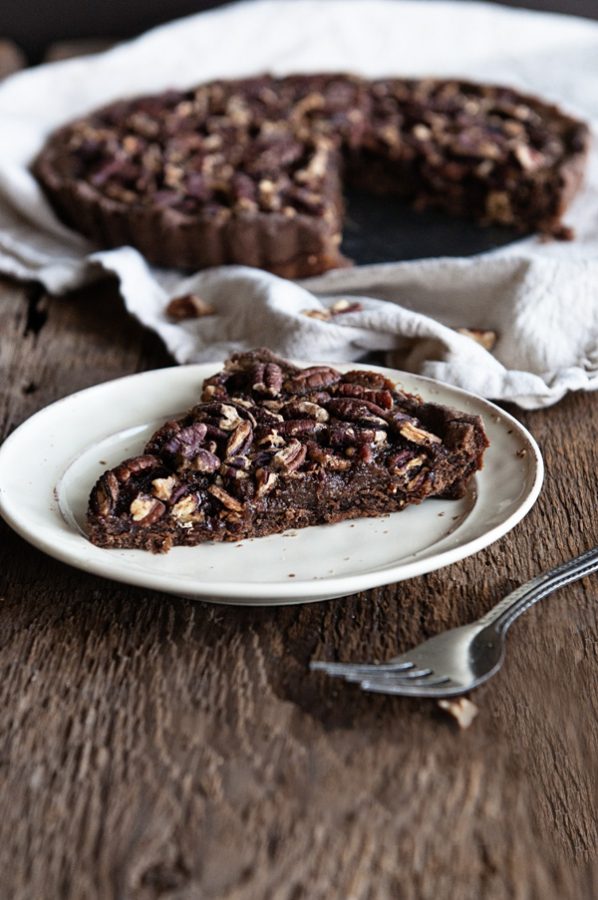 My grandma Sumner was the pie maker in our family. She showed up to every holiday with 2 of each flavor of pie… she had pumpkin and banana cream and chocolate cream and pecan and coconut cream. She always made sure that everyones special pie wishes were fulfilled. She was pretty special that way.
I'm not as nice as my grandma Sumner was! When one of my family members says "it's not Thanksgiving without a Chocolate Pie" and another one says "we can't celebrate properly without Pecan Pie on the table" I decide to get a little creative and make both wishes come true, in one pie. Meet Double Chocolate Pecan Pie, a new staple for your holiday meal!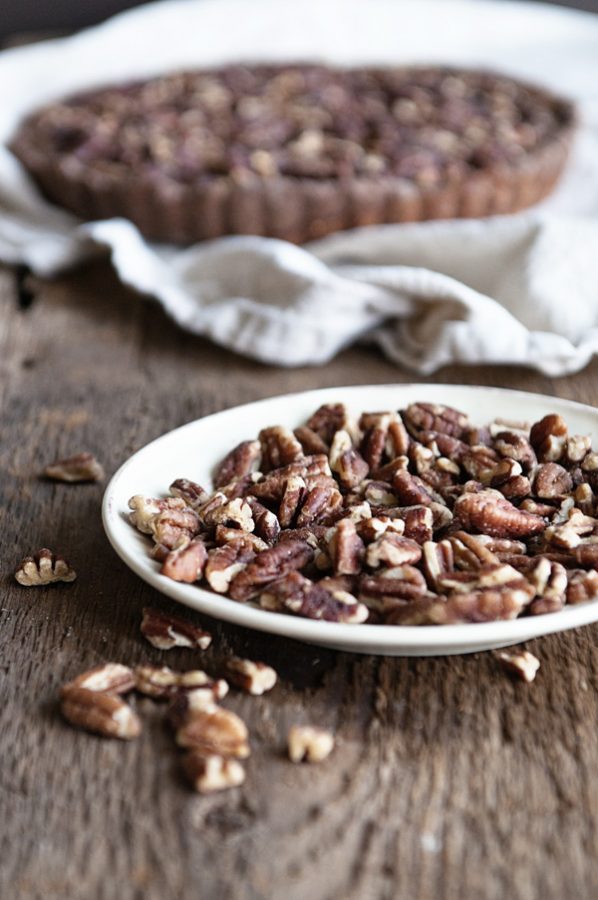 This recipe for Chocolate Pecan Pie caught my eye in the New York Times a few weeks ago. I loved that it was such a creative twist on a classic recipe…and who doesn't love more chocolate this time of year? I took things one step further though and created a chocolate pie crust to go right along with it! Now, those who requested a pecan pie and the others who requested chocolate can have their cake and eat it too. It's the best of both worlds, don't you think?
I hope you all enjoy this recipe for Double Chocolate Pecan Pie and that everyone is thankful at your table on Thanksgiving, whether you have umpteen million flavors of pie or not. Have a wonderful holiday!
For another pecan pie variation, make sure to check out my friend Amanda's Pecan Pie Bars. And to use up your extra pecans, this Hummingbird Cake is awesome. Both of these recipes are AMAZING!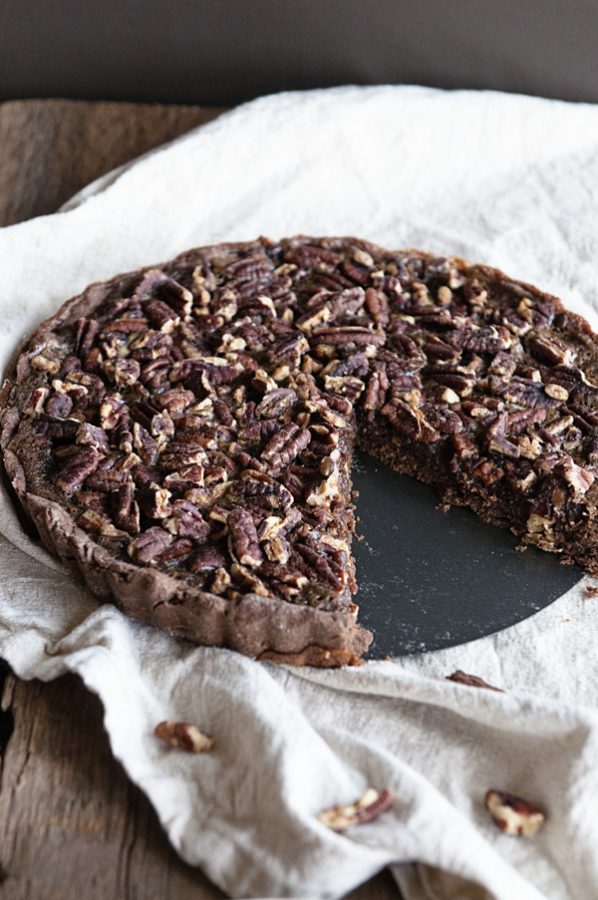 Double Chocolate Pecan Pie
Pecan pie, a holiday classic, gets revamped with chocolate!
Ingredients
For the Crust:
1

cup

all-purpose flour

2

tablespoons

unsweetened cocoa powder

4

Tablespoons

sugar

1/2

teaspoon

salt

1/4

cup

butter

cold and sliced

2

tablespoons

Crisco

1

large egg

3

Tablespoons

ice water
For the pie filling
1 1/2

cups

Diamond Nuts Pecans halved or chopped

3

tablespoons

butter

2

ounces

high quality milk chocolate

chopped

1/2

cup

corn syrup

2

large eggs

1/4

cup

brown sugar

1

teaspoon

unsweetened cocoa powder

2

Tablespoons

whiskey

1/4

teaspoon

fine sea salt
Instructions
For the crust:
In a food processor, combine the flour, cocoa, sugar and salt until blended. Add the butter and shortening and combine until mixture resembles coarse crumbs, about 5 seconds.Add the egg and water and process until the dough forms a ball (just a couple of seconds).

Place the dough on a floured surface and roll out to fit into a 9 inch tart pan. Once rolled, place into a prepared tart pan, pressing up the sides of the pan.

Bake in a 350° preheated oven for 20 minutes. Remove from the oven and set aside until needed.
For the Pie Filling:
Keep oven at 350°F. Spread pecans on a rimmed baking sheet and toast 8-10 minutes. Remove and set aside to cool.

In a small saucepan over low heat, met butter and chopped chocolate, stirring until smooth; cool.

In a large bowl, whisk together cooled chocolate-butter mixture, corn syrup, eggs, sugar, cocoa powder, whiskey and salt. Pour the mixture into the prepared crust. Arrange pecans over filling.

Place the pie pan on a large rimmed baking sheet. Bake until the filling is just set when the pan is jiggled (30 minutes). Cool completely and serve with whipped cream or vanilla ice cream.
Disclosure: I'm proud to be a compensated brand ambassador for Diamond Nuts. All opinions expressed are my own.