This creamy mushroom pasta with kielbasa sausage recipe is a great way to switch up your normally boring weeknight dinners. Eliminate the kielbasa for a vegetarian-friendly alternative.
Well, hey there! It's been a minute. OK, more like 8 months, but I'm slowly but surely getting reacquainted with my blog again after a much-needed hiatus. I missed you and this space was missed. I'm excited to make a nice, easy return to slow blogging my way. Slow blogging is the key to my happiness. I just have to remember to not get caught up in all the people doing all the shiny new things. I'll stay in my lane and just do this the way I want to. I'm glad you are here with me and are willing to continue on the ride with me.
I've got a really great Creamy Mushroom Pasta Recipe to share with you today. This is a great pasta dish to get you out of the dinner time rut. But first, before we get to the recipe, let's catch up. (To skip all of this chatter and go straight to the recipe, just scroll to the end of the post).
Since It's Been Awhile, Here's A Quick Life Update
I took this picture of my kids just a few days ago on their first day of school. Jacob is a senior in high school <insert tears here> while Kelly is a sophomore. Ella began 8th grade and Leah started 4th. It blows my mind that Ella was an infant when I started Dine & Dish 13 years ago and now she's in her last year of middle school. Her and Leah have grown up with you all.
Nick still works for the same company he started at after college. His travel schedule is pretty brutal at times, but that's what we know and have adjusted to. This November we will celebrate 20 years of marriage! It definitely doesn't seem like we are old enough to be at that point in life.
As for me, over a year ago I went back to work at a job I really loved and that took up most of my time when I wasn't parenting. I re-kindled my love for project management/organization and found I was really good at it. I also returned to recruiting. Unfortunately, things changed rather rapidly at the company I was working for, and in July I gave notice. So, here I am, back at square one. I really learned a lot in the past year. Being back in the workforce gave me the confidence in my skills/abilities I needed that you just don't always get when you own your own business. All in all, it was a very good thing.
Enough about me…if you get a chance send an email and let me know what you've been up to this past year. Hearing from you would be great! Now, let's get to what you are really here for…this amazing Creamy Mushroom Pasta with Kielbasa Sausage recipe.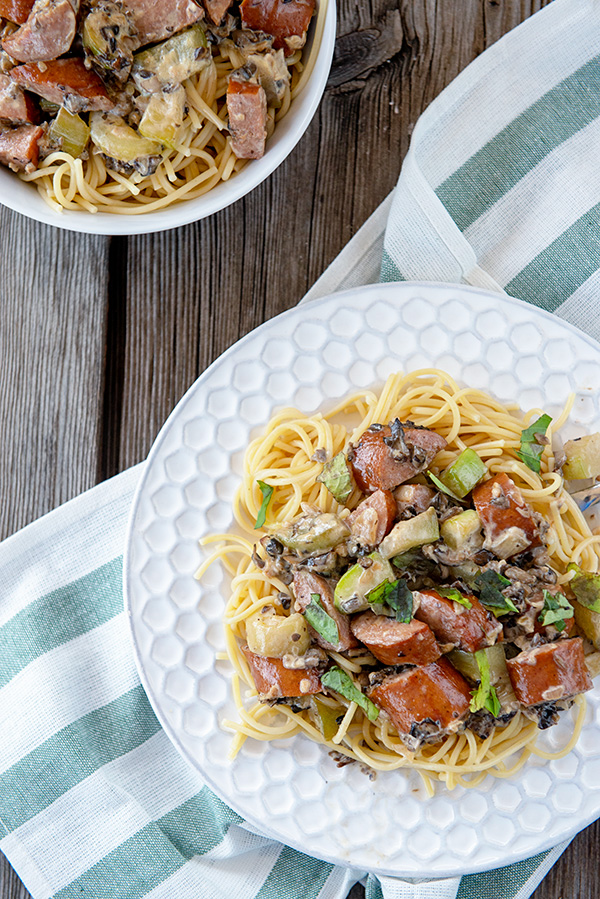 Mushrooms Are a Great Source of Protein
This recipe was inspired by my daughter, Ella, who has decided she's a vegetarian. She has stayed the course all summer long and seems to be in it for the long haul. As a family of non-vegetarians, her change has inspired me to figure out ways to add more protein and essential nutrients into her meals. I've asked vegetarians I know lots of questions because since she's a growing teen, it's essential to make sure the recipes I make are nutrient-packed.
My research indicated that mushrooms are a great source of protein. Since we love mushrooms I'm attempting to make sure I include them as much as possible in our meals. While the recipe I'm sharing today includes Kielbasa Sausage, which obviously isn't vegetarian, the base recipe is and it's just as good without the Kielbasa as it is with.
You'll also notice that I used chopped fresh mushrooms in this recipe instead of sliced mushrooms. If you have a family who likes mushrooms but may not like mushroom texture, dicing the mushrooms helps to get over that roadblock. In this recipe, feel free to slice or dice them for the creamy mushroom sauce…whatever your family prefers. It looks amazing and tastes amazing no matter what.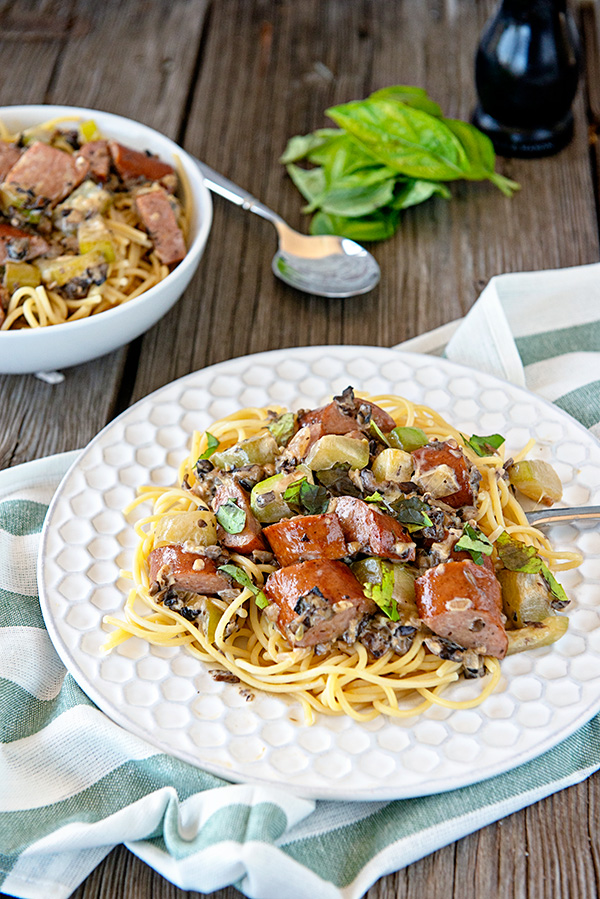 What Kind of Mushrooms Should I Use For Mushroom Sauce?
The variety of mushroom you use is all about personal preference. When it comes down to it, every variety of mushroom has a slightly different flavor and texture. It's up to you as to which flavor you prefer. For this pasta recipe, I use baby bella mushrooms or "portobello". I feel like the texture of portobello mushrooms is the best option for vegetarian recipes. However, I keep the following mushroom varieties on hand for use in recipes for my family:
Portobello
White Button
Crimini
Shiitake
Really, once you sautee the mushrooms for this dish in the heavy cream and diced garlic cloves then serve over pasta, the variety isn't as important. They all taste great.
What Should I Serve with Creamy Mushroom Pasta?
One thing I love about this meal is it's fairly all-encompassing. It's loaded with all the good things you could possibly want for dinner. With that said, I get that sometimes people want more than just a one-pot meal for dinner. For those of you who fit that description, the following are some great recipes to serve alongside this pasta dish: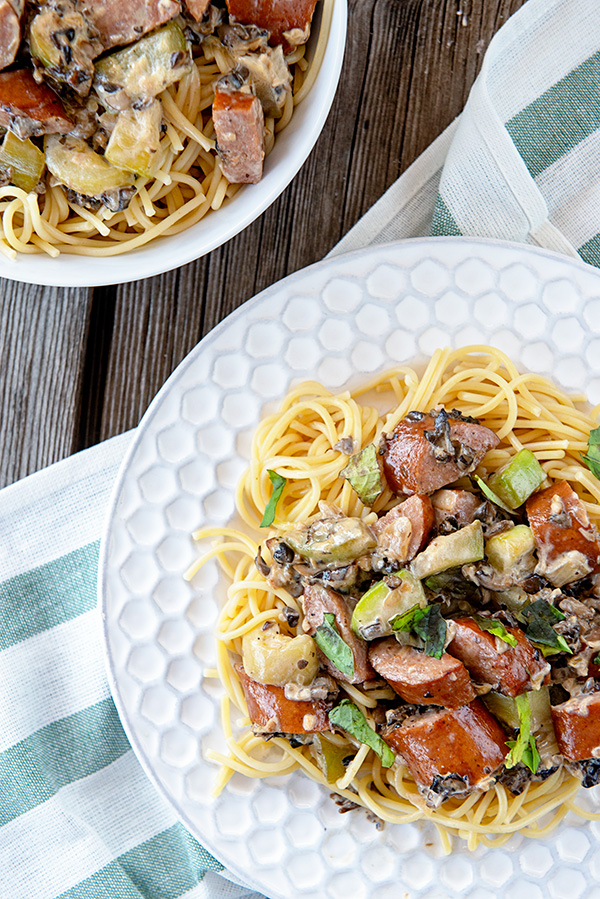 Now, are you all set to cook this recipe? This recipe is so good it inspired my return to blogging! I hope you enjoy it as much as we do.
Important Adaptation Notes When Making Creamy Mushroom Pasta:
This makes a really hearty, chunky sauce. For a more "pourable" creamy mushroom sauce, add an additional 1/4 cup heavy cream. For a thick, chunky sauce, make the recipe as listed. In addition, you can add parmesan cheese or Reggiano cheese to the finished dish. It's definitely not necessary but adds even more flavor once the recipe is made. Finally, you can eliminate the kielbasa sausage entirely for a vegetarian-friendly option.
Creamy Mushroom Pasta with Kielbasa Sausage
Creamy Mushroom Pasta with Kielbasa Sausage can be on your table in minutes. Full of veggies and great nutrients, it's a one-pot meal that has everything you need!
Equipment
stock pot

large skillet

pairing knife
Ingredients
12

ounces

spaghetti

uncooked

3

Tablespoons

extra virgin olive oil

1/4

cup

yellow onion

diced

3

cloves

garlic

minced

8

ounces

baby portobello mushrooms

chopped or sliced

1

medium zucchini

peeled and cubed

4

ounces

Kielbasa Sausage (one rope)

Sliced into 1/2 inch coins then cut in half

1/2

cup

heavy whipping cream

increase to 3/4 cup for a thinner sauce

1/8

tsp

Kosher salt

4

large fresh basil leaves

torn into small pieces

freshly cracked black pepper

to taste
Instructions
Cook spaghetti according to package directions. Drain.

While the spaghetti is cooking, in a large skillet, heat olive oil over medium heat.

Add the yellow onion and garlic. Sautée for one minute until fragrant. Add the mushrooms, zucchini, and sausage. Continuing cooking over medium heat until mushrooms and zucchini are tender (approximately 5 minutes).

Reduce heat to low and add heavy whipping cream and Kosher salt. Stir continuously until the sauce has thickened.

Spoon prepared sauce (will be thick) over the cooked spaghetti and toss. Top with torn basil leaves and cracked black pepper.