Get back to basics with this Beginner Breadsticks Recipe, made in the bread machine and with instructions by hand as well.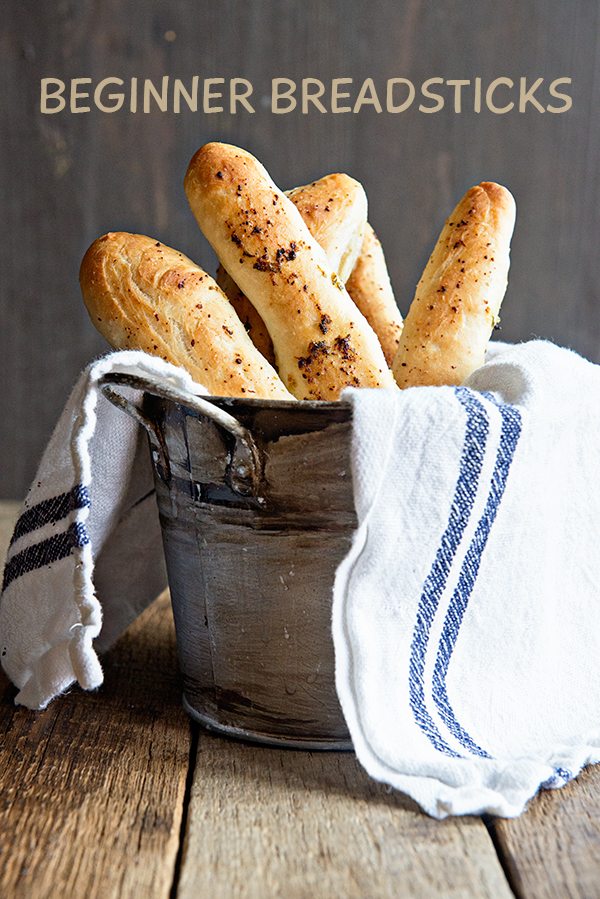 I'll be the first to admit that I sometimes over complicate things. Especially when it comes to cooking and baking. Instead of heading for my tried and trusty recipes, I always find myself searching the internet, magazines and cookbooks looking for something "newer and better". This leaves my tried and true recipes… the ones that are tried and true because they are AMAZING…sitting in dusty corners, sometimes to be forgotten.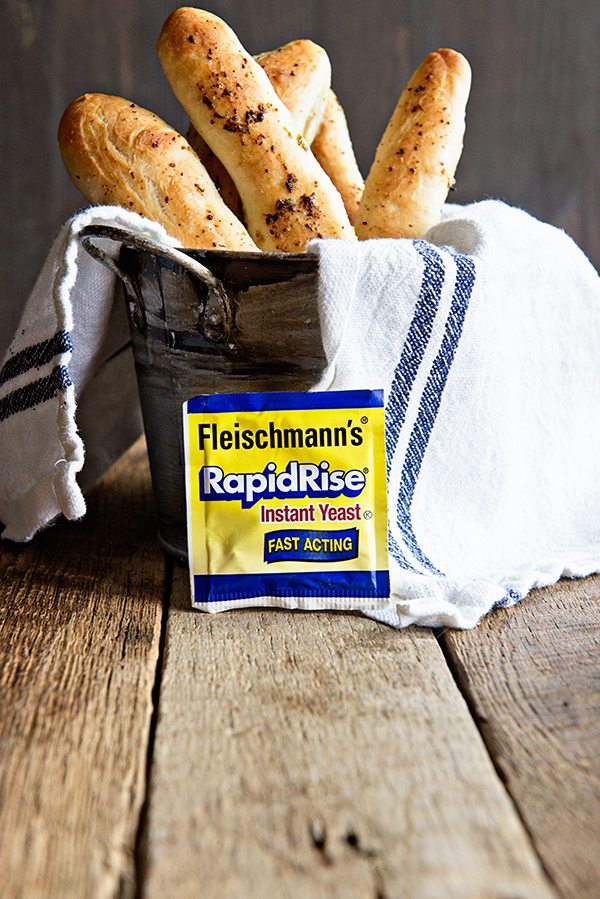 Well it's a new year, and with that comes new goals. This year I'm going to simplify my life, which includes choosing to go back to those basic recipes we love for a reason, more often. Take this Beginner Breadsticks recipe, originally from the Fleischmann's® Yeast website. It's an incredibly simple recipe that produces tender, mouth watering homemade breadsticks. Whether you are a skilled and experienced baker, or giving your hand at bread baking for the very first time, a recipe like this one should be turned to time and time again.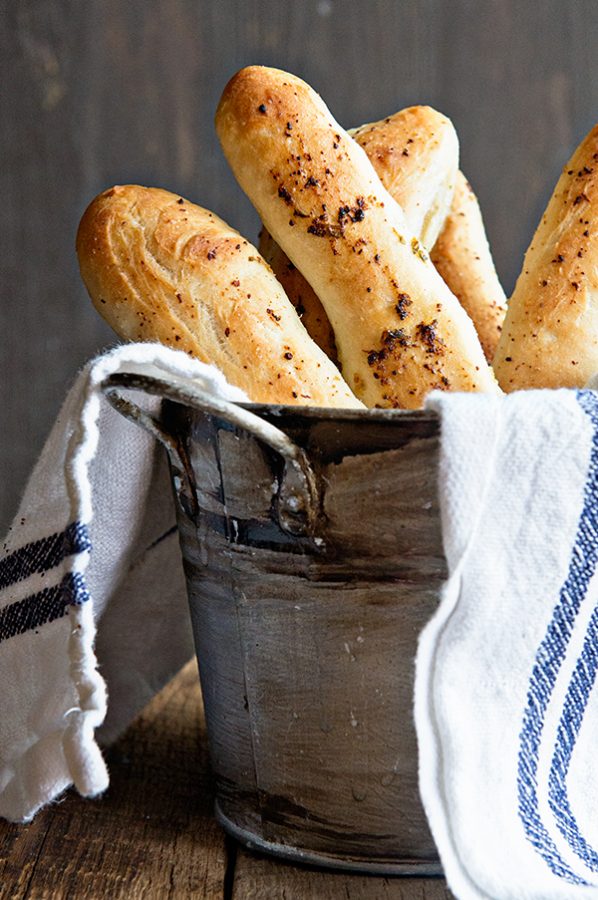 The original recipe for Beginner Breadsticks was made using a mixer, but I decided to give it a try in my bread machine. My bread machine is the most used small appliance in my house. I love kneading dough by hand, but I also love the ease of throwing ingredients into a bread machine, turning on the dough cycle, and letting it do the lion's share of the work. Thanks to the ease and quick action of Fleischmann's® RapidRise™ Yeast, these homemade breadsticks can be on your dinner table in no time!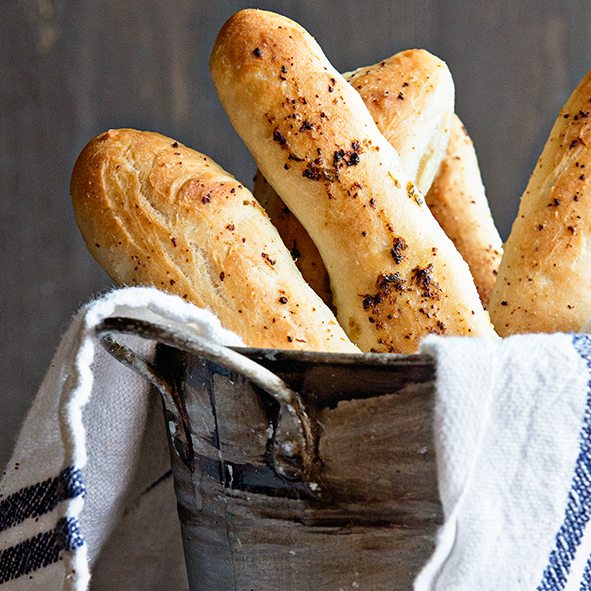 If you want to follow the original Beginner's Breadsticks recipe you can find it on the Fleischmann's® Yeast website. Otherwise, you can find the basic bread machine instructions below. Either method you use, the result will be tender, mouth watering homemade breadsticks every time! Enjoy and don't forget to bake a little extra to share the delicious results with someone you love!
Recipe: Mouth Watering Bread Machine Breadsticks
This simple recipe provides tender, mouth watering breadsticks without a lot of work!
Ingredients
2-1/2

cups

all-purpose flour

1

Tablespoon

sugar

1

packet Fleischmann's® RapidRise™ Yeast

3/4

teaspoon

salt

3/4

cup

water

2

teaspoons

Mazola® Extra Virgin Olive Oil

1

egg white

Topping: 2 Tablespoons Mazola® Extra Virgin Olive Oil mixed with 1 Tablespoon Italian Seasoning

1/2 teaspoon garlic salt and 1 Tablespoon grated parmesan cheese
Instructions
Place all ingredients except topping into your bread machine in order your bread machine recommends. (For my bread machine, the order is: Water, egg white, oil, sugar, salt and flour. Make a well inside the flour and then add the Fleischmann's® RapidRise Yeast into the well).

Set your bread machine on "dough cycle" and allow it to run the cycle.

Once the dough cycle is complete, remove the dough and place on a very lightly floured surface.

Cut dough into 12 equal pieces. Roll each piece of dough into a 10-inch rope. Spray hands or counter with cooking spray, if dough is too sticky to handle easily. Place on large greased baking sheet (or use 2 smaller baking sheets, if needed). Brush with toppings mixture. Cover with towel; let rise in warm place until doubled in size, about 30 minutes .

Bake at 450ºF for 10 to 14 minutes or until golden brown (watch closely as to not overcook). Remove from pan with a metal spatula. Serve warm.
I love this bread machine:
Craving more easy, homemade recipes? Check out these simple recipes from Fleischmann's® Yeast:
Disclosure: I am a Bake a Little Extra Blog Ambassador and this recipe is sponsored by Fleischmann's® Yeast.I n addition, this blog post contains affiliate links. As an Amazon Associate, I earn from qualifying purchases.