If you like vegetable pizza than you will love this oven roasted veggie pizza, the recipe I'm sharing today for a blogging collaboration called #PizzaWeek.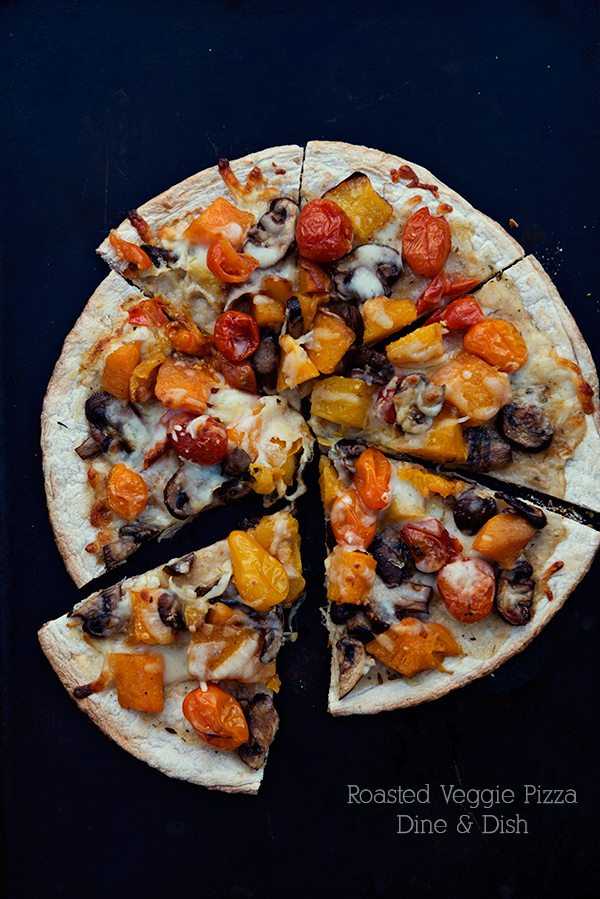 I like vegetables, a lot. I always have. In fact, growing up when I got to choose my birthday dinner the main thing I would ask for was lima beans. (Really…lima beans? Does anyone even eat lima beans anymore?)
For someone who likes veggies, I've never been a huge fan of vegetable pizza. I'm sure we've all experienced those pizza chain pizzas with the rubbery tasting onions and peppers on top of a soggy crusted pizza lacking in flavor. I just always assumed that's what vegetable pizzas were like. Thank goodness I grew out of that phase and wised up because one of my favorite things ever right now is Oven Roasted Veggie Pizza. 
If there is one thing I like more than vegetables it would have to be oven roasted vegetables. What is it about roasting vegetables in the oven that makes them absolutely irresistible? Even vegetables my kids claim to not like they suddenly love when they are roasted.
I made this pizza for a #PizzaWeek blogging event put on by my friends at NoshOn.It. I was inspired by a little trip to Trader Joe's and my love for veggies roasted in the oven. Sure, I took a few shortcuts with a pre-made crust (which was perfection, by the way) and a jarred garlic sauce (so tasty), but I swear I could eat this roasted veggie pizza every single day and never tire of it. It was that good.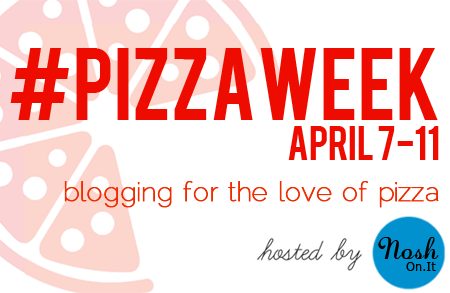 I'm going to share my recipe below, but before I do that, make sure to visit the NoshOn.It site for a full week of pizza inspiration. A lot of talented bloggers are sharing some pretty amazing pizza creations – if you love pizza (and if you don't, how can you not love pizza?) you won't want to miss it! A few others posting today are:
The Kitchen Prep has made a Greek-za  |  The Fitchen  has cooked up Mini Cauliflower Pizzas |  FoodieCrush will be sharing Arugula Topped Pizzas
Also, there's lots of pizza loving happening over on Pinterest. You won't believe the number of creative pizza ideas popping up over there! Make sure to follow the #PizzaWeek group Pinterest board for all your pizza pinning needs!
Follow NoshOn.It's board Pizza Pizza! on Pinterest.


Now what do you think? Are you ready for a great Roasted Veggie Pizza recipe? Well, here we go! Enjoy!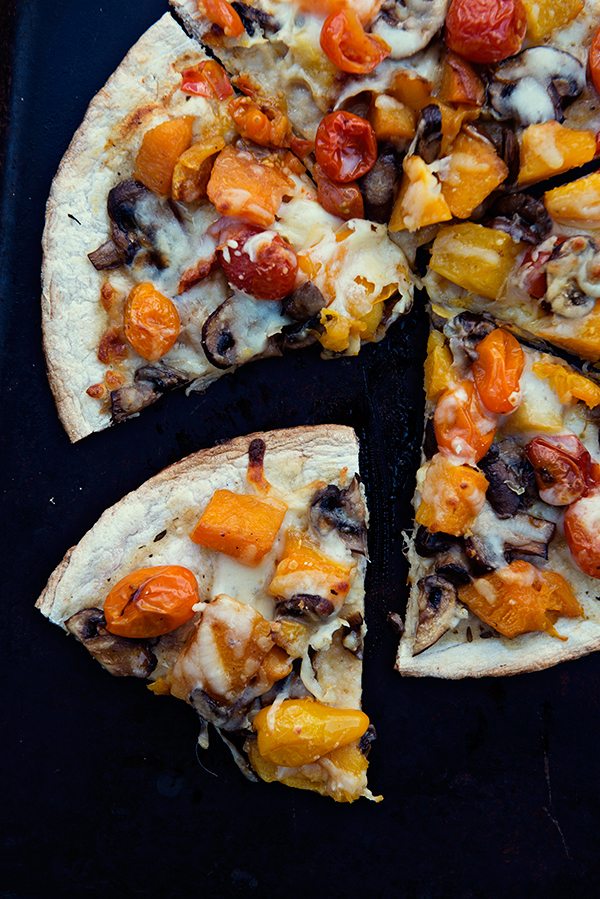 Oven Roasted Veggie Pizza
If you like vegetable pizza, you'll love this oven roasted veggie pizza with squash, mushrooms, tomatoes and a creamy garlic sauce!
Ingredients
1

Pre-Made Pizza Crust

I used Trader Joe's Par-Baked Pizza Crust and LOVED it

2

Tablespoons

olive oil

Kosher salt and cracked black pepper

1

cup

cubed butternut squash

peeled, seeds removed

1

cup

sliced mini portabella mushrooms

1

cup

grape tomatoes

4

Tablespoons

Garlic Sauce

I used Trader Joe's Many Clove Garlic Sauce

1/2 - 1

cup

shredded mozzarella cheese
Instructions
Preheat oven to 400°F.

Place cubed butternut squash, mushrooms and grape tomatoes on a baking sheet. Drizzle with olive oil, salt and pepper. Roast for 15-20 minutes, stirring occasionally, or until vegetables are tender. Remove from oven.

Increase oven heat to 425°F. Place pizza crust on a cookie sheet or baking stone. Bake for 5 minutes. Remove from oven.

Spread garlic sauce over top surface of crust. Top with roasted vegetables then with cheese. Bake for 10 minutes, or until cheese is melted and crust is a tender, golden brown.