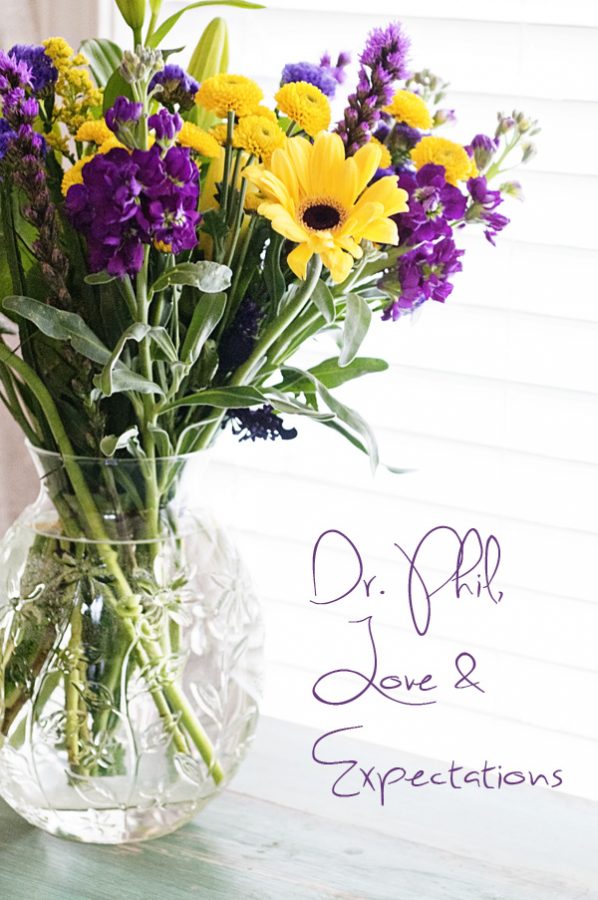 Did I ever tell you about the time ten years ago when my husband and I were invited to be on The Dr. Phil Show? I don't think I have…
Let me give you some back story first. When I was in high school, on Valentine's Day every year, our school office would be overloaded with flowers, balloons, candy, stuffed animals, etc. The bigger, the better. The school office was long and in the main area of the building. Lined with windows, you could easily walk by and see every inch of the office. Teen girls would walk by the windows, sneak a glance, envious of the other girls picking up their armfuls of Valentine's. We'd wait anxiously, all day, for our name to be called over the loud speaker to come pick up "something in the office." For me, it happened once and it was from an admirer whom I didn't appreciate like I should (sorry, Doug Hammer).
I had boyfriends in high school and I had plenty of love from my family. They just didn't shower me with flowers and candy and balloons on Valentine's day. They always gave me something, but it was never through a public display at school. I knew I was loved, but always felt slighted because of the lack of goodies waiting in the school office for me. I had high expectations and they weren't being met.
Fast forward to married life. My husband, who is great in every way, was not the best at celebrating Valentine's Day. It got to the point where I was a bit peeved and one night, after reading about a new show by Dr. Phil that was coming on air, I wrote into "Ask Dr. Phil" and explained my "problem".
"Dear Dr. Phil, I have a really great husband. He helps out around the house and does more than what most husbands do. He does the laundry, helps cook meals, treats me great, is an excellent father, etc. He works hard at his job so I can stay home and raise our kids. I am really lucky.

I am writing today because I am frustrated that he doesn't seem to understand the importance of gift giving and making holidays special. It is really important to me, but today is another Valentine's day that I have received nothing but a card. I don't understand why he doesn't' do more. Doesn't he understand it's an important day to show that he loves me? We have fought about it more than once and I can't figure out how to make him change. Can you give me some advice?"
A few days later, Casey, a producer from The Dr. Phil show called and said they were interested in flying Nick and I out to be on his show. I was on board (not quite realizing what I was getting myself into), but I wanted her to talk to Nick first. Naturally, after Nick got a surprise phone call from The Dr. Phil show at work, he was less than thrilled. Being chastised on a stage on national TV seemed to not his idea of a good time. Little did I know, that the chastising was going to come to me… why was I letting one day out of the year erase everything my husband did good all year long? My expectations were out of whack and Dr. Phil was going to be certain to make me understand that.
We ended up not signing up to be on the show… but that event changed how I see Valentine's day.
My husband does things all year long to make me happy… he brings me Starbuck's, he makes me breakfast in bed, he does the laundry, he brings home flowers for no reason, he cleans up the puke when the kids get sick, he calls just to say he loves me, he's thoughtful, caring, loving and compassionate every day of the year.
Ladies, I'm writing this post to remind you that Valentine's day is a great day to celebrate love, but it is not THE day to hold your loved one up to expectations they might not be able to meet. Love, romance, passion, etc… those are all important, but they should be shared and demonstrated all throughout the year. Not just on Valentine's day. If your spouse or loved one fails to live up to your Valentine's Day expectations, take a step back and think about everything they do for you all year long. Measure them that way… not on if they measure up to all the hype and hoopla on just one day.
We now celebrate Valentine's day as a family, with a very special candlelit dinner made and served to the kids in the evening. To be honest with you, it's my favorite display of our love, all year long.
Happy Valentine's Day to you all… may you feel loved this day and all year long.