If you have read Dine & Dish for any amount of time, it won't be any secret to you that I feel like I'm not living in the right place. As lovely as Kansas is to raise a family, I have always had a very strong pull towards east coast living. The coast of the Carolina's, Nantucket, Martha's Vineyard…I have always felt like that is where I need to be.
Well, with four kids and a husband pretty much firmly planted in his "forever" job, my dream of moving East is most likely not going to happen. So, what does one do when they are faced to continue the rest of their life living in Kansas? They bring the East Coast to the Midwest!
This past weekend we hosted a shrimp boil, a classic coastal living party with our neighbors, right here in our Kansas backyard. Instead of the rush of waves, we heard the rush of traffic passing by. Instead of buying shrimp fresh off the boats, we got ours "fresh" from Costco. Our firepit was freestanding in our cul-de-sac versus dug into the sand. The squeal of kids took the place of squealing seagulls. The end result, however, was the same regardless of the location… we all had a fantastic time eating delicious shrimp and being together.
So yes, I would adore east coast living and hope that someday I'll get to experience it first hand, but as I sit back and count my Kansas blessings, I would have to say the only way you are getting me there is if I can bring my friends and neighbors with me.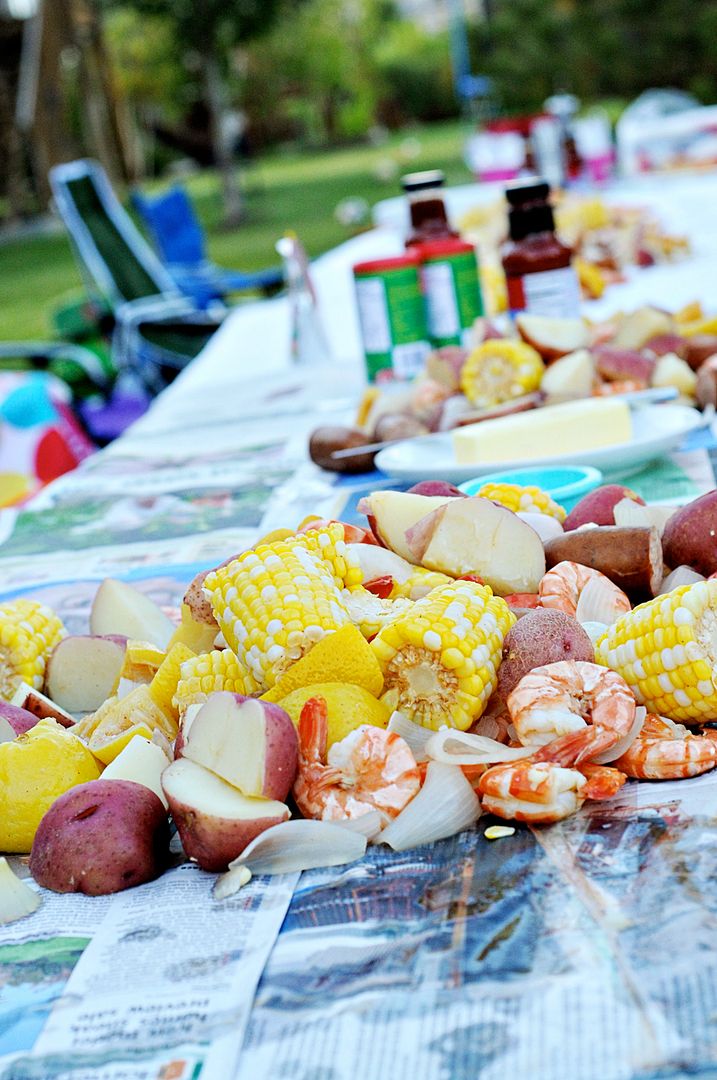 Original Old Bay Seasoning Shrimp Boil
4 quarts water (16 cups)
1 can (12 ounces) beer (optional)
1/2 cup OLD BAY® Seasoning
2 tablespoons salt
8 medium red potatoes, quartered
2 large onions, cut into wedges
2 pounds lean smoked sausage, cut into 2-inch pieces
8 ears fresh corn, shucked and halved crosswise
4 pounds unpeeled jumbo shrimp (21 to 25 count)
Bring water, beer, OLD BAY Seasoning and salt to boil in 12-quart stockpot on high heat. Add potatoes and onions. Cook 8 minutes. Add smoked sausage. Cook 5 minutes. Add corn. Cook 7 minutes.
Stir in shrimp. Cook 4 minutes or just until shrimp turn pink.
Drain cooking liquid. Pour contents of pot into large serving bowl or platter. Or, mound on paper-covered table. Sprinkle with additional OLD BAY Seasoning, if desired.
For our pots, we used Turkey fryers filled with water and that worked out great!