When it comes to easy breakfast recipes, it doesn't get much easier than this. Sliced King's Hawaiian Sweet Bread is turned into waffle squares and topped with a creamy Pumpkin Pie Syrup for a simple breakfast everyone will love!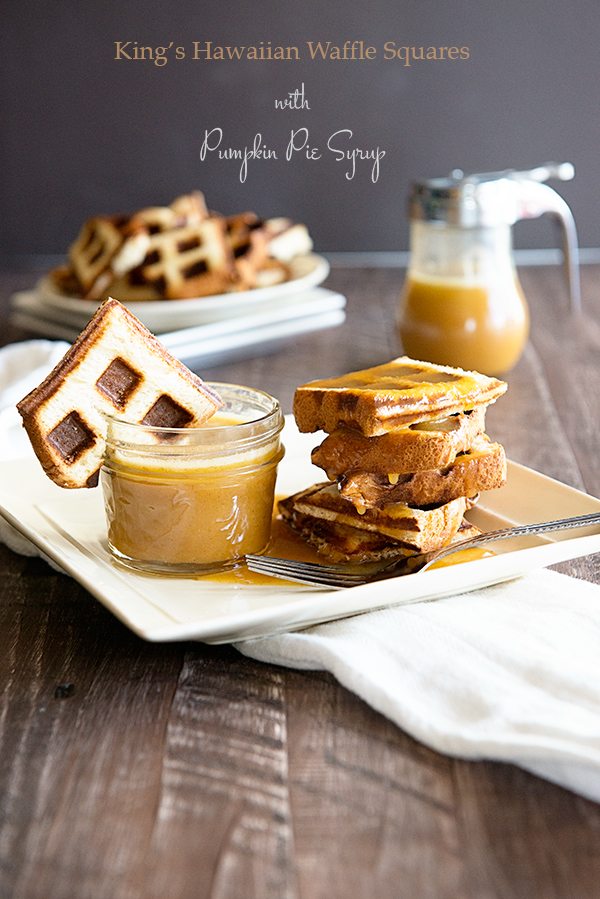 Friends, I may have discovered an easy breakfast recipe to make you feel a little less guilty about not having time to feed your kids a "real" meal in the morning.
I mean, those frozen waffles? We all know that those are about as easy as things get in the morning, right? Well, dare I say this is even easier.
You see, I "waffled" King's Hawaiian Sweet Sliced Bread. Have you seen their sliced bread? It is so great by itself, but let me tell you… it is so, so, so good as little waffle squares!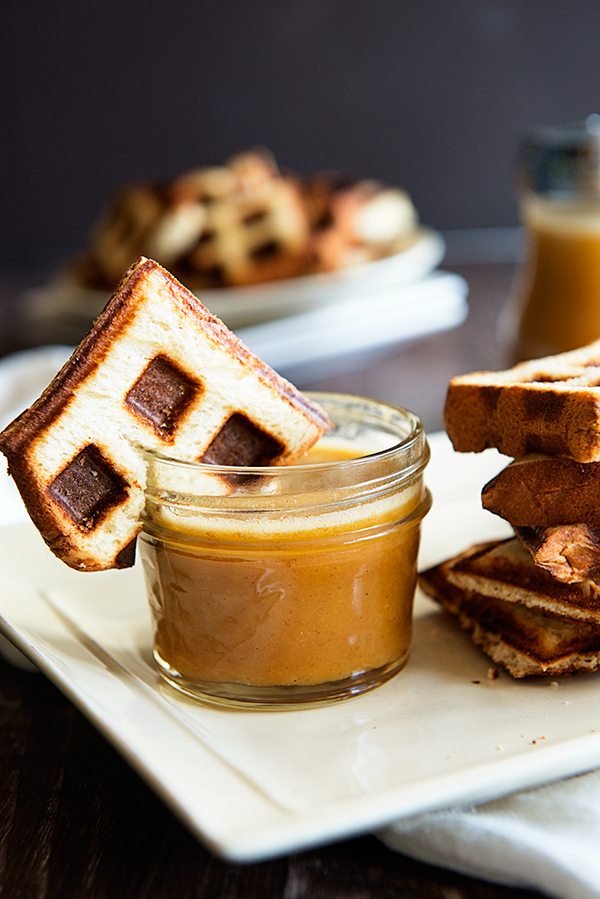 I basically put a slice at a time of the sweet bread onto my waffle iron, closed it for a couple minutes, and out came these sweet little slightly crispy waffles, ready for eating or dipping in syrup. I'd say that definitely falls under the category of "easy breakfast recipes", wouldn't you?
Speaking of syrup, l must tell you a little about this Pumpkin Pie Syrup we dipped our King's Hawaiian Waffles in.  This Creamy Pumpkin Pie Syrup is my 3rd variation of a favorite syrup recipe given to me by Chef Brad from Thermador. His Creamy Buttermilk Syrup recipe is one of my favorite creations, ever! I also love the Creamy Chocolate Syrup I made as well as the amazing Eggnog Syrup. Since I wanted to create something a little more seasonal, I decided I need a pumpkin syrup in my repertoire. Between the crispy sweetness of the King's Hawaiian Waffles and the seasonal warmth of this Creamy Pumpkin Syrup, I knew I had a breakfast winner!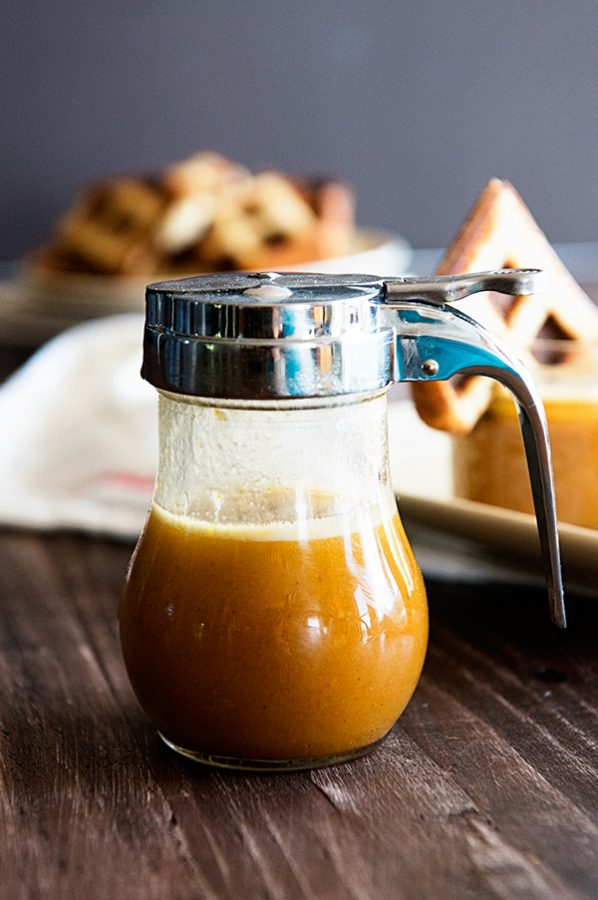 With Halloween right around the corner and the holidays quickly approaching, easy breakfast recipes like this one are going to be my saving grace. I feel like if I can get breakfast started off on the right foot, I can do anything I set my mind to 🙂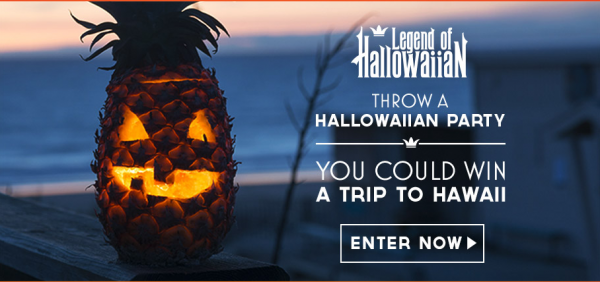 Speaking of Halloween and King's Hawaiian, head over to their website right now to enter to win a trip to Hawaii!!! It's really simple to enter, but you've got to do it before midnight on November, 15th 2014. Also, make sure to check out all of the cute and creative Halloween Recipe ideas on KingsHawaiian.com. From 3-Eyed Sliders to Pineapple Carving tips, the King's Hawaiian website is a great resource for fun and tasty Halloween ideas!
PS – if you win the trip to Hawaii, I know a certain food blogger who would love to go along with you! I'll bring cookies… or waffles!
King's Hawaiian Waffles with Pumpkin Syrup
Breakfast doesn't get any easier than this... King's Hawaiian Sweet Bread Waffles with Creamy Pumpkin Syrup.
Ingredients
For the waffles:
1

package King's Hawaiian Sliced Sweet Bread
For the pumpkin syrup:
1/2

cup

butter

1

cup

milk

1/2

cup

pumpkin puree

1/2

Tablespoon

Pumpkin Pie Spice

1 1/2

cup

sugar

1

teaspoon

vanilla

1

teaspoon

baking soda
Instructions
For the waffles:
Heat a waffle iron to medium heat.

Place one slice of bread at a time onto the waffle iron and close tight. Heat for 60-90 seconds, or until bread is slightly crisp and toasted.
For the syrup:
Place the butter, milk, pumpkin puree and sugar into a large saucepan. Whisk together and bring to a boil stirring continuously. Once boiling, remove from heat and whisk in vanilla and soda. It will foam up and is now ready to serve over waffles (or in coffee).

Syrup can be stored in an airtight container in the refrigerator for up to 2 weeks.
Disclosure: This is a sponsored post on behalf of King's Hawaiian. All opinions expressed are my own. Visit KingsHawaiin.com for more easy breakfast recipes and other family friendly recipes using King's Hawaiian products. Thank you for supporting the brands who help make Dine & Dish possible!