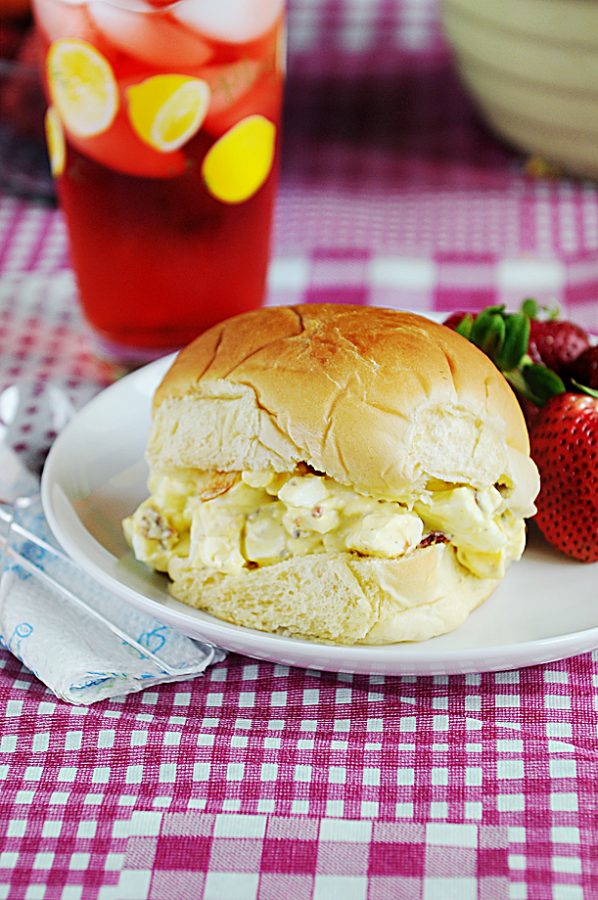 Breakfast for dinner, or "Brinner" as we like to call it, is a common occurrence around our house. When I forget to set out the meat to thaw at dinner, or look in my pantry and realize I forgot one crucial ingredient at the store to make the recipe I had bookmarked, I turn to breakfast foods to keep us from ordering takeout.
When the folks at Eggland's Best invited me to host a Brinner Party with some of our friends and family, I jumped at the chance. I love unique party ideas and thought that we could have a fun time with this.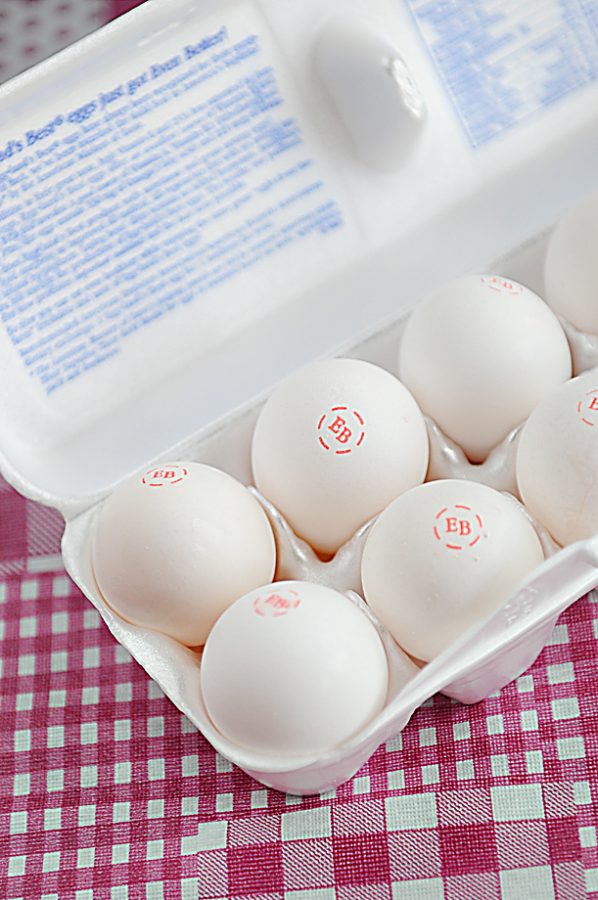 We chose to have our Eggland's Best Brinner Party outside one evening last week. I made a combination of breakfast dishes as well as some typical picnic food, just to keep things interesting.
Our friends and family enjoyed Dole's Broccoli Slaw Quiche, Breakfast Pizza Casserole, Deviled Eggs, Egg Salad Sandwiches, fresh fruit salad, BLT Salad and homemade Buttered Salted Caramel ice cream for dessert. (Recipes can be found by following each individual link).
It was a nice, relaxing evening full of great food, fun and friends – just exactly what we needed!
Eggland's Best would love to give you the opportunity to host your own Brinner party. They will be giving one Dine & Dish reader their very own Brinner kit, which includes:
2 Free Eggland's Best Dozen coupons (Any variety- classic, cage-free, or organic)
1 Free Eggland's Best Hard Cooked and Peeled variety coupon
4 Eggland's Best ramekins
1 Eggland's Best apron
1 Eggland's Best whisk
1 Eggland's Best spatula
1 Eggland's Best egg timer
1 Eggland's Best eco bag
1 Eggland's Best plush egg
To enter, simply leave a comment on this post telling me what your favorite "Brinner" food is.
Readers can enjoy an additional entry by heading over to the Eggland's Best facebook page and becoming a fan. Leave an additional comment on this post letting me know that you have done that. All entries must be received by midnight CST on Wednesday, July 20th.
Recipe: Simple Egg Salad Sandwiches
8 hard-boiled eggs, diced
1 cup light mayonnaise
1/2 teaspoon Kosher salt
1 teaspoon dry mustard
1/4 teaspoon garlic powder
1/4 teaspoon black pepper
4 Wheat Sandwich Buns
In a bowl, gently mix the eggs, mayonnaise, salt, mustard powder, garlic powder, and black pepper.
Cover, and refrigerate 8 hours, or overnight.
To serve, spread equal amounts on 4 buns; top with remaining buns to make sandwiches.
This is a sponsored post. Eggland's best provided a gift card for groceries and a brinner in a box kit for our family. All opinions are my own.