The holiday season comes with a lot of hustle and bustle. Slow down your mornings with a bowl of Eggnog Custard Oatmeal Brûlée and a brewed mug of Starbucks® Holiday Blend K-Cup® Packs.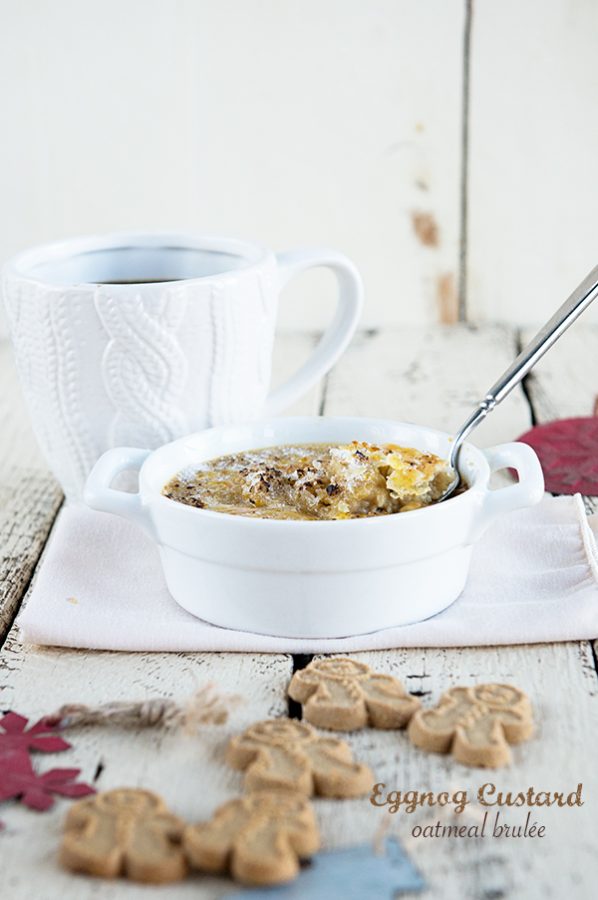 The other day I had one of those mornings… you know, where everything seems to go wrong before the day has even really started? Yes, one of THOSE mornings. Leah pulled out a gallon of milk from the fridge and along with it came crashing down a huge glass jar of pickles. Glass shards, pickles and pickle juice went everywhere. Kelly forgot to have me sign a form for school she needed "right now" because her ride was waiting for her. Jacob was texting me asking me to bring his science book and homework up to school because he accidentally forgot it. And Ella… will Ella was just being a moody 8 year old. All this and I hadn't even had my morning coffee yet!
I don't love my morning coffee for the caffeine boost. I love it because my morning coffee means I had some morning me time with my favorite hot beverage. The time with my cup of coffee is never rushed…it's my ritualistic, slowed down, plan, reflect, and dream time. When I don't get that time in the morning and have a day like I did above, I immediately want a do-over!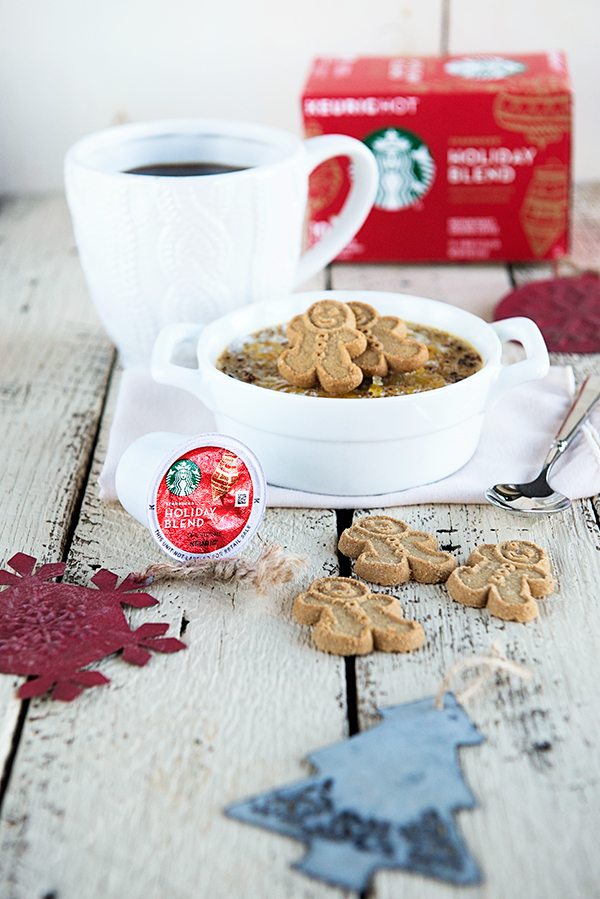 One reason I love my Keurig is I can make my coffee and start my morning me time without a whole lot of effort. The K-Cup goes into the Keurig, I press a button, and presto, my steaming mug of coffee is ready and waiting.
and I love that with the Starbucks® Holiday Blend K-Cup® Packs I can have a Starbucks holiday experience right in the comfort of my own home.
Friends, especially with the holiday season upon us, it's important to remember to take time out for ourselves. Me time is a great way to ward off the stress and angst that can sometimes come with the rush of the season. What better time to do that than in the morning… to get your day started off on the right foot?
If I would have had the chance to actually have a morning "do-over" here's what I would have done differently. I would have woken up a little earlier, like I normally do, to have my morning me time. I would have made a batch of this Eggnog Custard Oatmeal Brûlée for breakfast and I would have brewed a cup of perfectly paired Starbucks® Holiday Blend coffee to enjoy along with it. The Starbucks® Holiday Blend K-Cup® Packs are a limited edition offering, that I want to savor as long as I can this season! Just like my mornings. Then, everything might have fallen nicely into place for the rest of the day.
(If I would have made this Eggnog Custard Oatmeal Brûlée the other morning, Leah wouldn't have been reaching for the milk to put on her cereal, and the whole chain of wretched events starting with the crashing jar of pickles may have never happened!)
Take it from me and make your me time a priority this busy holiday season! Start with breakfast and a perfect cup of coffee. Enjoy!
Eggnog Custard Oatmeal Brûlée
Eggnog Custard Oatmeal with a sugary brûlée topping, is the ideal way to start the day!
Ingredients
5

eggs

1 1/2

cups

milk

3/4

cup

eggnog

1

cup

brown sugar

1

teaspoon

ground cinnamon

2

cups

cooked oatmeal

cooled

1

Tablespoon

vanilla extract

8

Tablespoons

granulated sugar

for the brûlée, optional
Instructions
In a medium bowl of an electric mixer, beat the eggs until light in color. Add the milk and eggnog and mix well until fully incorporated.

Remove the bowl from the mixer and add the brown sugar, cinnamon, oatmeal and vanilla. Stir with a large spoon until lightly mixed.

Preheat oven to 350°F.

Spray 8 one cup ramekins with nonstick cooking spray. Fill each ramekin to within 1/4 inch of the top. Set the ramekins in a glass baking pan and fill the glass baking with water to the half way point up the side of the ramekins (this creates a "water bath").

Place the baking dish with ramekins in the oven and bake at 350°F for 45 minutes to an hour.

(Stick a knife into the center to test doneness... knife should come out clean.)

Remove each ramekin of baked oatmeal and top each with 1 Tablespoon of granulated sugar. Using a kitchen torch, gently go over the top of each ramekin with the torch until the sugar starts to caramelize.

(If you don't have a kitchen torch, place the ramekins under the broiler in your oven for 30 seconds to 1 minute).

Serve warm.
 Disclosure: This post is being shared in partnership with Starbucks and the Starbucks® Holiday Blend K-Cup® Packs. All opinions expressed are my own. Thank you for supporting the brands who make Dine & Dish possible!