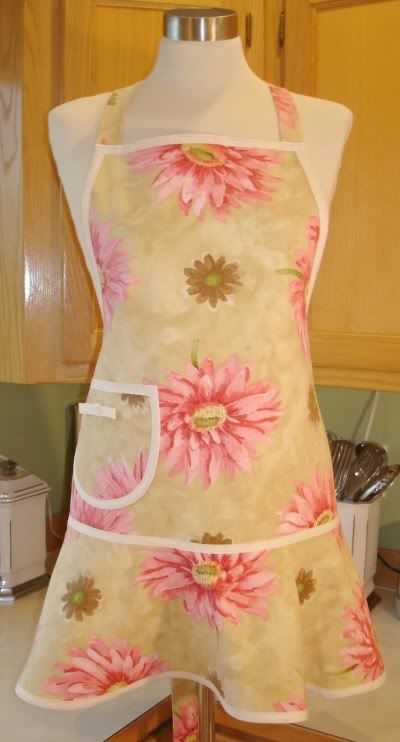 Recently, my friend Karen Beth, turned me onto a gem of a website called Etsy. Etsy is "your place to buy and sell all things handmade". It is a really fantastic site! Well, I was on there looking at Karen Beth's beautiful bookmarks and decided I'd look around to see if I could find anything to buy as gifts for our dinner party guests. In true me style, I got sidetracked and came across this apron. Don't you love it? I can't imagine wearing it while our guests are in the house (too Donna Reed for me) but I can definitely picture wearing it while preparing for the dinner parties! I may have to purchase a little Christmas gift for myself 🙂
After getting my mind back onto what I was originally there to do, I started looking around for the guest gifts. I was hoping to find some kind of wire wrapped beaded serving ware or tongs, but I didn't find anything like that listed. Then I took a look at wine charms, but that doesn't seem very original. I'd like the gift be related to food or eating. Something practical, yet unique and of course, as always, I'm working on a budget here! I'd like it to be something that when they would use or look at, they'd remember the good time we had (hopefully!) that night.
The search is still on. I'll probably search around Etsy more and see what might be out there. I may also look at some other food / party blogs and see if there are any gift ideas there. I'll keep you posted and if you have any ideas for me, feel free to let me know.