Pumpkin Bars with Cream Cheese Frosting – a cake like bar with amazing fall flavor!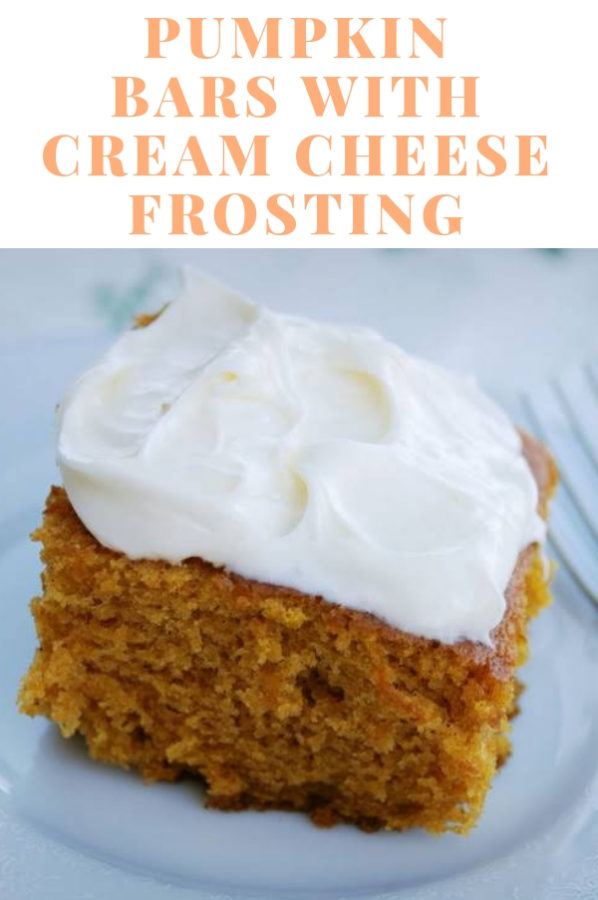 First of all, I have to chuckle a bit this morning as I sit down to write my first blog entry since October 9th. My first blog entry since the blog entry in which I wrote that I would put writing on my blog and visiting your blogs back up on my list of things to keep in priority, because I so enjoy doing it.
It is now October 21st (can you believe that??) and I am finally taking some time to write an entry. The truth of the matter is, I haven't been cooking, so I haven't had a whole lot to blog about. My parents came into town from south Texas on October 1st and left this past Thursday. My husband and I went on vacation during that time, then we all went to Chicago for a long 4 day weekend and then back to life…back to reality…back to the craziness that is our life. I loved having my parents here and my kids loved it too. A day hasn't gone by since they have left that someone in the family hasn't asked where Grandma and Grandpa are. So, now we are trying to find our routines again and to settle back into…LIFE.
For those of you in the US and who have the four seasons, can you believe that we are knee deep into Fall now? Where in the world does the time go? As much as I love all the summertime flavors, with fresh veggies and cool treats, I do love the comforting flavors of Fall. The spices, the root veggies, the simmering pots of stew on the stove, the outdoor fire pits, the hot chocolate…all of these things I love. Oh – and if I had the time…the snuggling up on the couch with a good book and my favorite quilt.
One of my favorite fall flavors is pumpkin. It is one of those flavors that I didn't like as a child, but as I have grown and ended up marrying a man who loves pumpkin, I have learned to appreciate it as well.
Pumpkin Bars with Cream Cheese Frosting has become a favorite of mine over the years. I first had a pumpkin bar several years ago at a work bake sale. I had one bite and knew I needed to find a recipe similar to it. I tried to find the person who made these pumpkin bars, but no one knew who it was. I can't remember exactly where I ended up getting this recipe, but it is one of those that gets made many, many times during the cool season at our home. Rich with flavor and topped with a generous amount of cream cheese frosting, you will love tasting every last calorie in this delicious recipe. Try this recipe out and fall into the flavors of Fall.
Pumpkin Cake Bars with Cream Cheese Frosting
Ingredients
4

large eggs

1 2/3

cups

white sugar

1

cup

vegetable oil

1

15 ounce can pumpkin puree

2

cups

all-purpose flour

2

teaspoons

baking powder

1

teaspoon

salt

1

teaspoon

baking soda

2

teaspoons

ground cinnamon

6

ounces

cream cheese

6

tablespoons

butter

softened

3

cups

confectioners' sugar
Instructions
Preheat oven to 350°F.

Grease and flour one glass 9 x 13 inch pan.

In a mixing bowl, beat together the eggs, sugar, oil and pumpkin.

Sift together the flour, baking powder, salt, baking soda, salt and cinnamon; add to wet ingredients and mix thoroughly.

Spread into prepared pan.

Bake at 350° for 25 to 30 minutes.

Remove from oven and allow to cool.

For the frosting: beat together the cream cheese, butter and confectioner's sugar.

Evenly spread over bars after they have cooled.